A Week at a Time...
20.1.2020: We are continuing
13.1.2020: We are working on division this week, we are still finding it a little bit tricky so we plan to continue with this next week. Our plans for our fire reports are starting to come together nicely now, we have done lots of reading and research. We now need to practice finding information in a text - because we have learned so many facts now sometimes we forget to find the answer in the text and this is really important. Whilst you are reading at home, ask a parent to ask you a question about the text and see if you can put your finger on the answer.
6.1.2020: Welcome back to school. Our new topic question has been introduced and we are very excited! Everyone is able to recall lots of facts about the fire. We have also started our new PE topic - Tang Soo Do, the children are thoroughly enjoying learning a martial art!
SPRING TERM: Enquiry question - How did the fire change London? This term we are learning all about The Great Fire of London and how it impacted the people that lived during that time. We will be using green screen technology this term to create a video report of the fire - which we are all very excited about. In maths we are doing lots of work on multiplication and division.
____________________________________________________________________________________
Autumn term: We have had a busy term learning all about Superheroes. We explored the enquiry question: 'Can anyone be a superhero' and after much discussion and learning we feel that anyone could be a hero! We went on a brilliant trip to Peterborough museum and learned about the heroes of the past and how people such as Edith Cavell were real heroes of their time. We explored fictional stories including; Traction Man and Supertato to help us write our very own super hero adventure comic and instructions for how to catch a super villain.
September: We have had our first full week back! What a jam packed week we have had. This week we have been focussing on our handwriting and how we should present our work in our books. We will continue to look at letter and number formation next week. This week we have been reading Oliver's vegetables and writing our own version of the story, focussing on writing the days of the week with a capital letter and the correct spelling. We have been working on our understanding of place value and looking at numbers in different ways, we will continue this next week by using various maths resources to partition numbers. We ended our week with Roald Dahl day. The costumes were fantastic and the children enjoyed our Charlie and the Chocolate factory themed lessons. Everyone had lots of brilliant ideas for Willy Wonka to create a new sweet treat in his factory!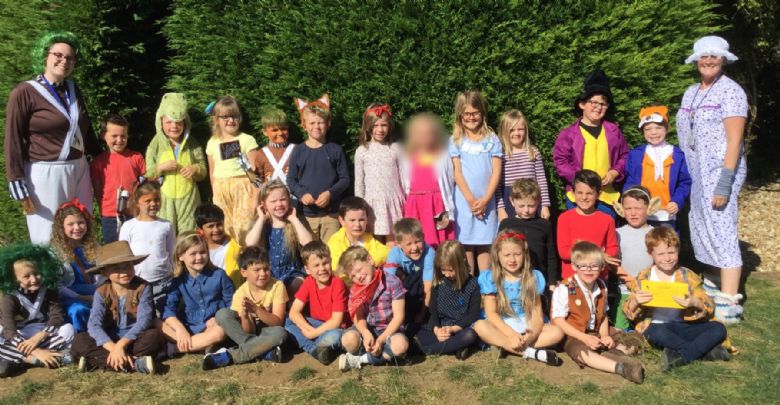 4.9.19 - 6.9.19: Welcome to Year 2! This week we have been settling into our new classroom. We have talked about classroom rules, jobs, book presentation, expectations for the year amongst many other things! We have started to look at our superheroes topic this week and we have all written some wonderful descriptions of our hero. Something for parents and carers to look forward to reading at parents evening. In maths we have begun working on place value.