A Week at a Time...
7.2.22-11.2.22
31.1.22-4.2.22
In our outdoor learning lesson this week the class have worked together to recreate London. They used sticks, mud and other natural resources to build an old London home from 1666. The team work was excellent.
24.1.22-28.1.22
In computing we have been developing digital photography skills. The children have been working on landscape and portrait photos and this week we progressed into editing the colour of the pictures. We had lots of fun looking at the different colours and effects we could use to make our pictures exciting.
17.1.22-21.1.22
This week the class worked in teams to piece together a world map and locate the 5 oceans. The team effort was fantastic and it was lovely to hear the class singing the 5 oceans song whilst locating them on the world map. The maps are now being proudly displayed on the ceiling ready for us to add lots of world facts to them.
10.1.22-14.1.22
This week we had a visit from e-safety expert Karl Hopwood. He delivered an interesting lesson on how some people pretend to be someone they're not online. He showed us technology that can generate a photo of someone that doesn't even exist! The class were excellent and had so many questions about keeping safe.
4.1.22-7.1.22
Kicking off a new term with some beautiful art work. This week the class have been using continuous line drawing to draw eyes. We then met some interesting characters and used their personalities as inspiration for various portraits.
13.12.21-17.12.21
What a fabulous nativity performance that we were delighted to share with our families. Need I say more, well done EYFS and KS1 for a truly successful performance week.
6.12.21-10.12.21
29.11.21-3.12.21
22.11.21-26.11.21
15.11.21-19.11.21
8.11.21 - 12.11.21
Our guided reading focus this week is all about Remembrance. We are looking at different stories and videos that help us remember those who have been lost. The children have been so respectful when discussing remembrance and have shared things they have learned about the war.
Here are the poppies we made using natural materials in outdoor learning. I think you'll agree when I say these look AMAZING!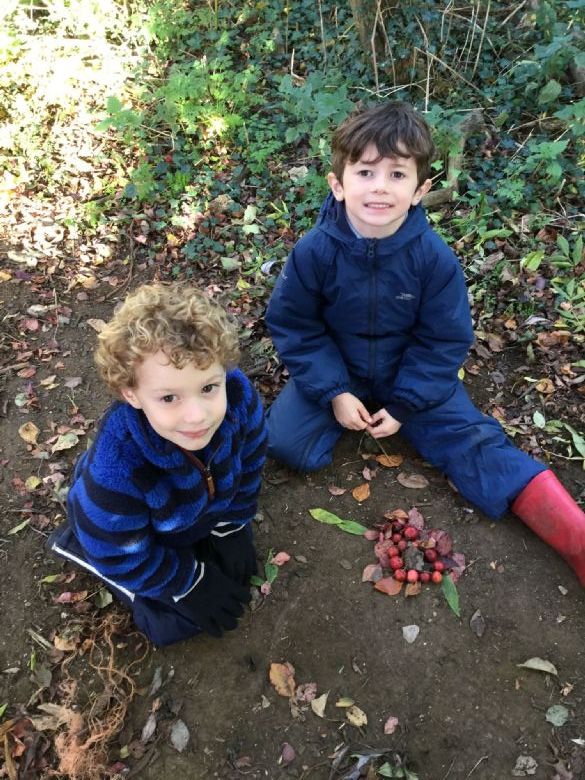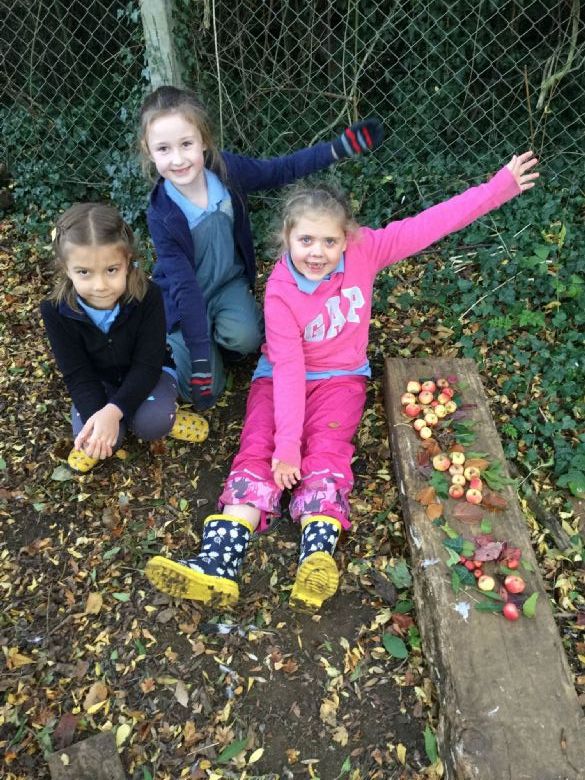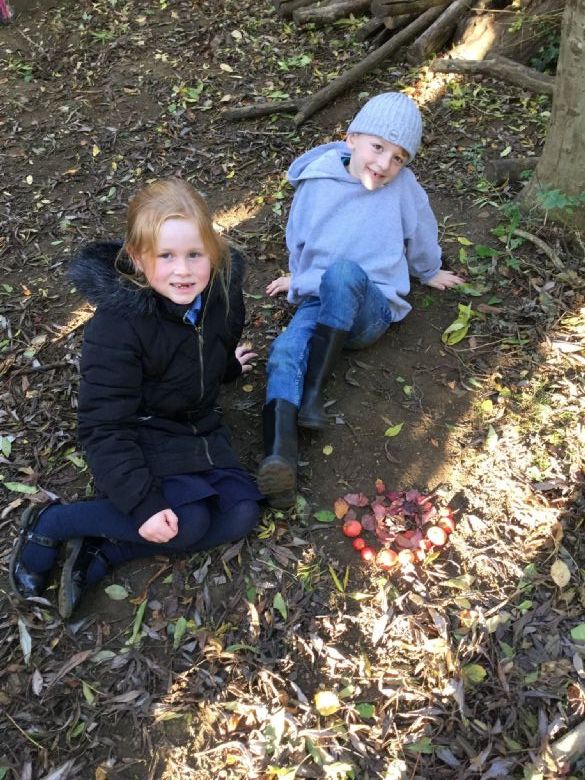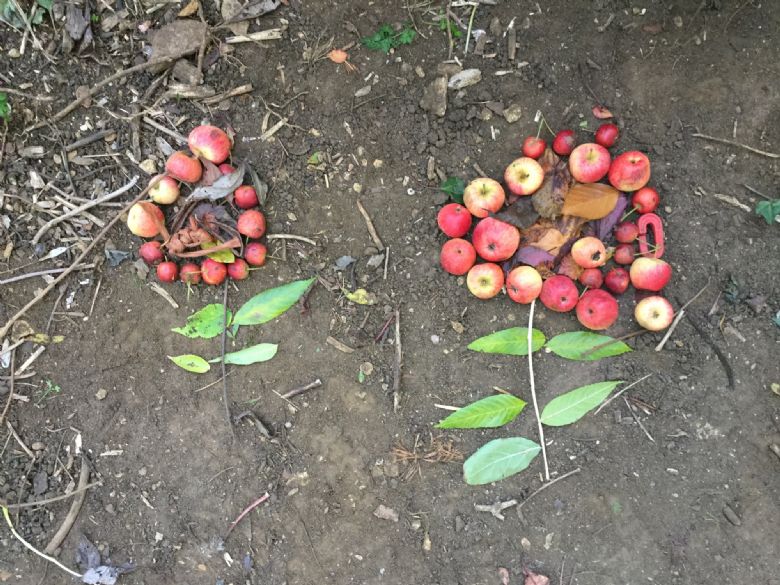 1.11.21 - 5.11.21
We are back after a lovely half-term rest. We have started a new focus in PE, this term we are working on team building. This week the children are working on their communication skills, although they had to find new ways to communicate without their voices. They did brilliantly and were able to put themselves in order with a pack of cards without talking to each other!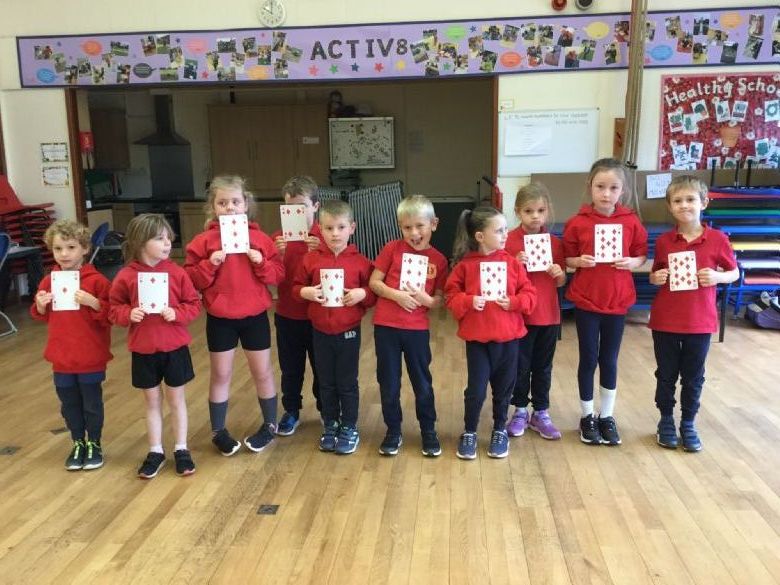 18.10.21 - 21.10.21
We had a fabulous time making these breathing cups with Mrs Webb. The children talked about mental health and wellbeing and used the cups as a way to help when they feel they need a moment to calm down.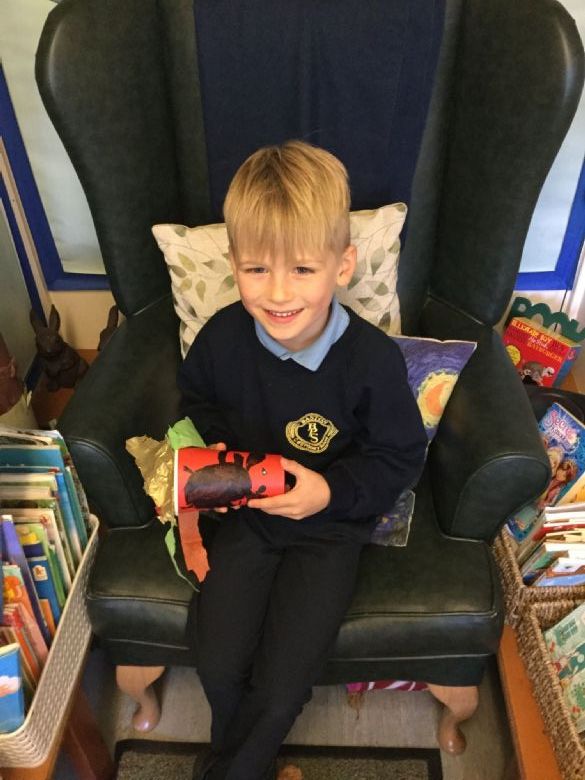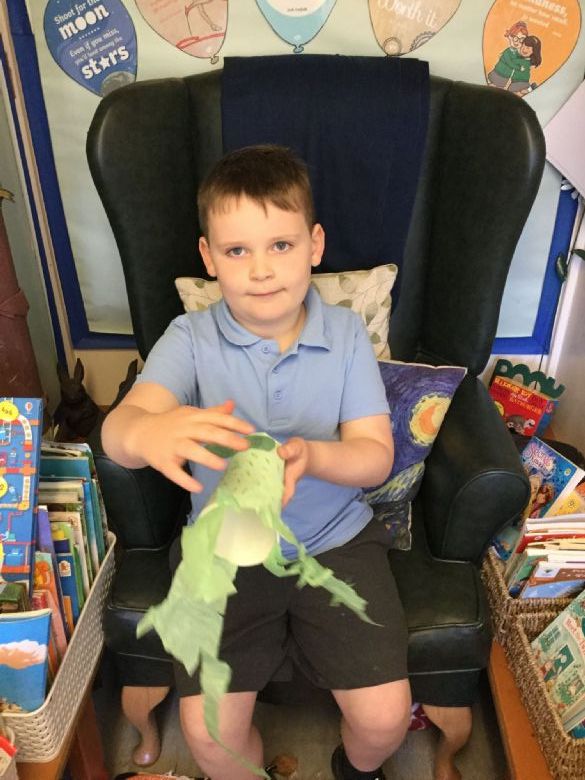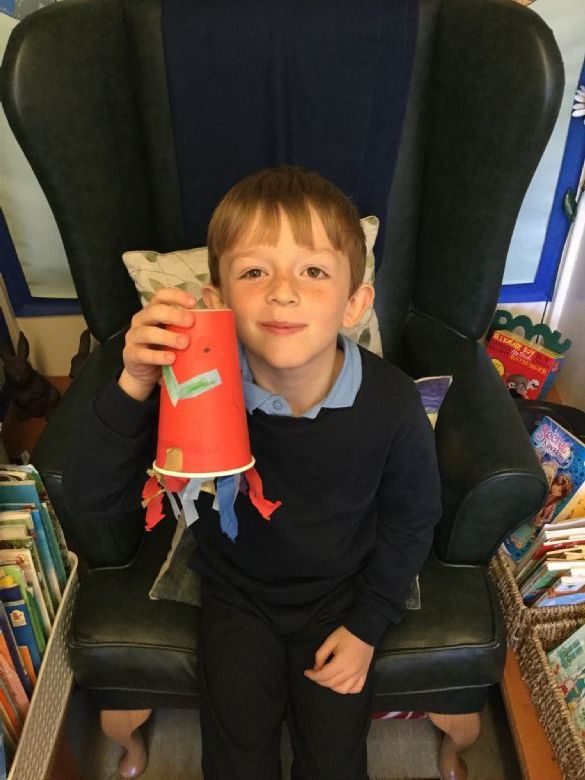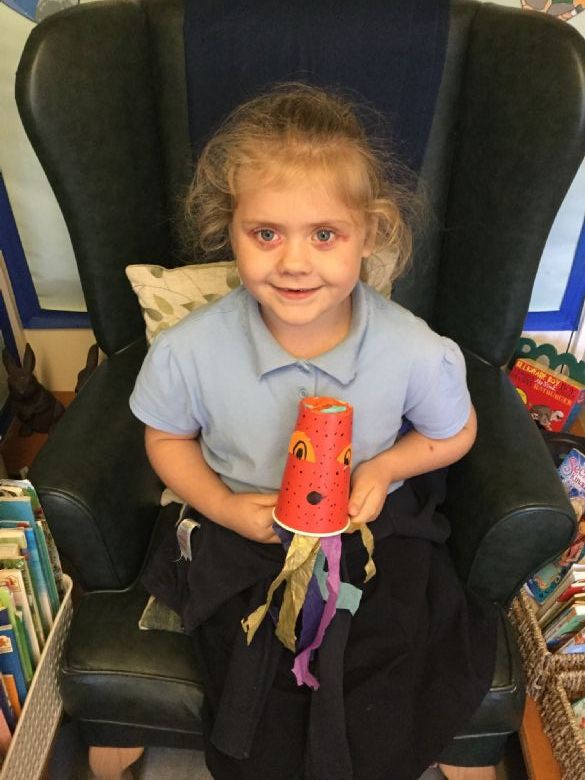 In English this week we have been learning about traditional tales. The children have been learning to retell the story of Little Red Riding Hood. All the children had a go at performing their story to the class. They were so brave!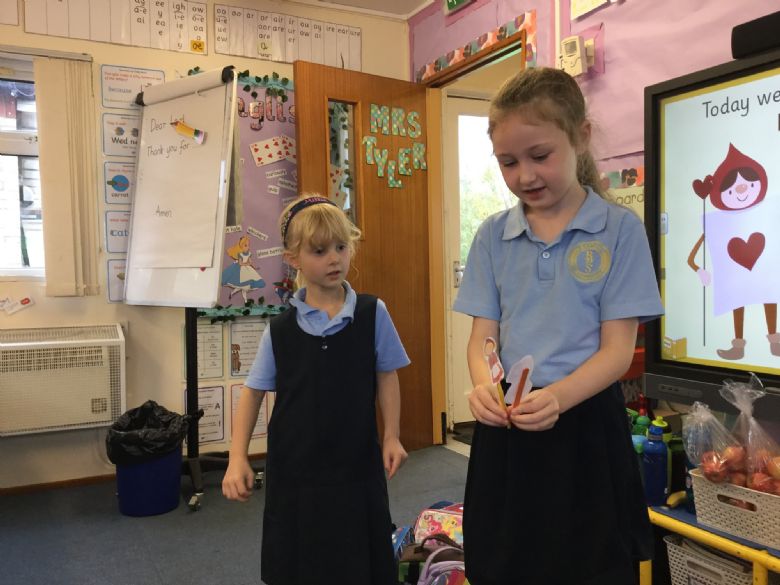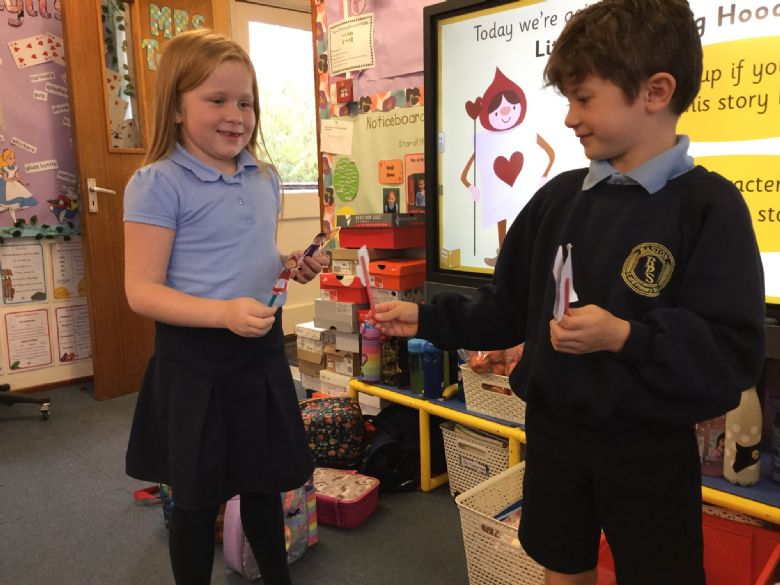 __________________________________________________________________________________
11.10.21 - 15.10.21
This week we have been learning to writing emotion poetry. We focussed on the colour monster story and used this to describe an emotion in our own words. WOW just WOW, the poems are absolutely fantastic. The children have thought of some brilliant adjectives and similes to describe their emotion. They have even used their neatest handwriting to write their poem in neat. WELL DONE YEAR 2!
__________________________________________________________________________________
4.10.21 - 8.10.21
This week we had our harvest performance and the children were absolutely fantastic. They performed so confidently and enjoyed every minute!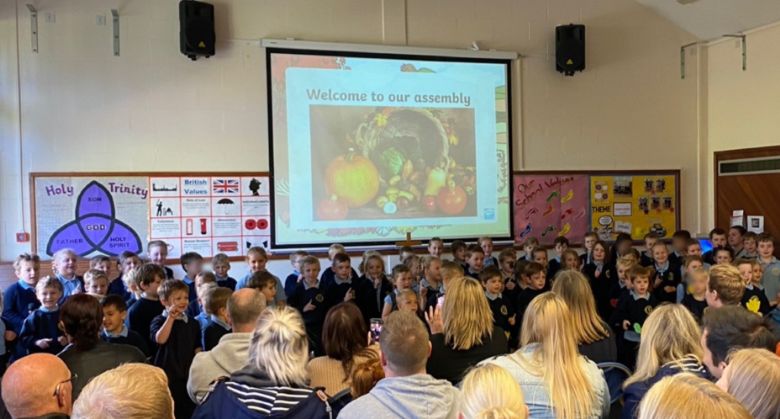 __________________________________________________________________________________
27.9.21-1.10.21
This week we started to build our boats with our massive collection of junk modelling (thank you for all of your contributions!). The boats are still a work in progress but are looking fabulous. The children have been thinking about what materials they need to use to make sure their boats float when we test them on water.
In RE we are learning thinking about how Muslims live their lives. The children have been amazing at sharing their ideas and opinions respectfully. We have been learning about the 5 pillars of Islam and the importance of them.
We have had a brilliant week in maths. We have been partitioning tens and ones and representing numbers up to 100 in different ways, keep an eye on Seesaw to see your child's uploads this week.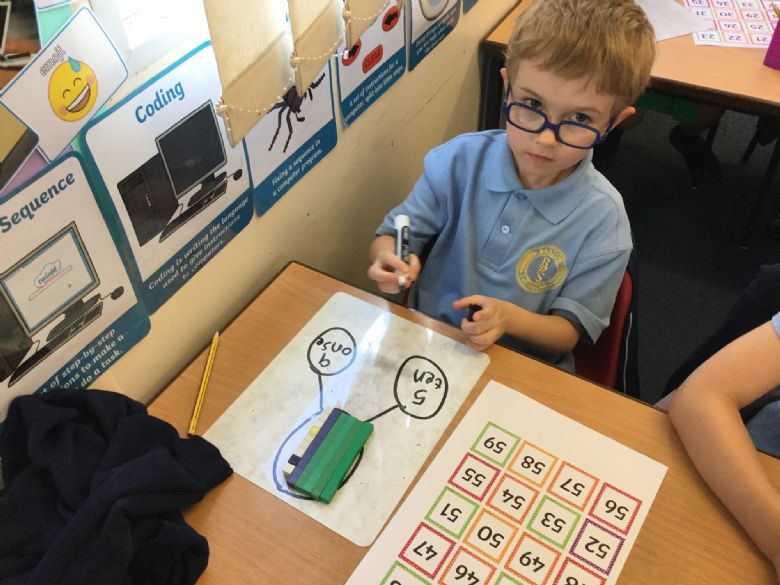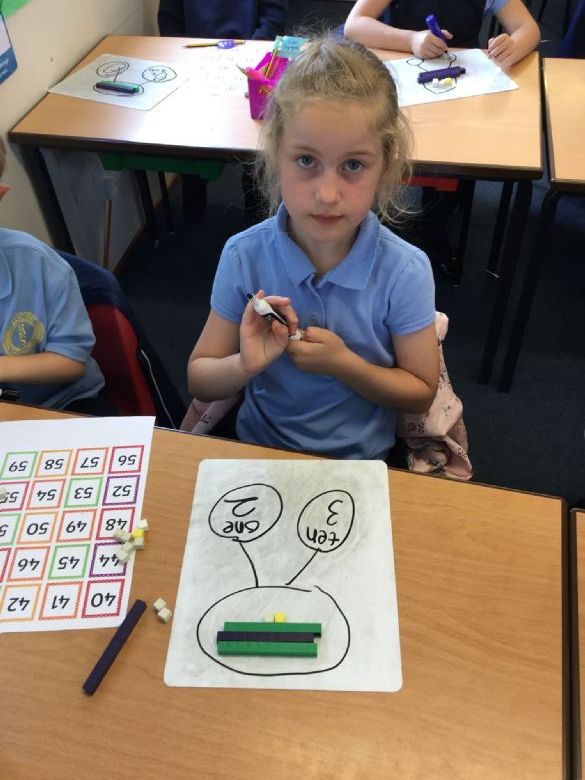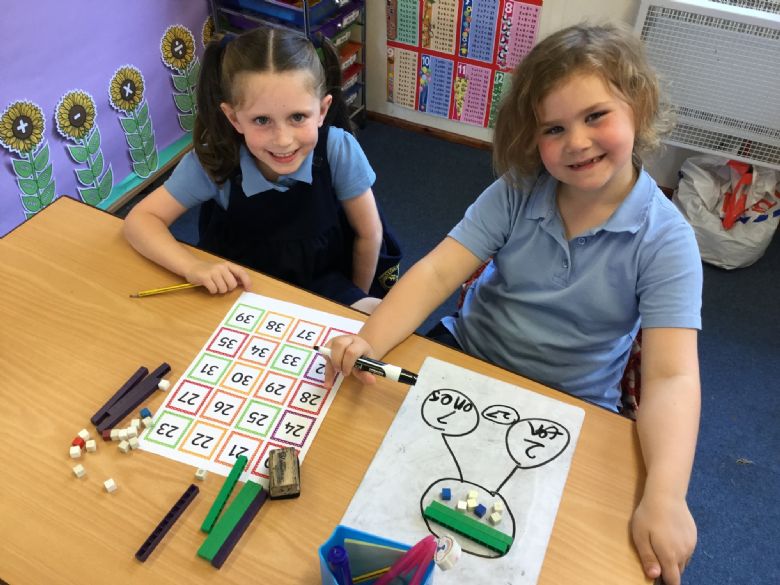 __________________________________________________________________________________
20.9.21-24.9.21
This week in maths we have been counting, reading and writing numbers up to 100. We have looked at the value of each of these numbers and used lots of materials to represent our numbers (take a look at Seesaw to check out these lessons). We still need a little more practise with writing numbers and lots of practise of this at home would help us in school lots!
In English we have continued to explore character description based around our focus book, Alice in Wonderland. We are learning to use a variety of adjectives in our descriptive writing.
In our outdoor lesson this week, we collected leaves to create a natural art. The children have created patterns using different leaves from the forest area. Next week we plan to use natural materials to decorate our designs.
____________________________________________________________________________________
13.9.21-17.9.21
This week we have been settling into a normal year 2 routine. RWI and English is in full swing, we are all working hard to learn our sounds in phonics and develop our writing styles. In maths we have been revisiting what was learnt in year 1 ready to move on to year 2 place value. Times table rock stars is already improving and we are all loving having a boogie whilst answering the questions!
On Monday we had our first outdoor learning lesson in year 2. We explored the forest area whilst playing games then moved on to creating rubbings of the area, including tree trunks, leaves, cones and twigs.
Check out our class art project! Inspired by our topic question, Is a tree a home? We have created an ecological mural of trees that can be homes to a variety of animals.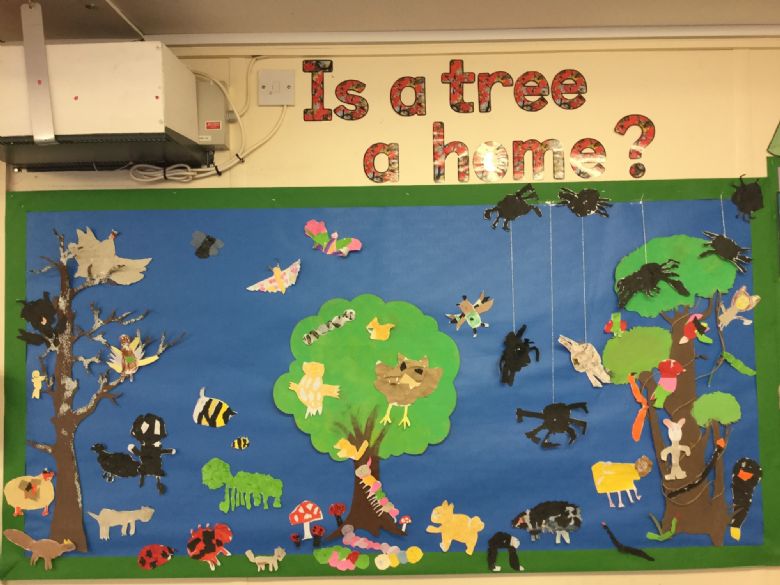 ____________________________________________________________________________________
Our first week back!
We are having a brilliant time in year 2 this week. The children are all settling in well and embracing the new challenges in year 2. We are busy at work preparing all of our lovely new displays, we can't wait to show you when they are ready!
We have had our first go at Times Table Rock Stars this week and the children were amazing! We love listening to music whilst doing maths. Look out for the TTRS login details coming out in the reading logs next week, there are lots of challenges and games to play to help your child with their times tables at home.