Latest News 2016-2017
WOW! What a year we have had in Year 4! Thank you to everyone for a fantastic year, you have all worked very hard and have grown up into amazing children! Good Luck moving on into Year 5, I know you'll all be just brilliant!
A big thank you to everyone for the fantastic gifts, I really am so overwhelmed with your generosity! I'll be sure to return to say hello and introduce the new addition of the Sturgess family.
Mini Olympics
On Wednesday we had a fantastic day at the Mini Olympics in Grantham!! We participated in a variety of different sports, paraded the banner that we had made and learnt a lot about team work and communication!!
Music Festival
We were lucky enough to enjoy a collection of musical performances from a variety of children in school in the Summer Music Concert. Several members of our class performed as we were very proud of everyone!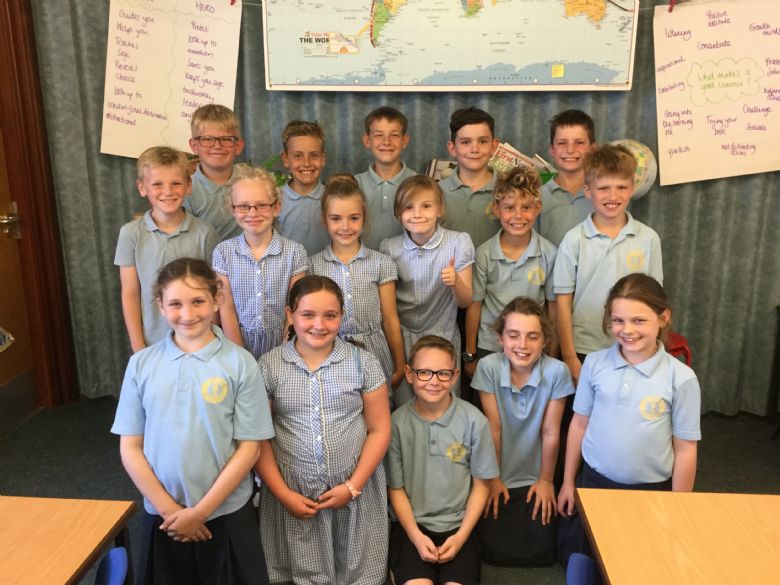 Churches Together
On Wednesday 7th June we took part in the Churches Together trip in Stamford. We had a brilliant day singing, dancing and taking part in a variety of workshops in different churches around Stamford.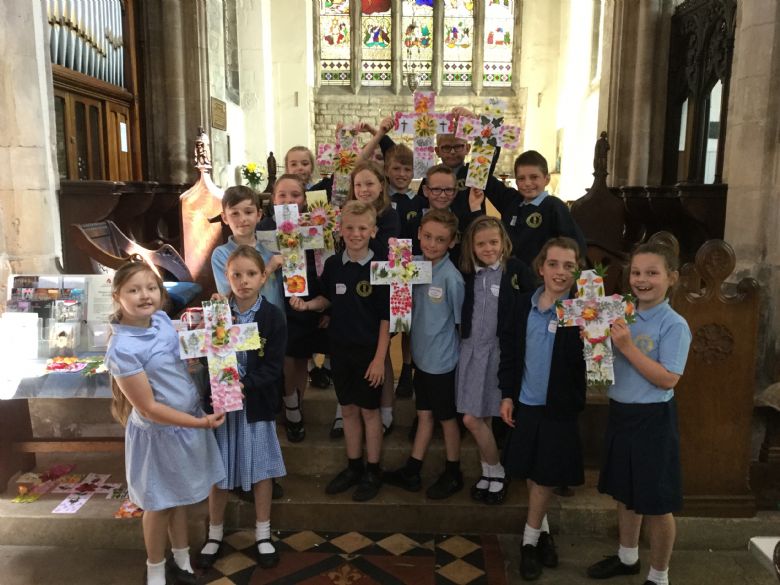 Circus Day!
This week we had special visitor called Mike, he came in and taught us lots of different tricks from the Circus! We had a great workshop with him where we learnt to juggle, spin plates and balance feathers!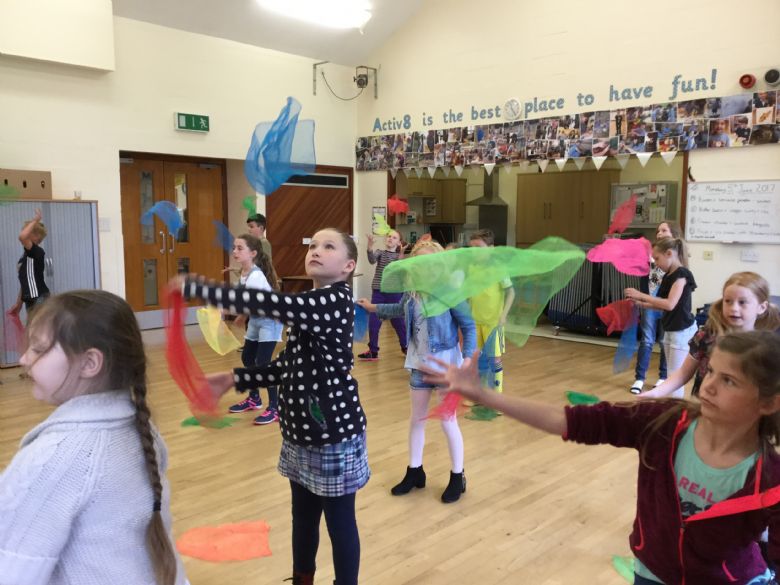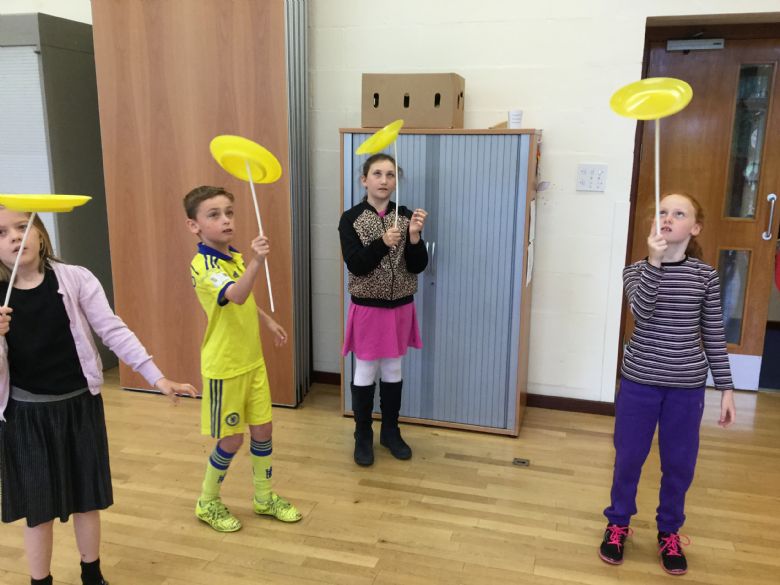 Welcome back to our final term in North America Class! We have got a jam packed term ahead with lots of different things going on.......
Watch our for our Churches Together trip, the Mini Olympics and several different sporting events!

This week is Sports Week here at Baston! We are very excited to have the opportunity to have a go at lots of different sports as well as taking part in Sports Day!
We have had a great week having a go at Rugby, Badminton, Basketball, Laser Tag, Dodgeball, Cricket and Cheerleading to name a few! We have shown all our school values especially humility and self-control!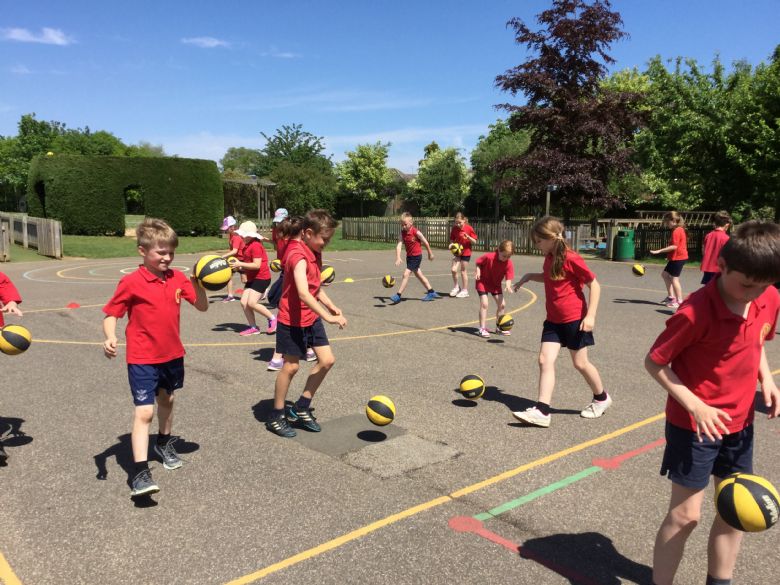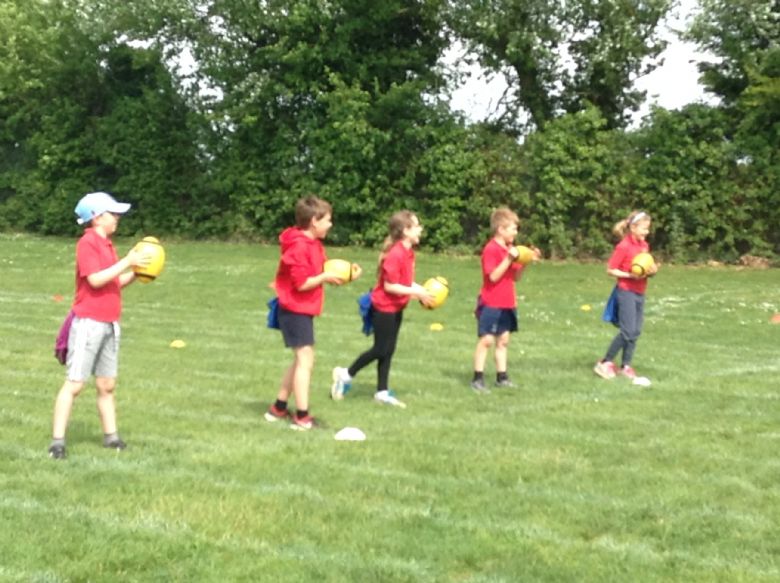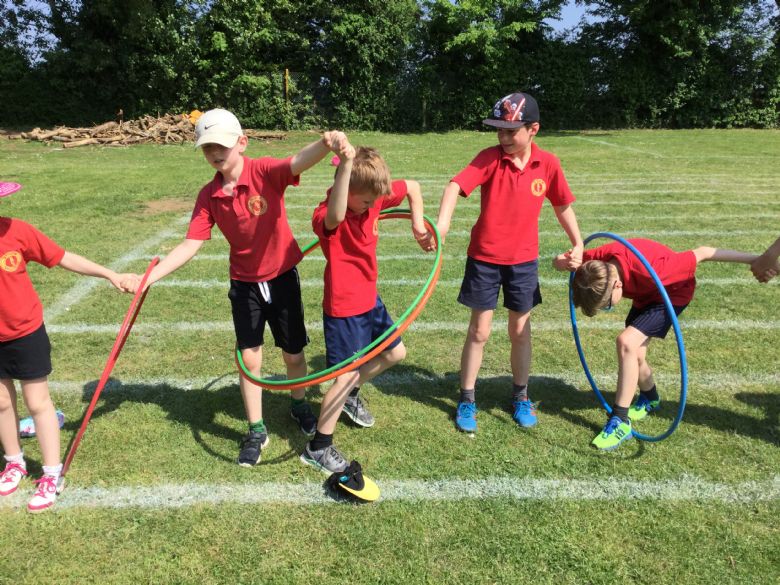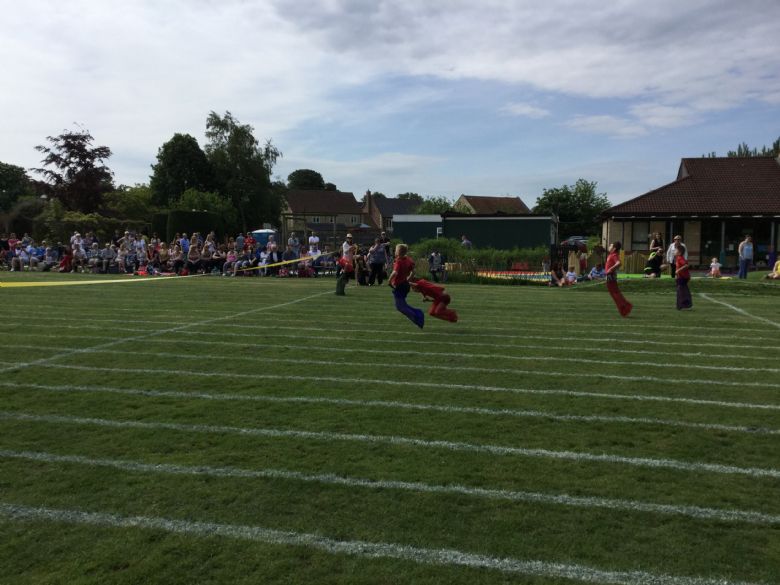 Sports Day was a fantatastic day; we all had the chance to participate in 4 different races and loved cheering on all the other children in our school!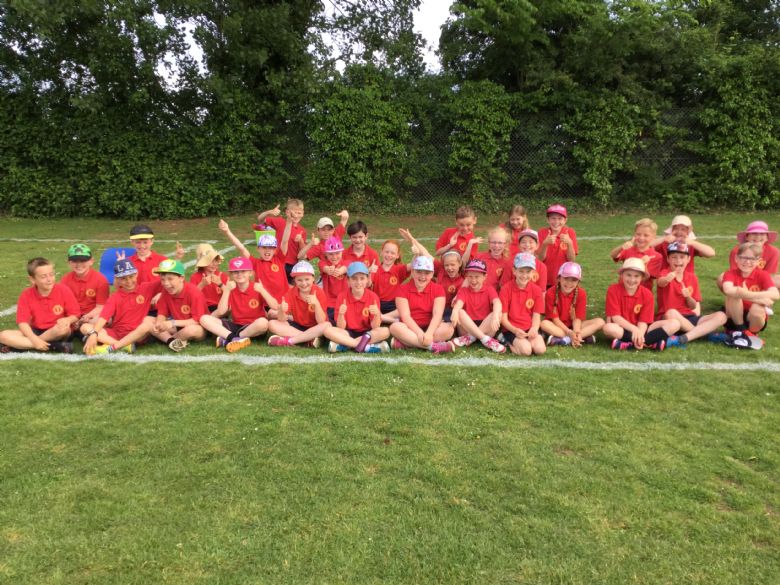 We our very proud of our whole class for showing great sportsmanship, having a growth mindset and embracing the challenges that have come with the week!
Cricket Coaching
This term we are lucky enough to have an external cricket coach visiting each week (a Thursday afternoon). We hope we are going to be able to develop our skills, practise our cricket in a game situation and learn lots of new skills! Later on in the year some of us will be participating in a cricket tournament! Watch this space for more cricket news....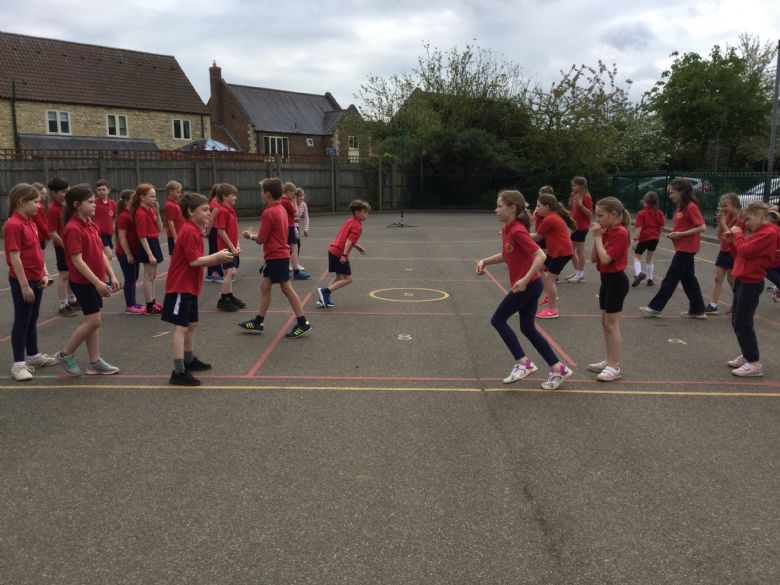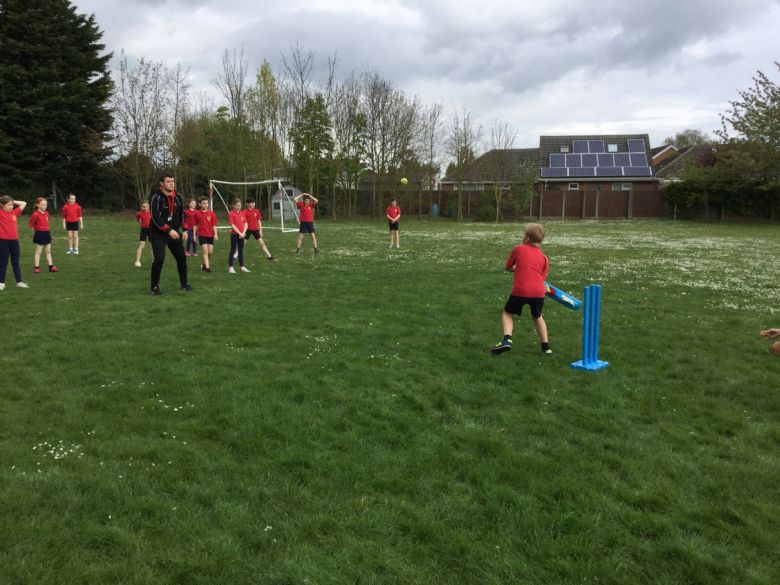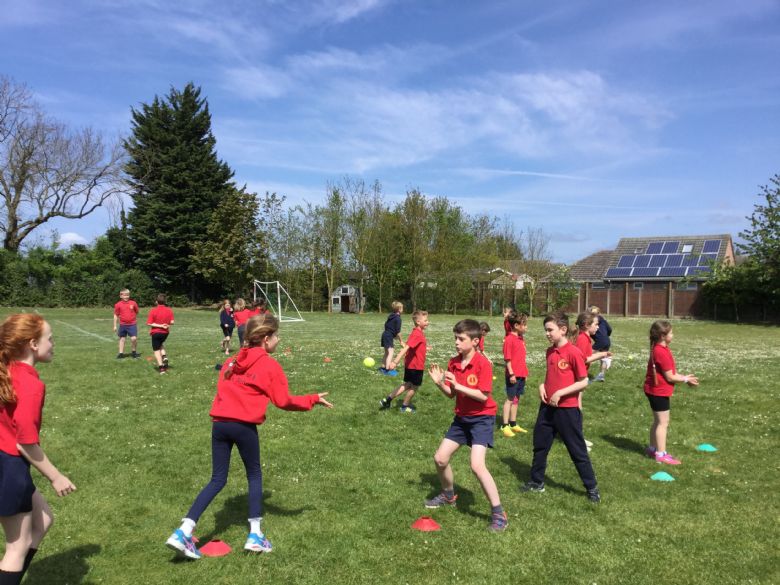 Visiting Author
On Friday we had a very special visitor come into school.....Michaela Morgan; author of many children's books. We participated in a question and answer session with Michaela where we found out why and how she became a writer, inspiration for her books and just how tricky it can be being an author. Michaela also performed her own poetry as well as reading extracts from her novels aloud. She ended with some top tips on how to become an amazing writer.......read, read, read and read some more!!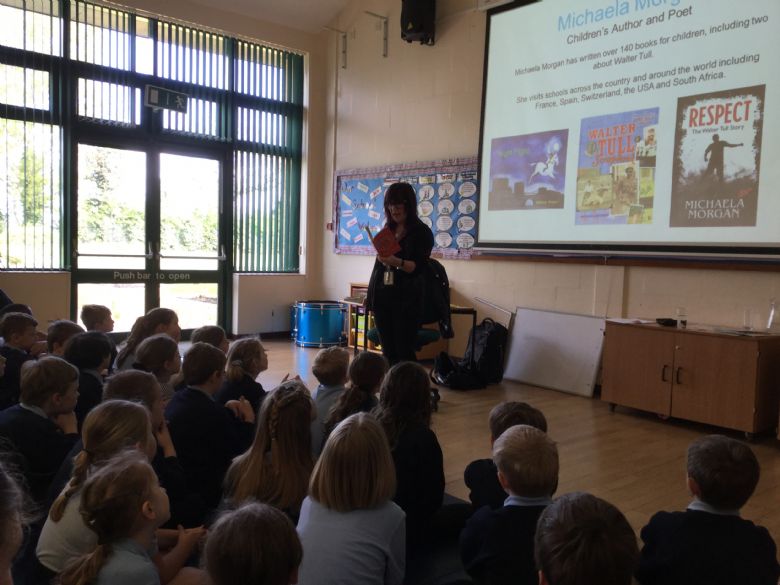 Growth Mindset Day
Today we had a great visitor in today teaching us all about Growth Mindset, we learnt about how to be a good learner and what we need to do to achieve this! We now have lots of tools to put into place in the classroom.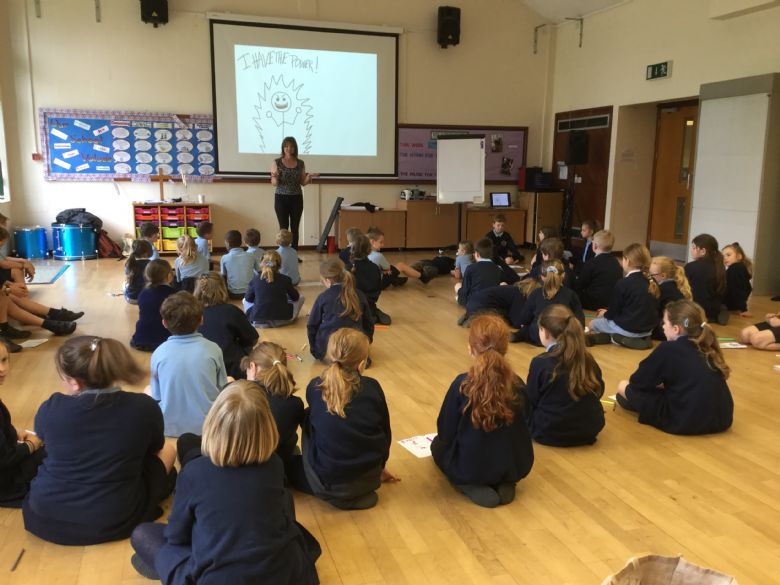 LINCOLN ROMANS AND GREEKS TRIP
We had a fantastic day in Lincoln learning more about the Romans and Greeks! We started the day with consolidating our knowledge of the Romans and even learning some things we didn't know! We became part of a Roman army and made our very own Roman shields! The afternoon introduced us to The Ancient Greeks; we focused on different areas such as Democracy, Mathematics, Architecture and Theatre. We also got the opportunity to hold some Ancient Greek artefacts!!
We can't wait to learn more now!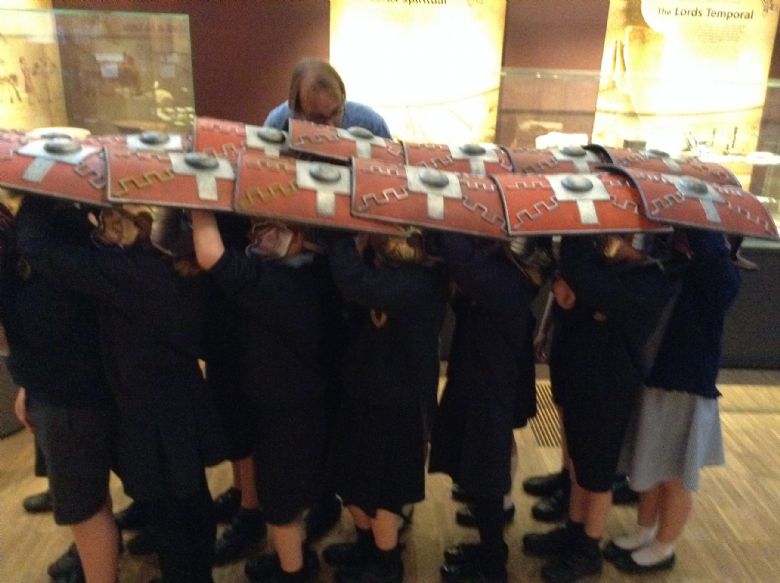 LINCOLN TRIP 19.4.17
Just a quick reminder of the details for our trip to Lincoln on Wednesday 19th April........
The children need to arrive at school at 8.15am ready to leave with a packed lunch, drink and in school uniform please.
We are due to return to school at 4pm.
We have a fun packed day planned finishing off our Romans topic and starting our new topic on the Ancient Greeks!
Welcome back to term 5! Hopefully everybody has had a nice relaxing Easter break and is ready for another fun filled term in Year 4!
FIT IN 15!
This week we have started to take part in 'Fit in 15' we are aiming to do 15 minutes of exercise every day at school in addition to playtimes and PE lessons. So far we have been running and or walking a daily mile and trying to improve every time! Watch this space for some different activities that we are going to try in our active 15 minutes every day!!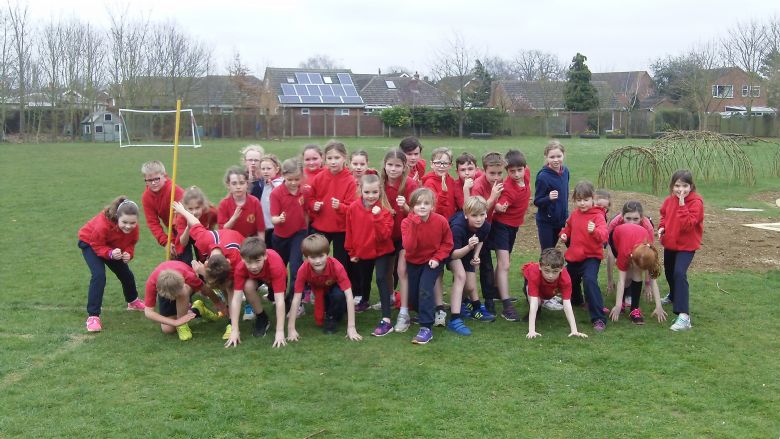 On Thursday 2nd March we celebrated World Book Day at Baston! We had a brilliant day sharing our favourite books and demonstrating our love for reading! We participated in DEAR (Drop Everything And Read) twice throughout the day where Mrs Sturgess and Mrs Kidder read extracts from their favourite books. We visited the Year 2 class for shared reading, which was great fun!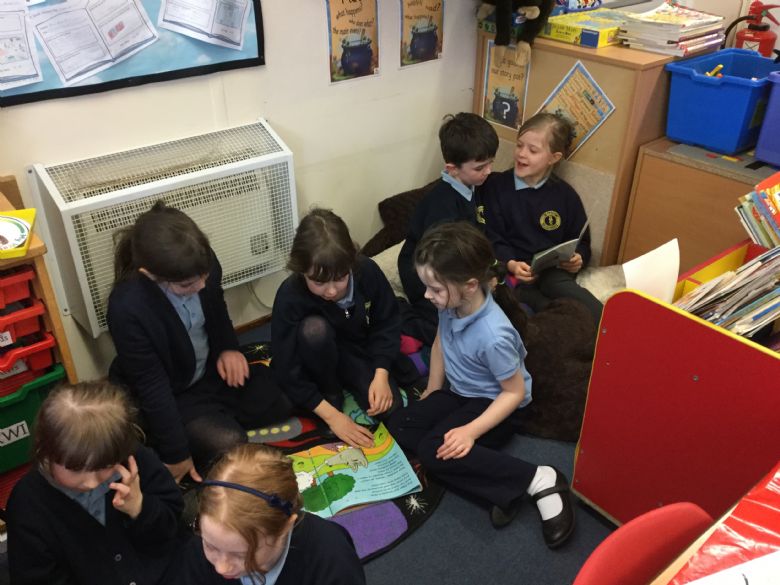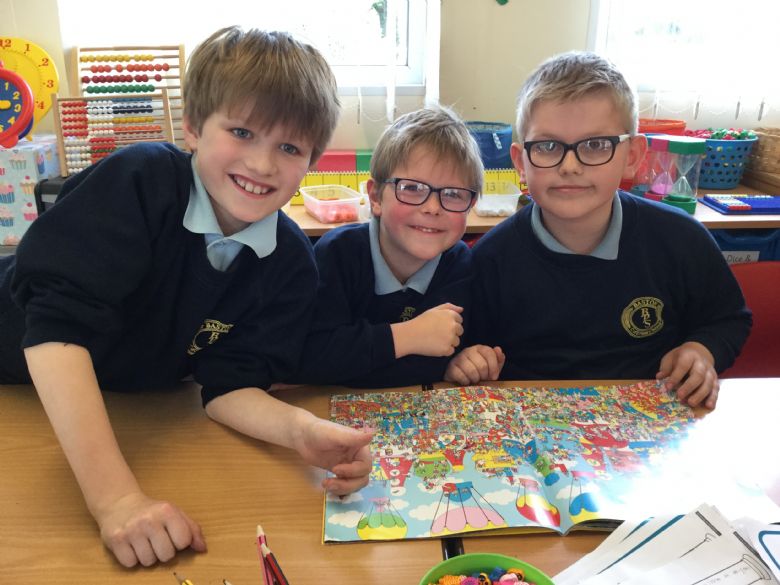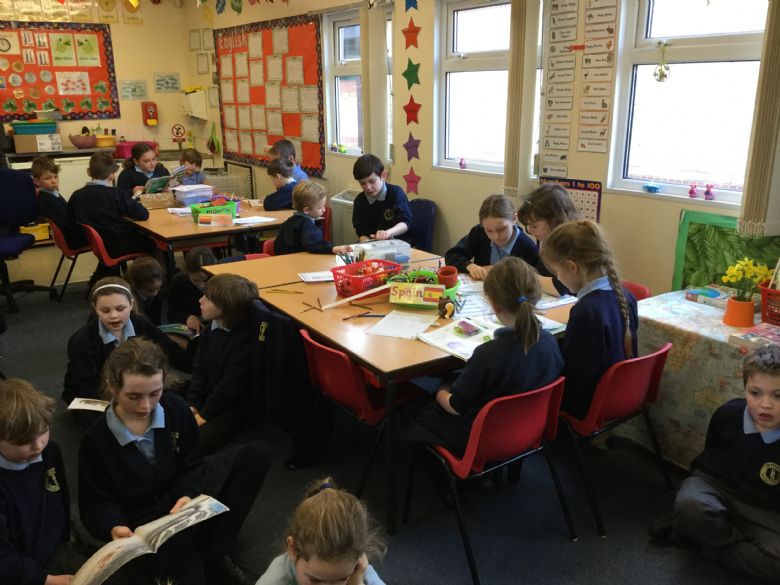 In Year 4 we decided to bring in our favourite books and we shared why they were so special to us! We also brought in some of our old books to donate to a school in Africa for children who need them.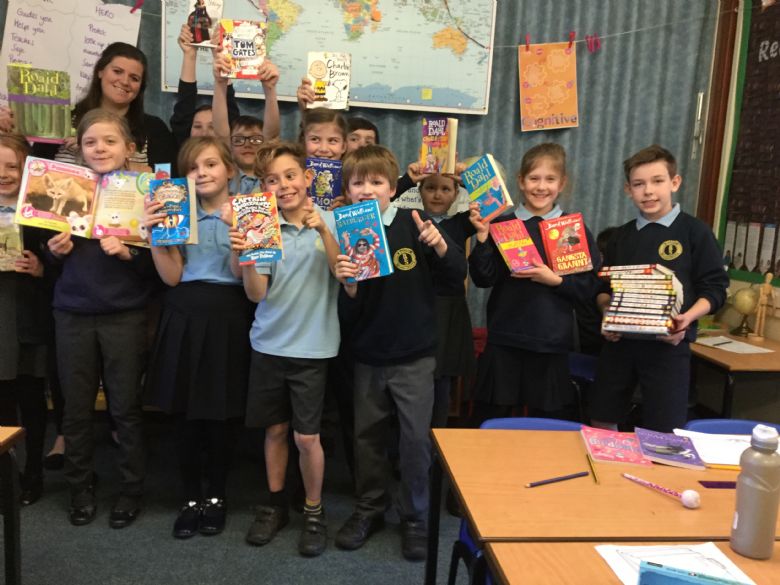 LOVE TO LEARN
Today we had our love to learn morning! Thank you to all the families that came to help celebrate our learning! We loved telling you all about the amazing things we do in Year 4 and hope you had a great time exploring and learning with us!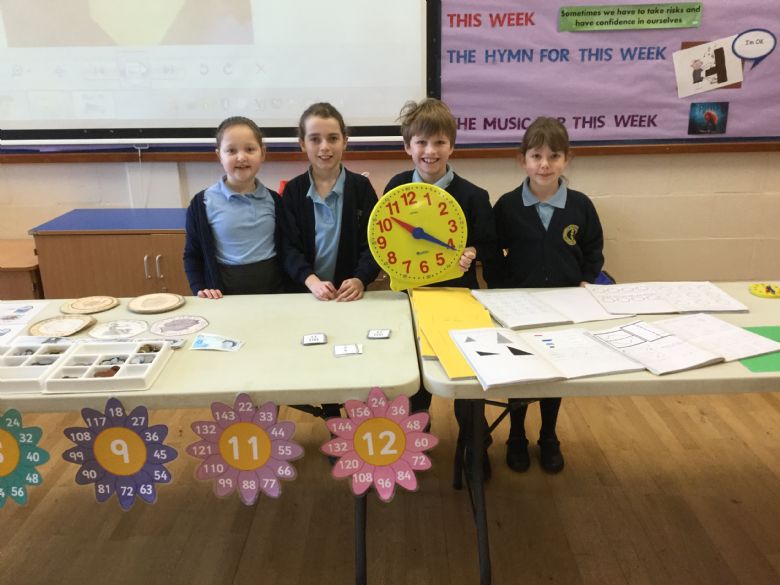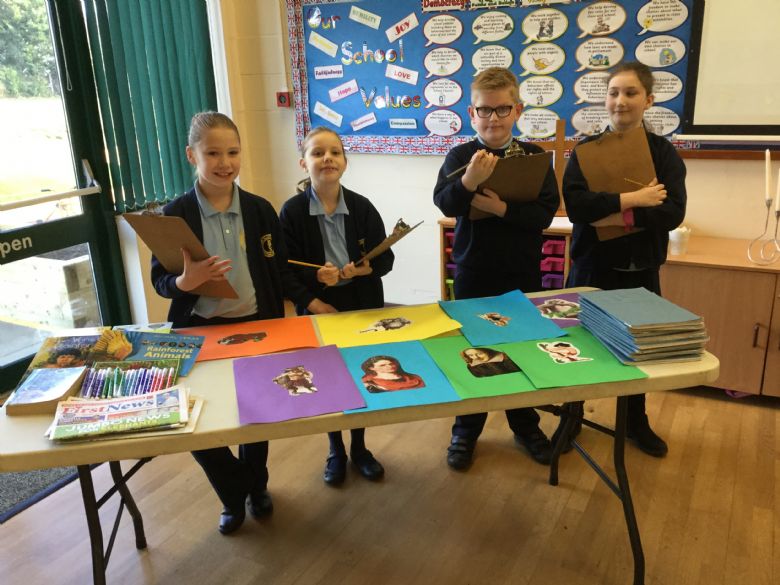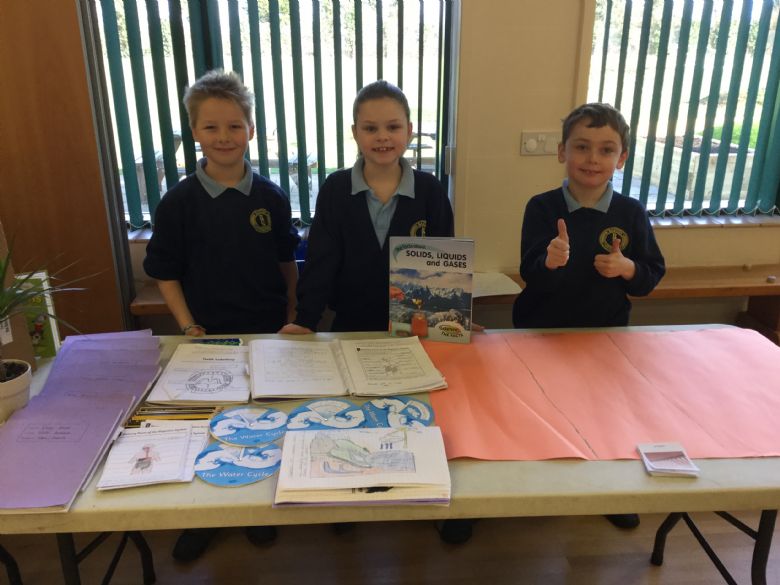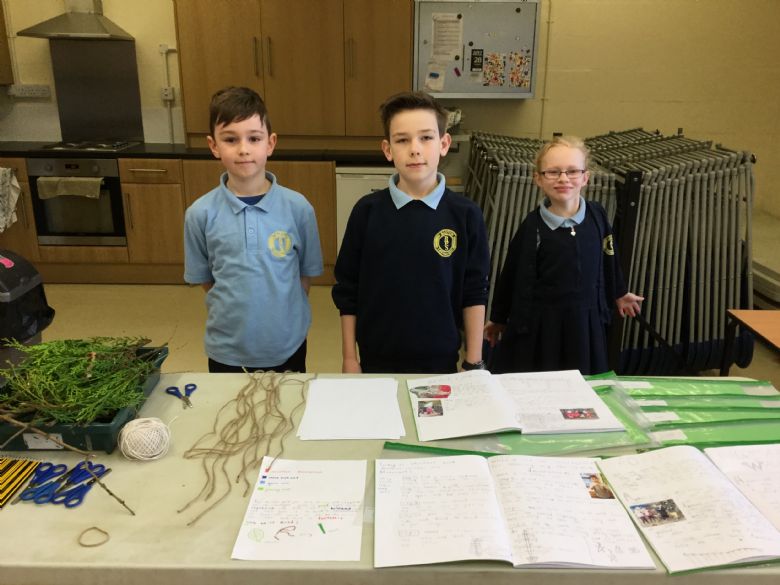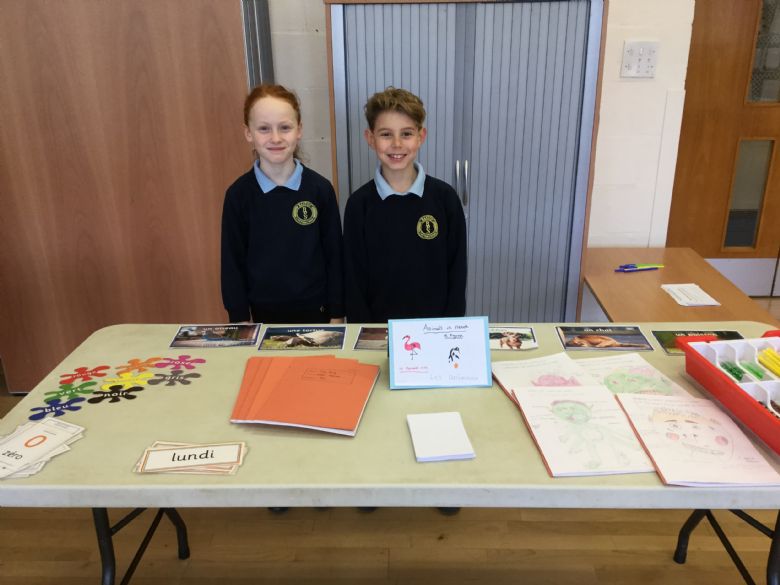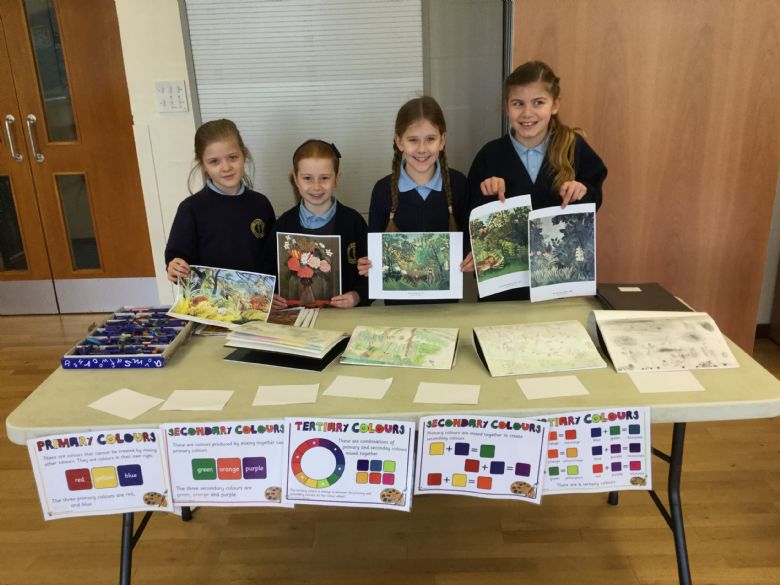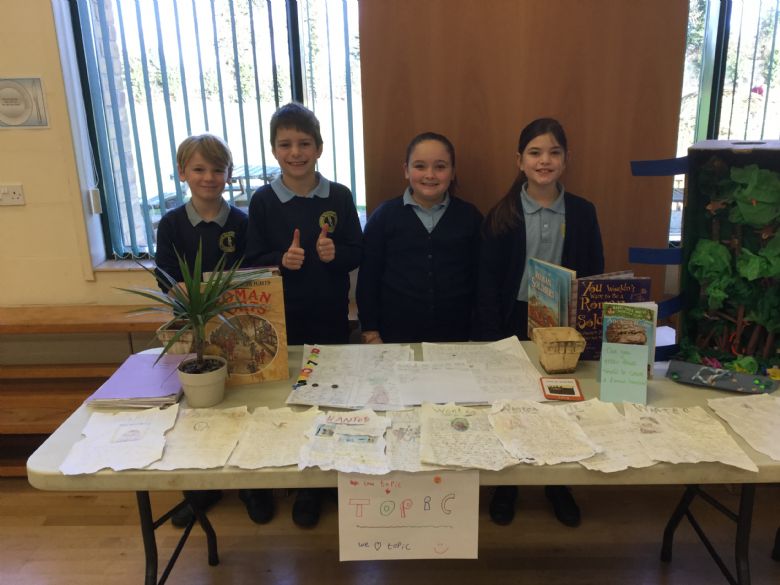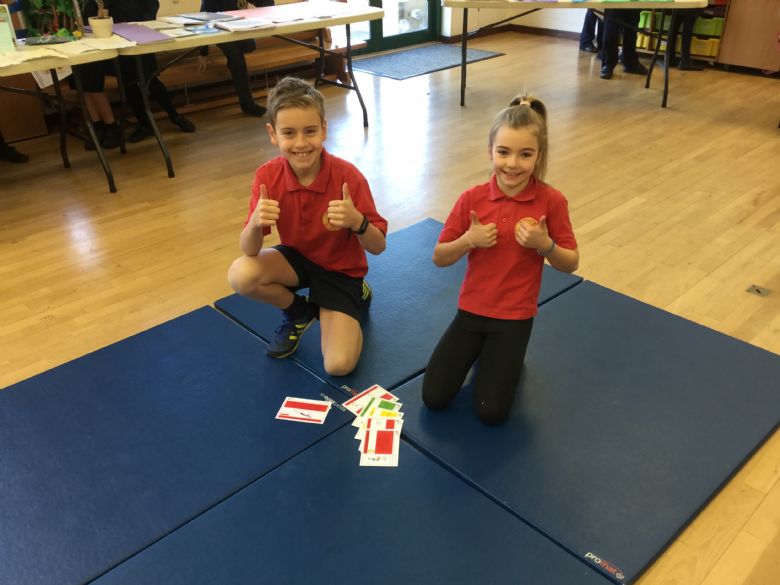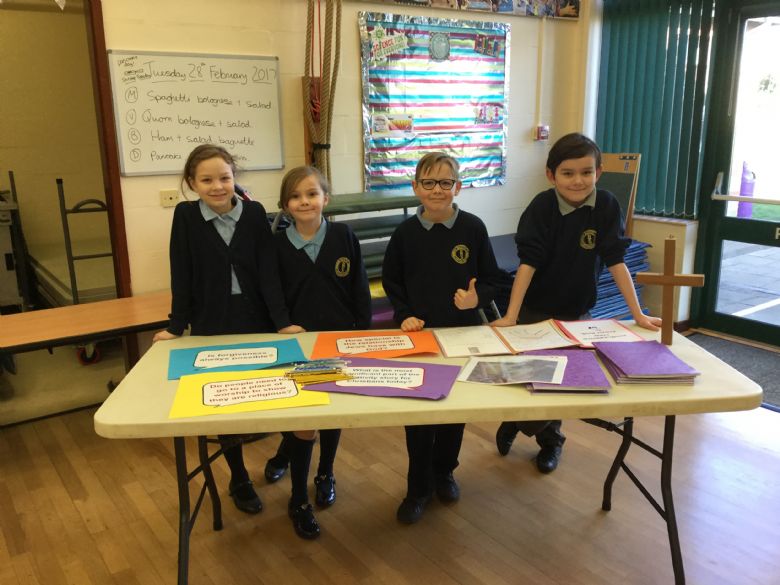 Roman bread making
This week we have been using our skills in money, measuring and baking! We started by calculating the ingredients we would need to make the bread, then we measured out the ingredients following a basic recipe and finally we baked the bread then tasted it! We had great fun!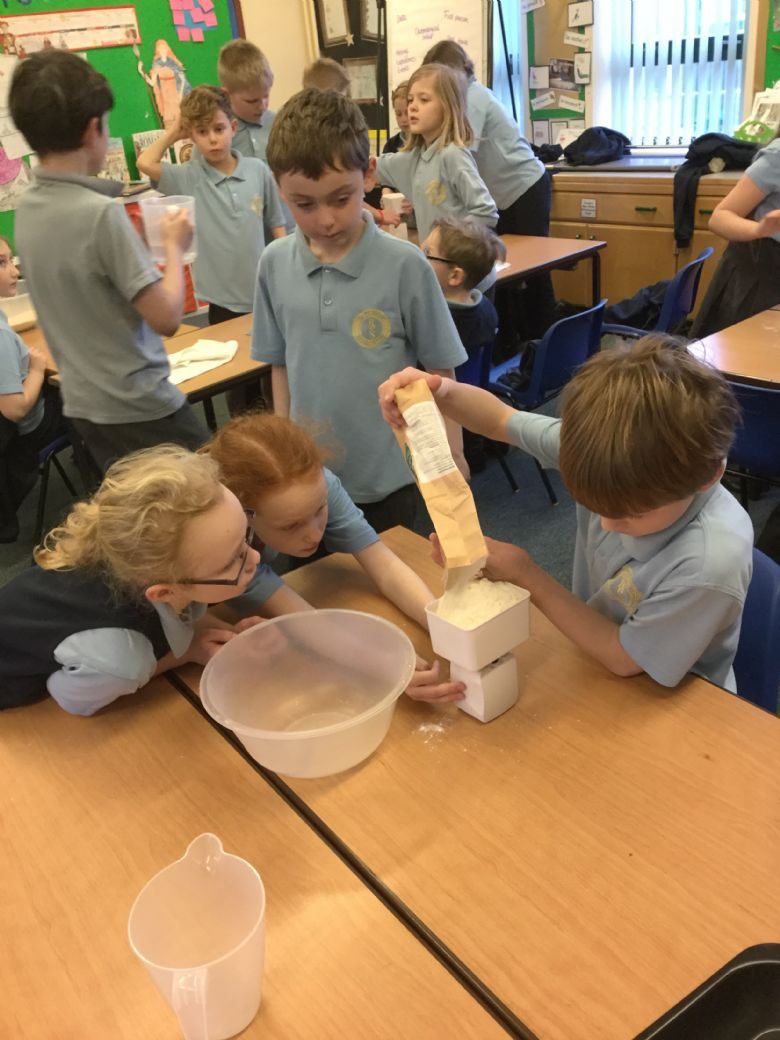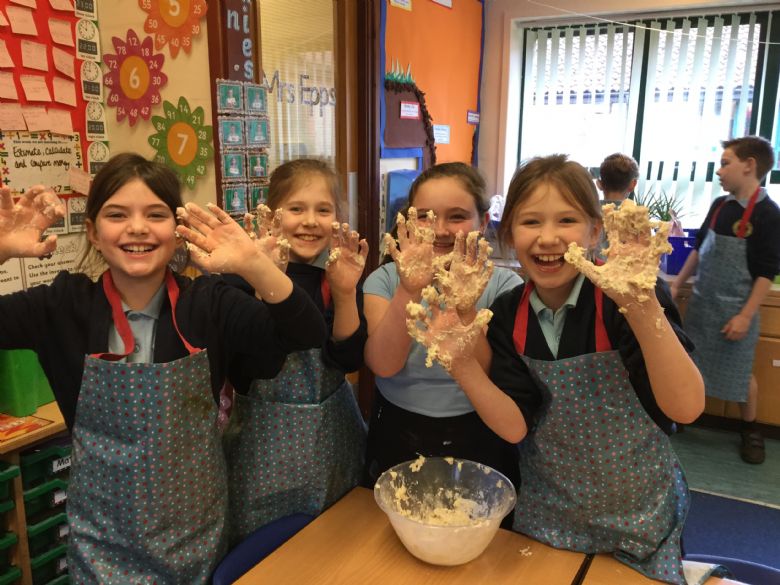 YEAR 4 SPORTING STARS!!
This week has been a busy week for Year 4 in sport! Some of us went to a Year 3/4 Hockey tournament; we had a great day and learnt a lot about team work and lots of new skills! Our gymnastics team had a competition where they performed individually, the girls did so well and won the whole competition!! We are very very proud of all the achievements this week!!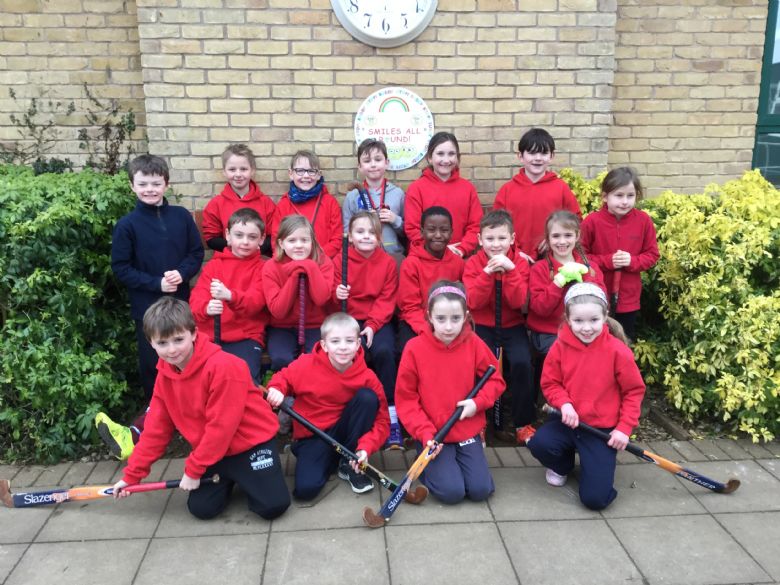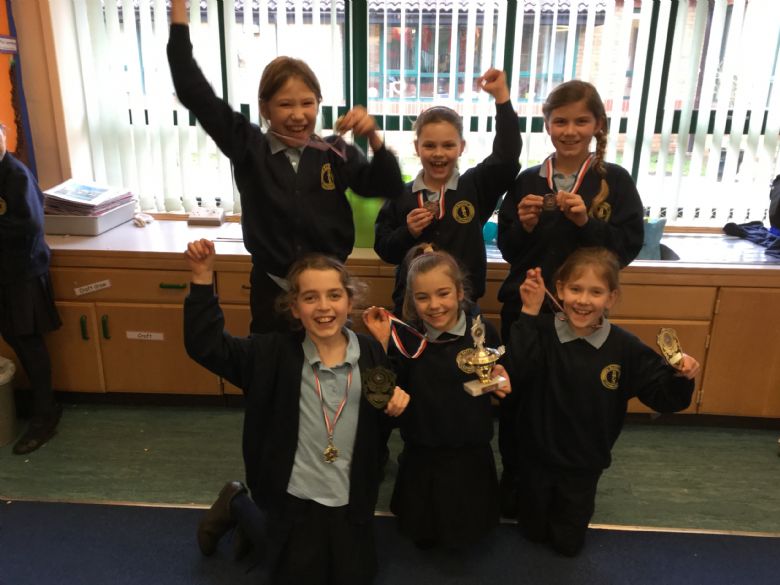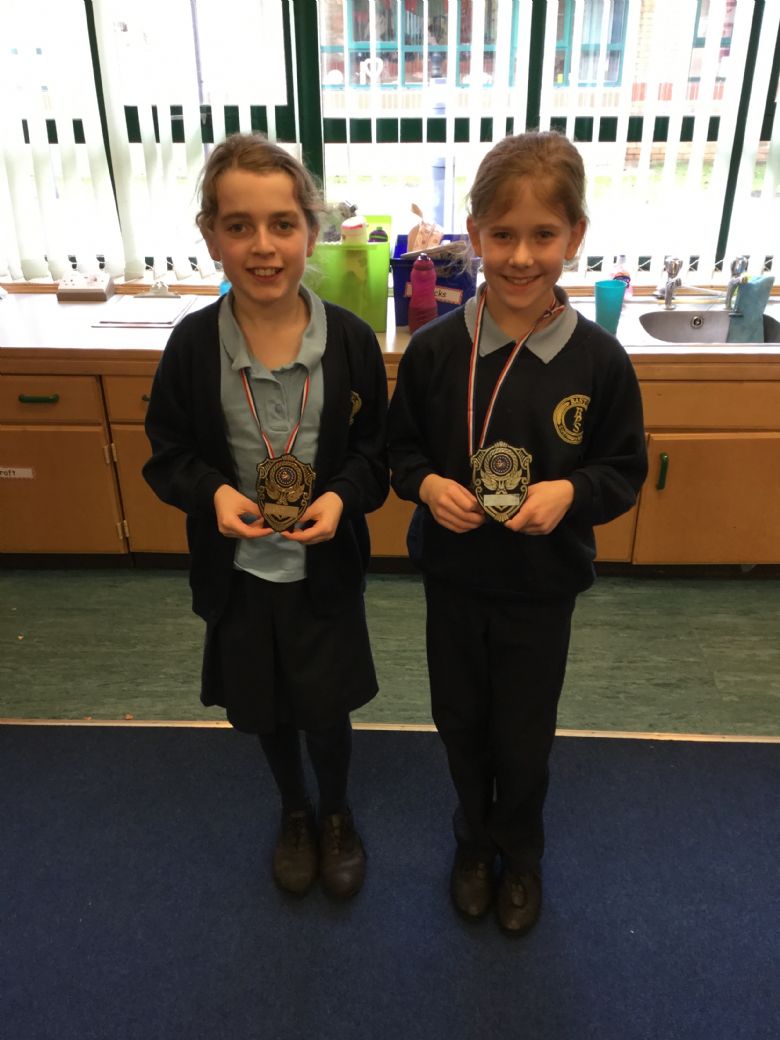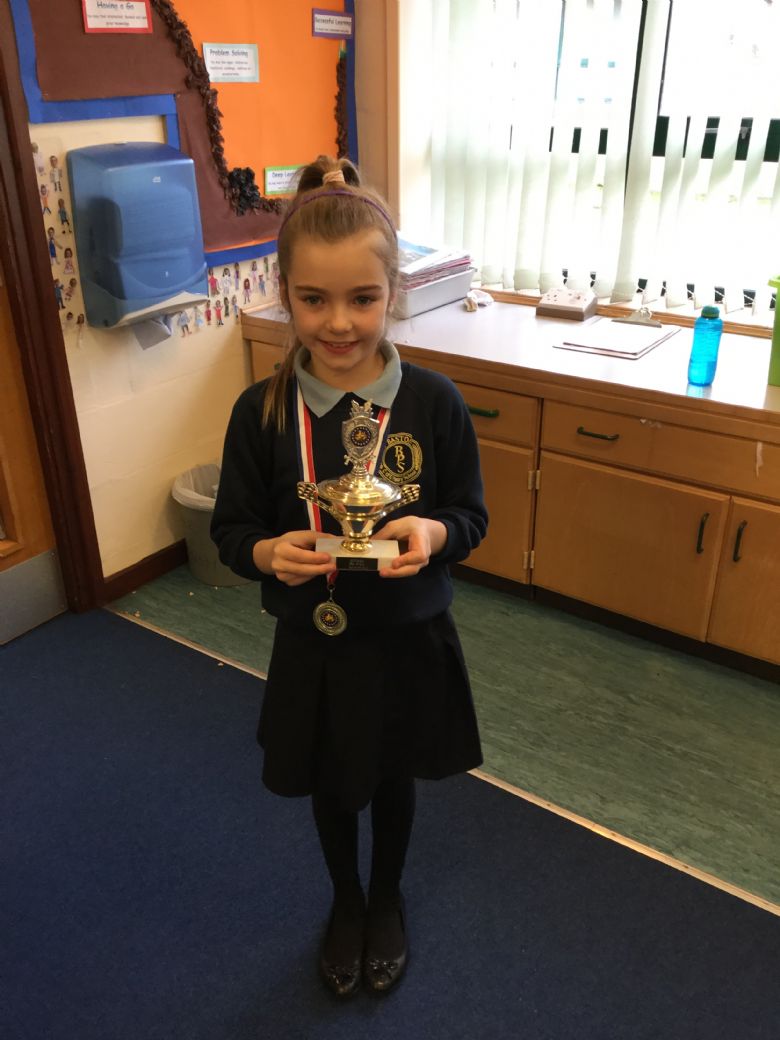 PHILOSOPHY
It has been that time again in Year 4; this week we have carried out another enquiry about leadership and choice based on our topic. This promoted a lot of discussion about gender and if that makes a difference. We have made really great progress in our thinking skills and were able to create some very thought provoking questions to enquire about.
For our stimulus we explored the difference between a hero and a leader and discussed who our own heros and leaders were and why we might choose to follow them. Next, we had a selection of pictures that we sorted into different groups; firstly we sorted them into heros and leaders, then if they had a choice to be in their role and then if gender made a difference to their role. This really made us think and prompted a variety of questions.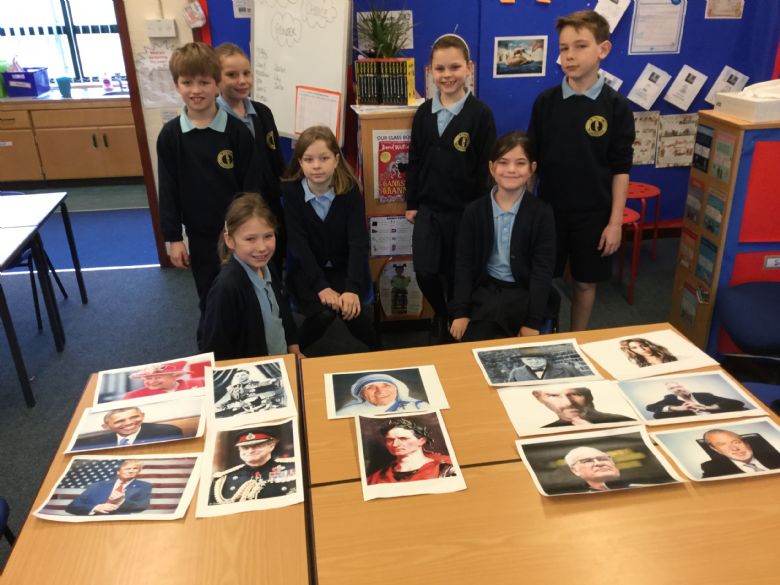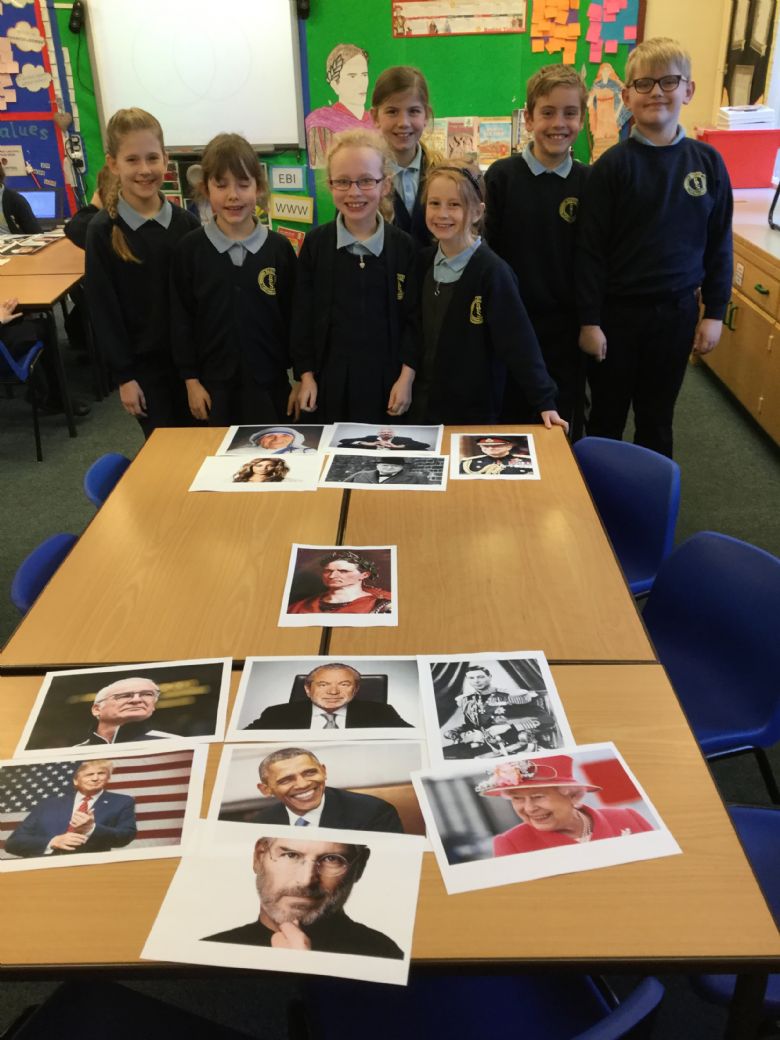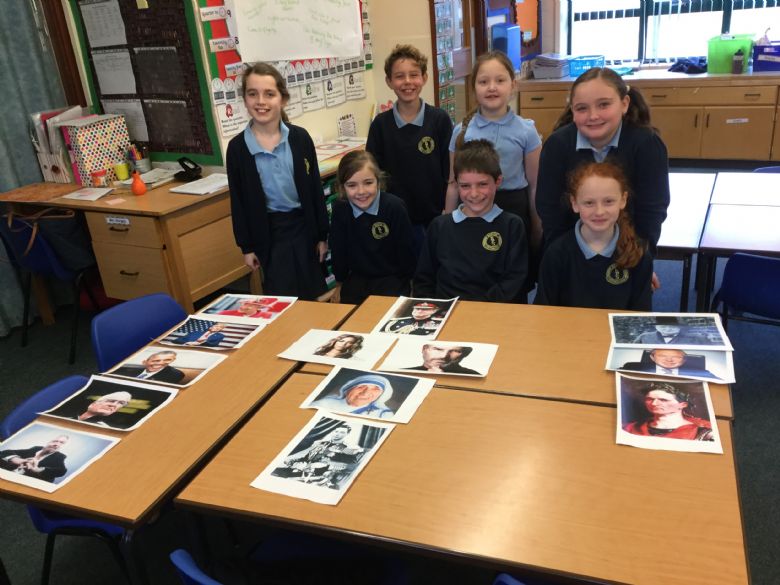 After sharing thoughts and a class vote we decided upon our enquiry question.
Does gender always affect the
choices you have to lead?
Shona McCallin
We had a very special visitor in school this week, Shona McCallin was part of the Gold Medal winning Olympic Womans Hockey team. She talked to us about how she got to this point in her career and the obstacles she faced in doing it. We learnt a lot about what it was like to be an olympic athlete and how you need to stick to your goals in order to succeed! We were very lucky as Shona brought her GOLD MEDAL in to show us, it was amazing!!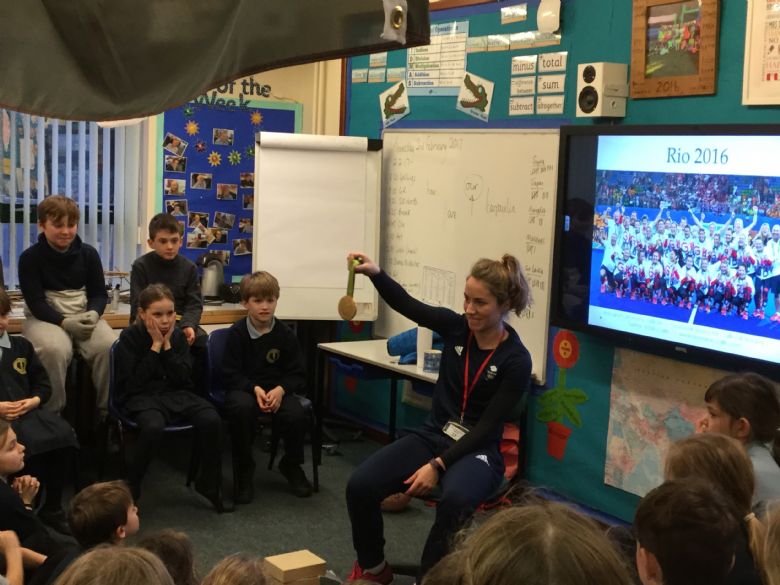 Brian and Barclay
This week we had a visit from Brian and his guide dog Barclay, it was so interesting to listen to the stories Brian had to tell us and about how he lives with being blind. They both visited our classroom and we got to ask questions and we then had a whole school collective worship where we learnt about the what the Guide Dog Association do.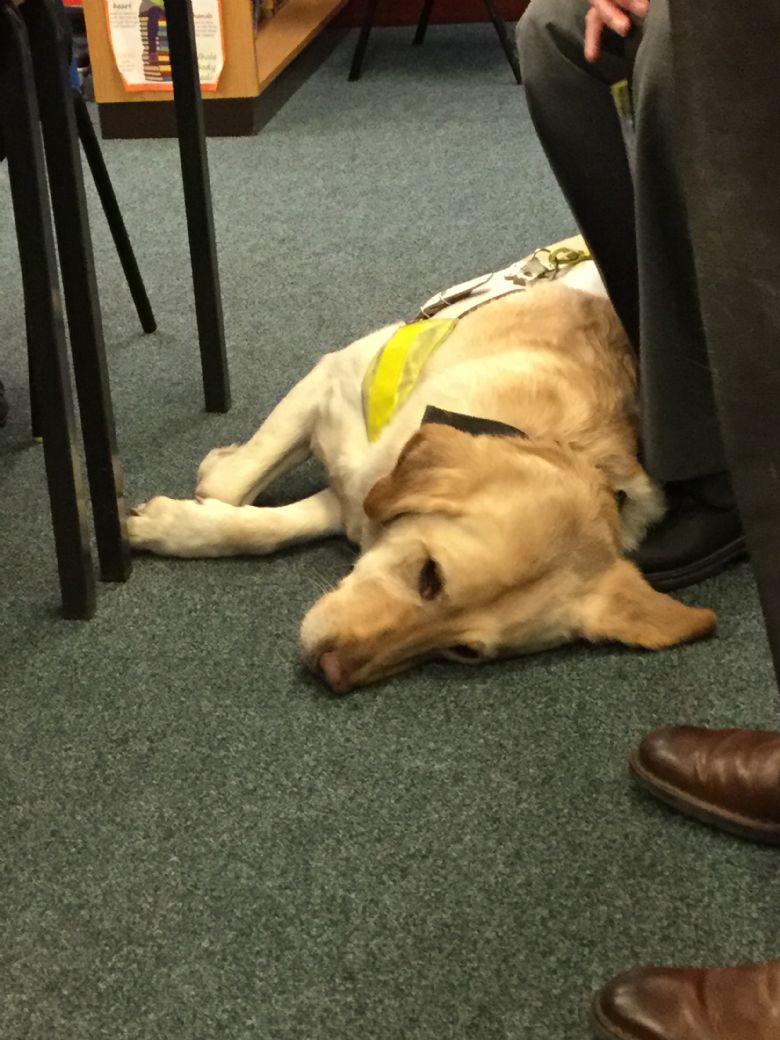 HAPPY NEW YEAR!
After a fantastic christmas break we are all refreshed and ready to start the new term! We have got a busy term ahead with a lot going on! For some of us swimming starts which will be great and we can't wait to get back in the water to show how much we have improved from last year!
Over half of our class are heading to Sheffield to perfrom in Young Voices, we cannot wait! Watch this space for some pictures and more information.
IT'S CHRISTMAS!!!!!
On Christmas party day we enjoyed lots of treats and we had a very special visitor in our class........Father Christmas came to see us!! It was amazing, we got to ask him lots of questions and he gave us all a bauble with our name on it to put on our christmas trees at home!!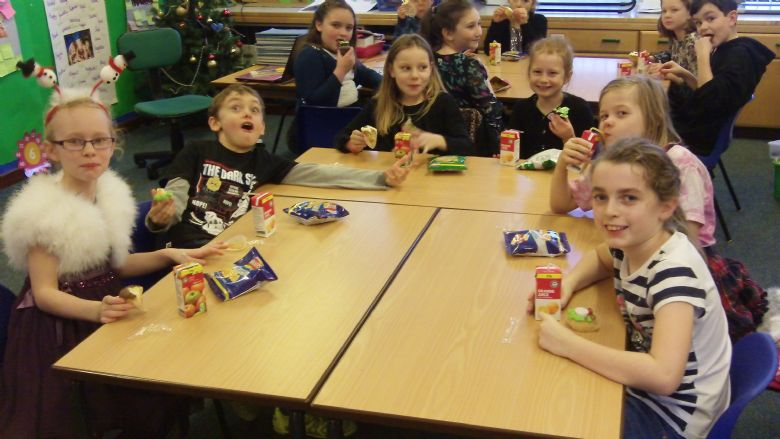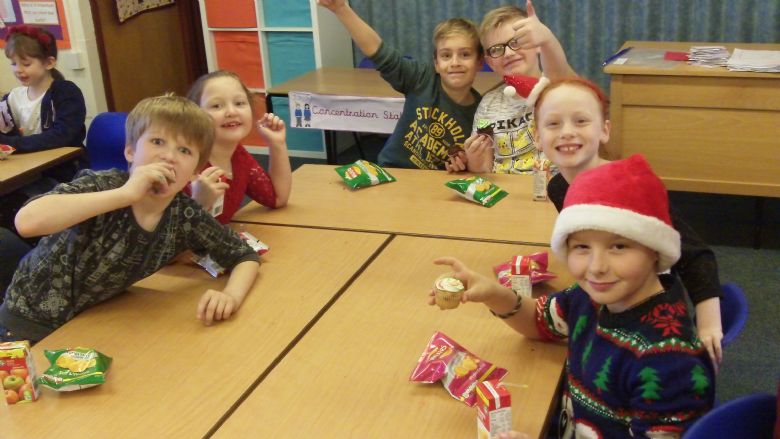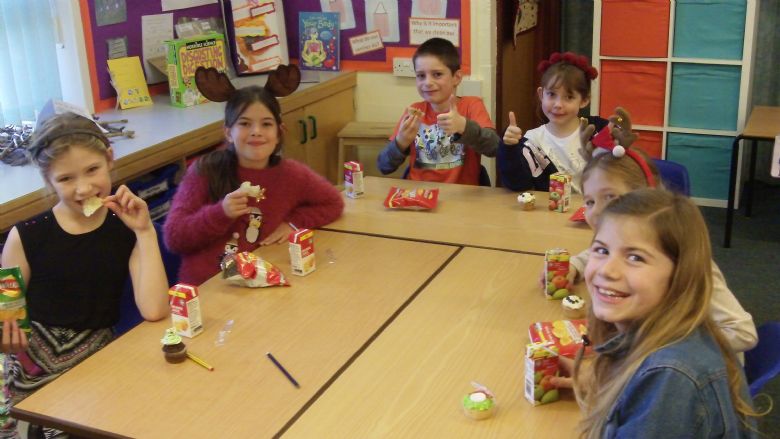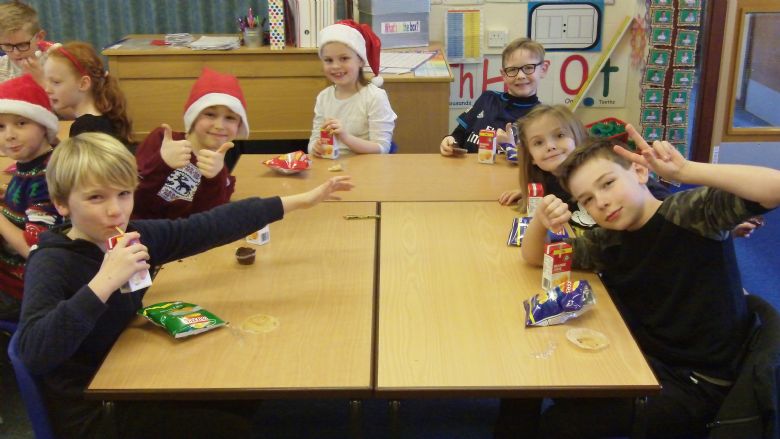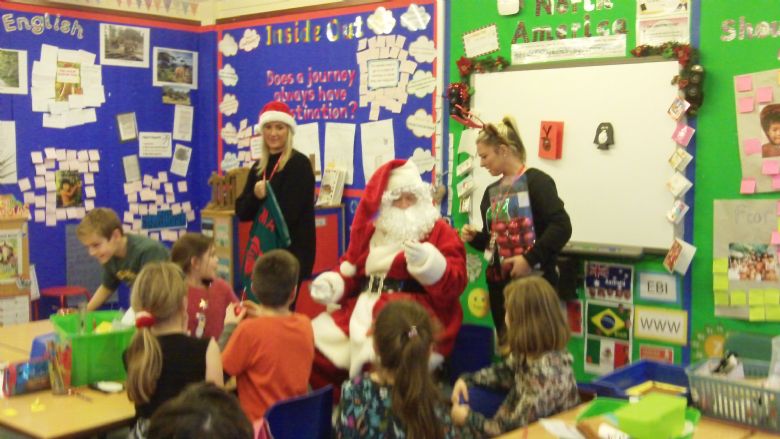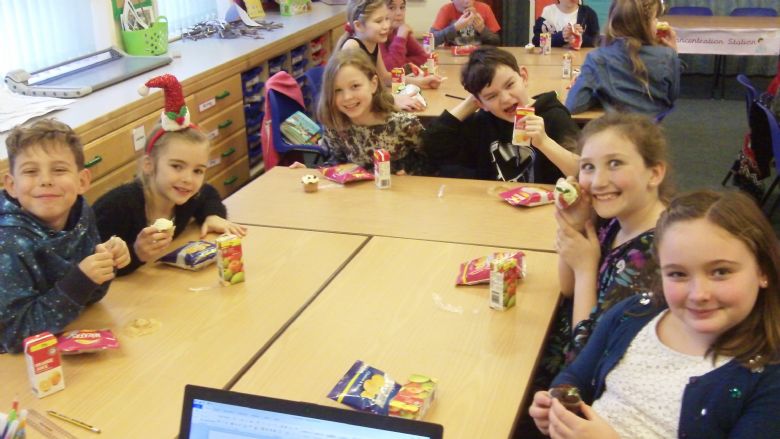 We also celebrated Christmas in Church with our Christingle Service. We composed our own Christmas song and performed it using a variety of musical instruments. We made christingles in school and were able to light them in church whilst singing Hope of Heaven. It was a really lovely service and we are fully in the christmas spirit now!!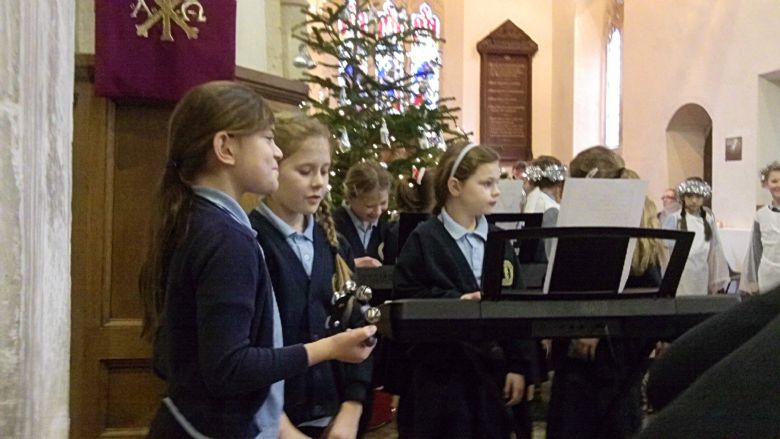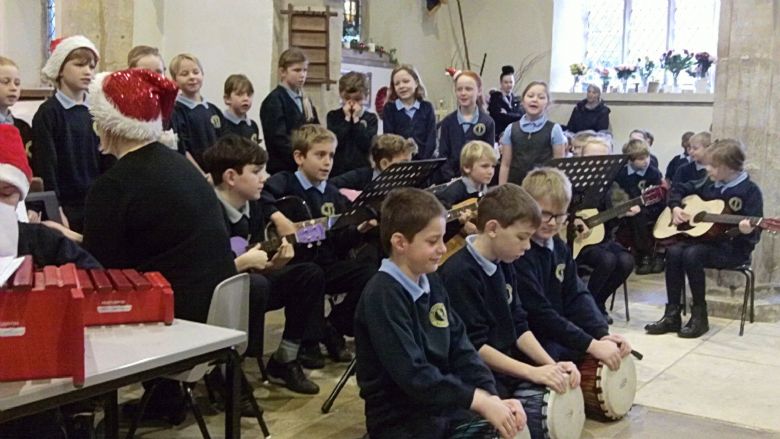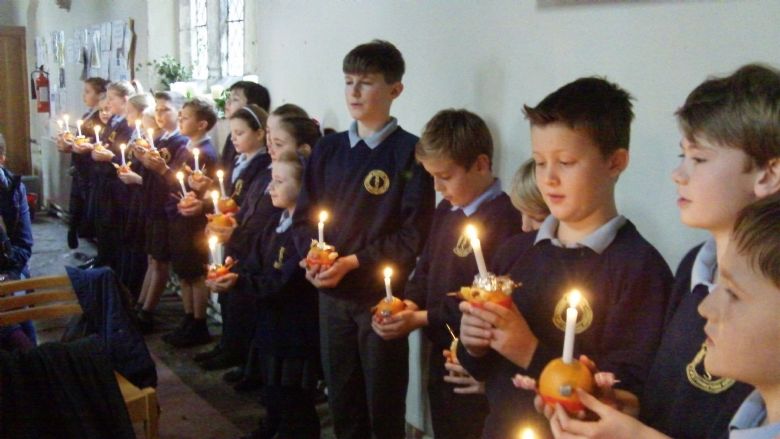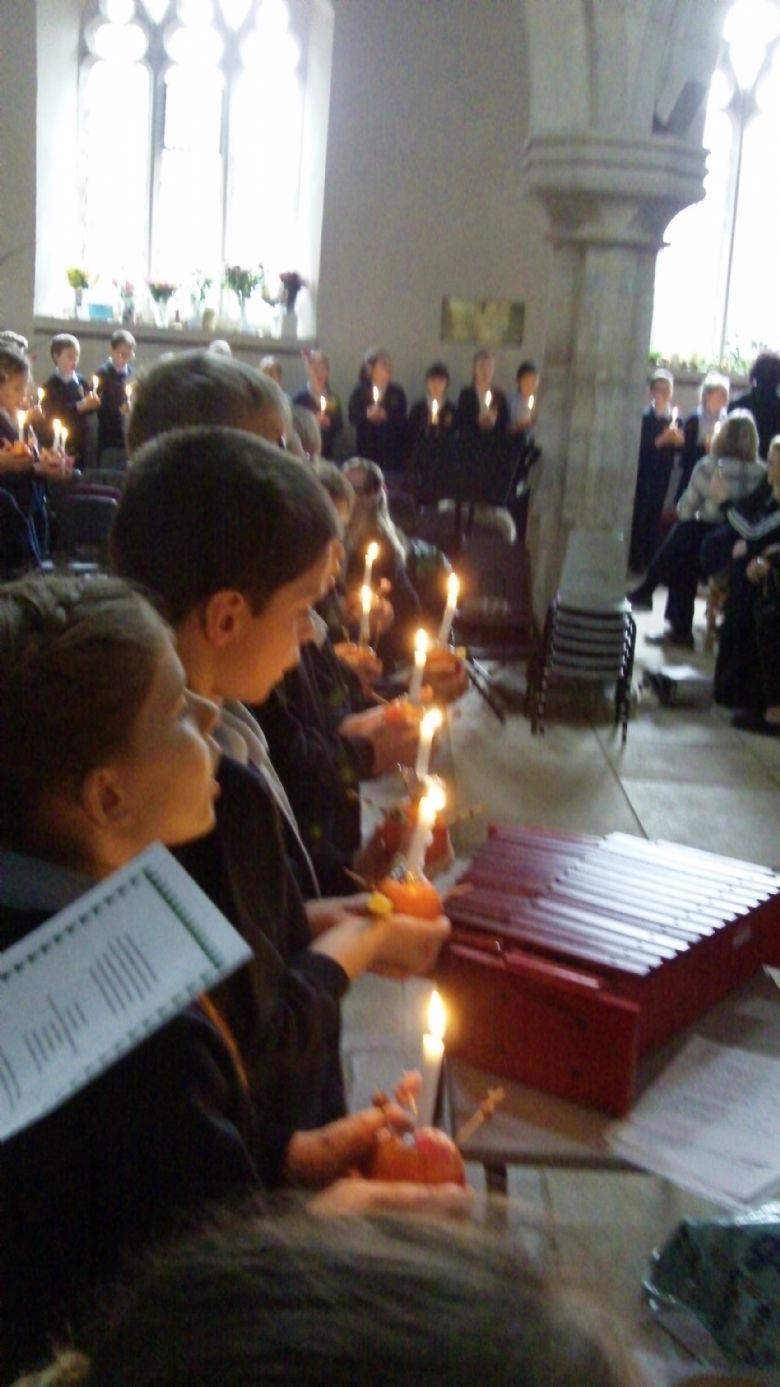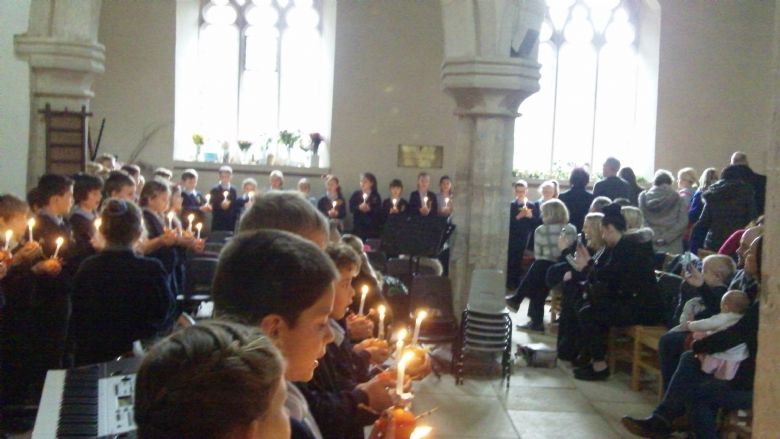 PHILOSOPHY
'Education is not the filling of a vessel but the lighting of a flame' Socrates
This week we have carried out another philosophical enquiry! We really enjoyed the experience and can see that we are constantly developing our deeper thinking skills all the time! Mrs Sturgess was very proud of how sensible and mature we were, we developed our questions this time with little support and we showed we had really thought about our responses before speaking.
Our stimulus was pictures of children from different rainforest tribes; we first thought of questions to ask about the picture. We discussed concepts in detail and came up with 6 key concepts that could be explored further BRAVERY, FREEDOM, CHOICE, LOYALTY, FEAR and FRIENDSHIP. We then chose a concept that we thought related to our picture and wrote why.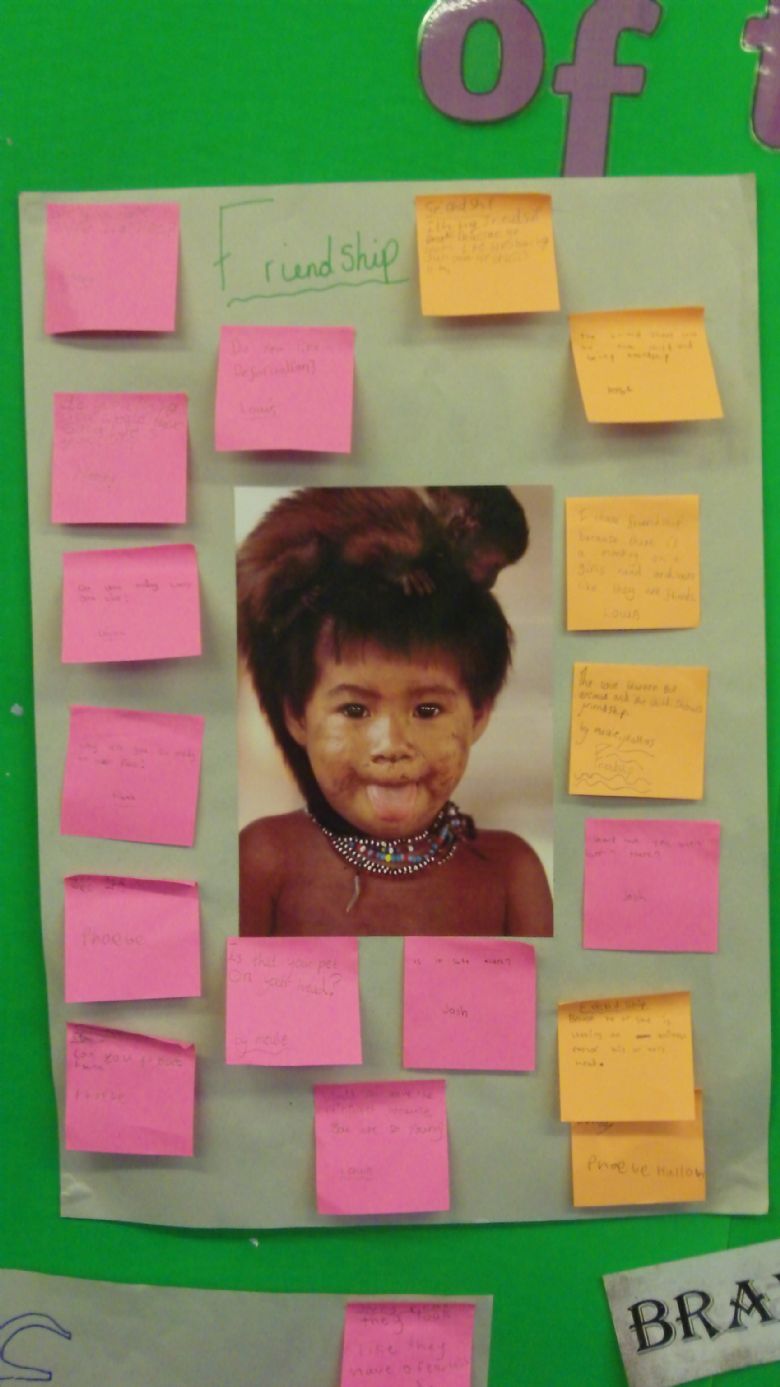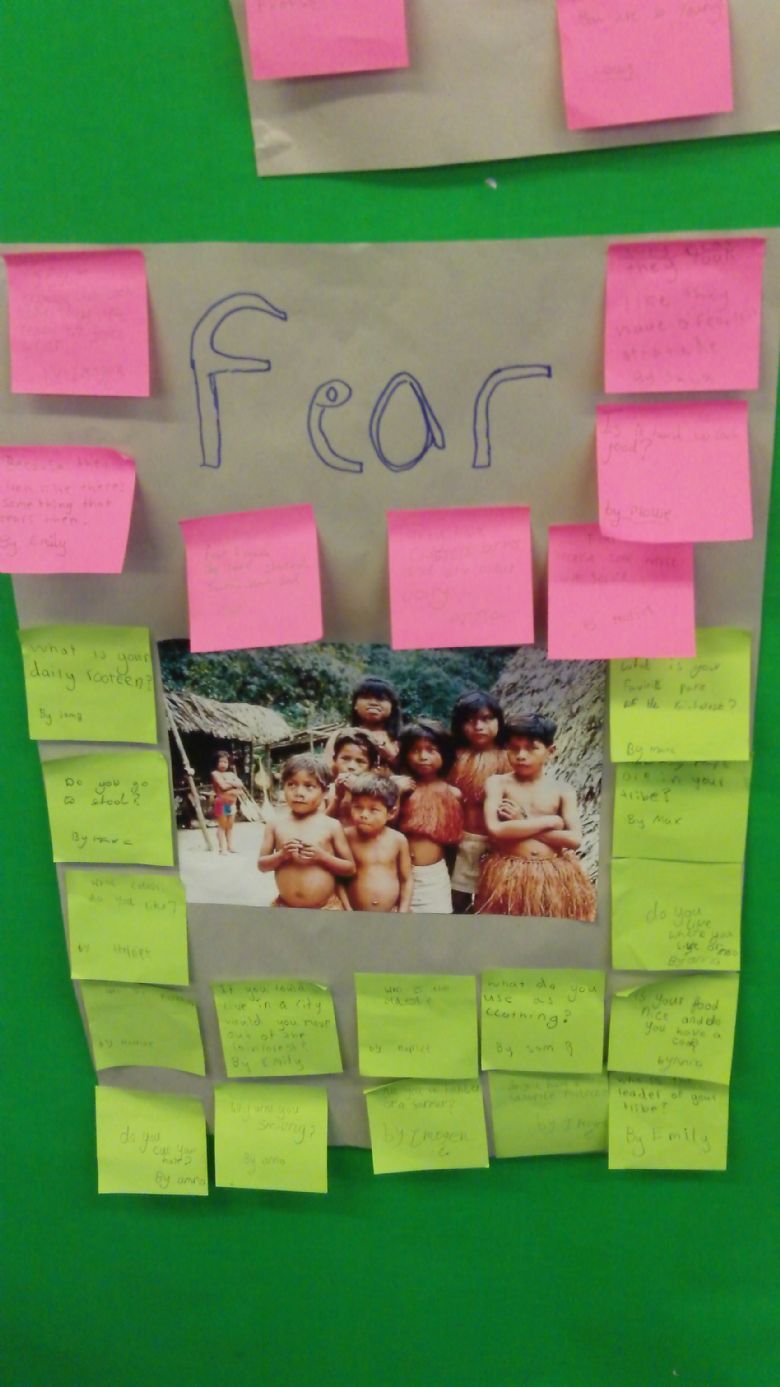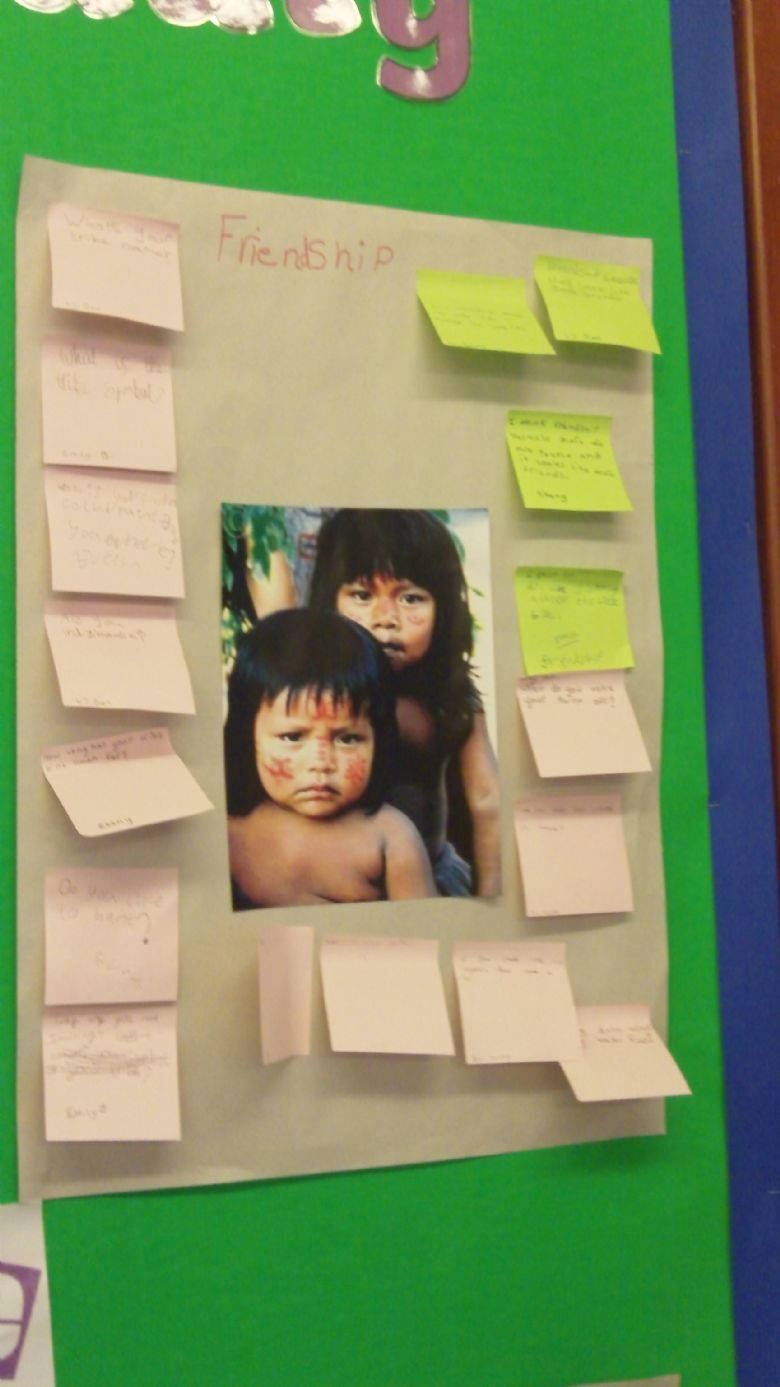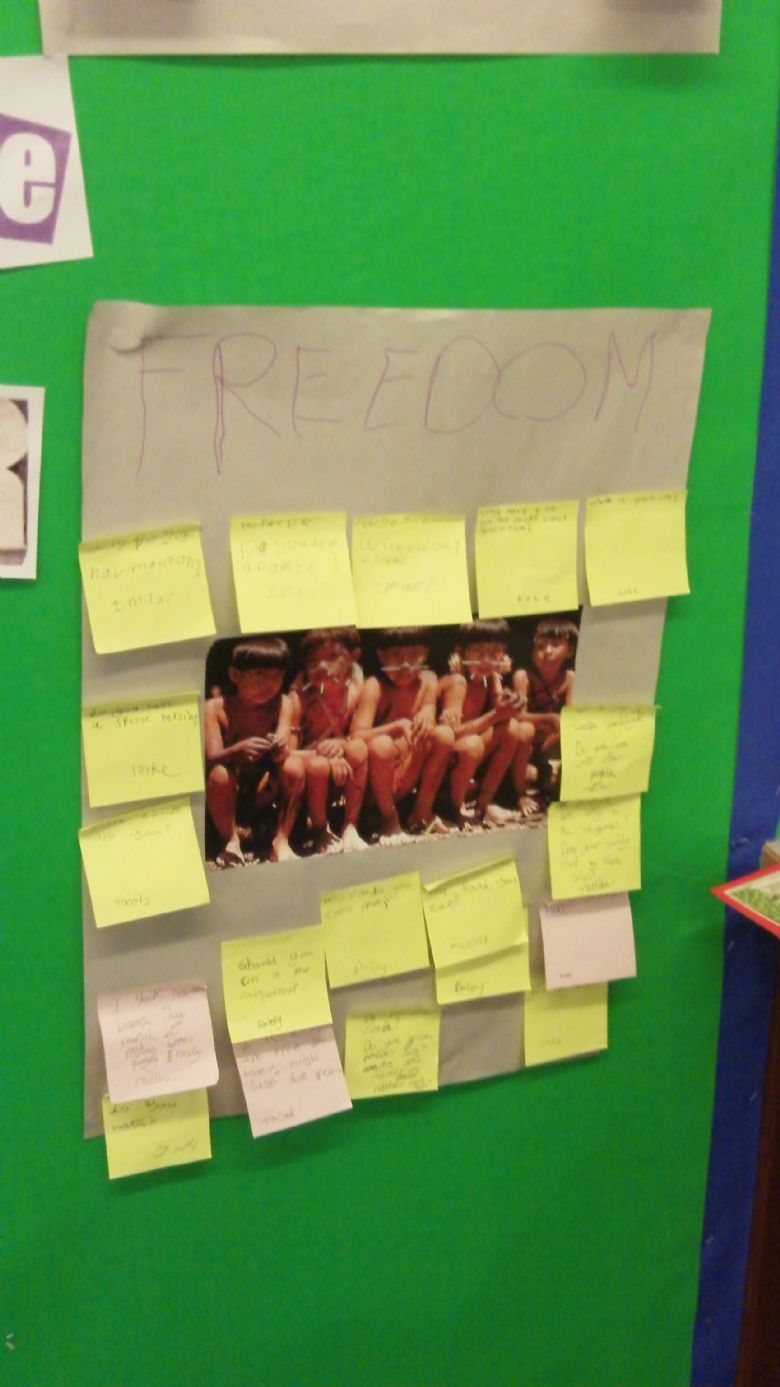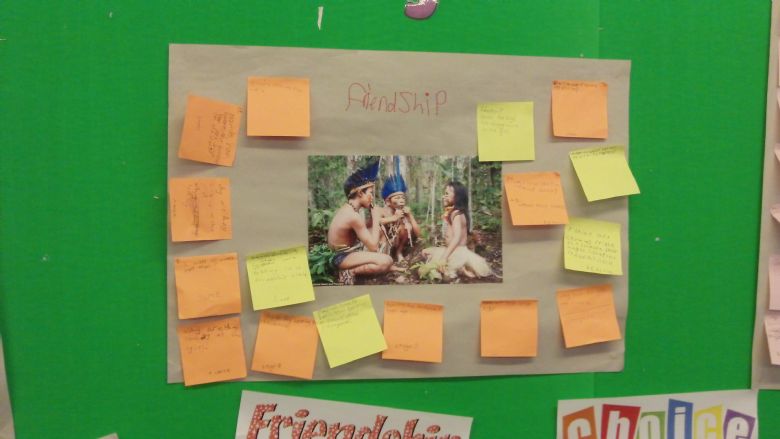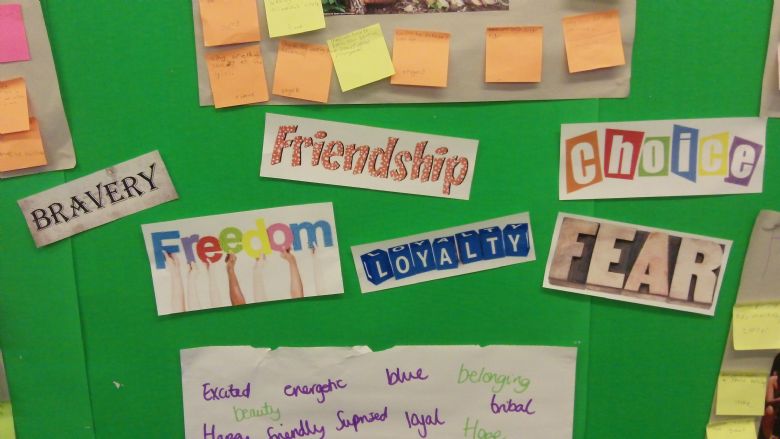 Next we developed our thinking skills by generating questions about the tribes and concepts we had discussed. After sharing thoughts and a class vote we decided upon our enquiry question.
Should children in tribes fear the
unknown if they have freedom?
We really enjoyed the process this time as we knew what to expect. We felt we could be honest and explore and share our own thoughts about the question.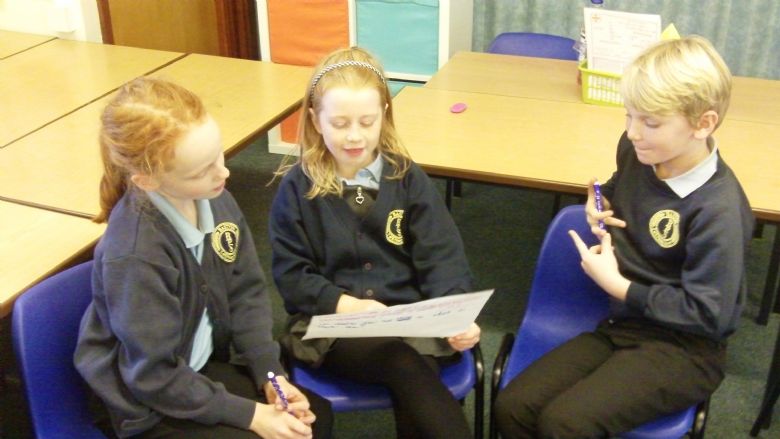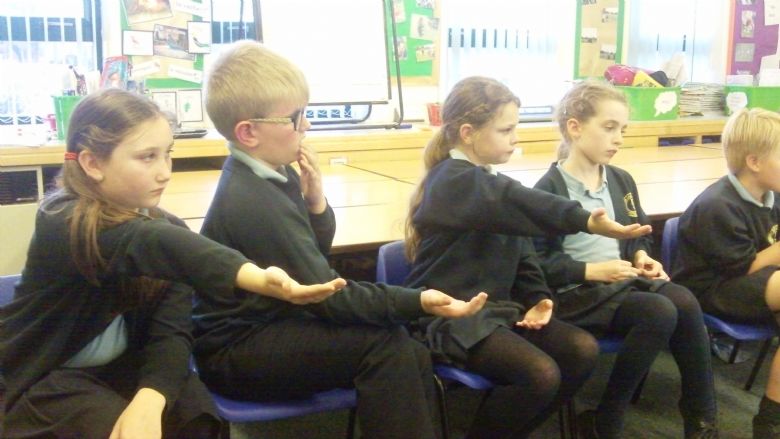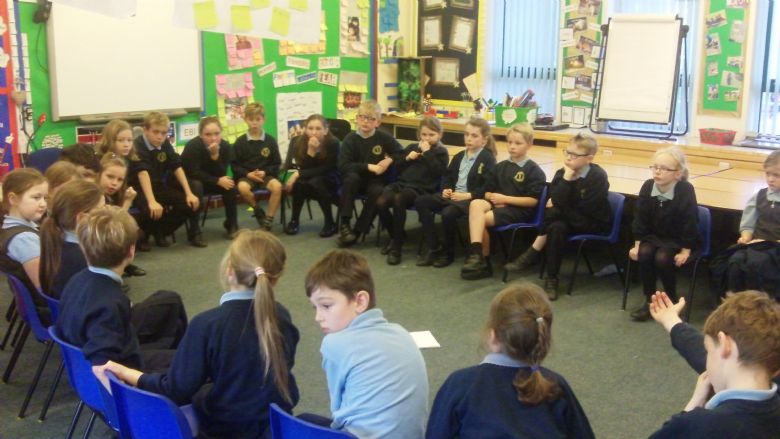 Here are some of our responses to the question............
"The unknown never ends" - Max
"They don't have to fear the unknown because if they are free they don't have to go to it" - Imogen E
"Is the unknown free to fear?" - Sam B
"Children in tribes should be free to be friends with children in other tribes" - Henry
"The unknown might not always be bad, you don't need to fear it, you have the choice to face it if you're free" - Scarlet
Ben Smith Visit
We had a special visitor in school this week...BEN SMITH. He came to talk to us all about his incredible 401 challenge, where he ran 401 marathons in 401 days!! It was great to hear his story and all the exciting things he experienced on his journey! Ben was very inspiring and we have had a lot of discussion about going for our dreams and not giving up!
If you would like to read more, visit the website below.
http://www.the401challenge.co.uk/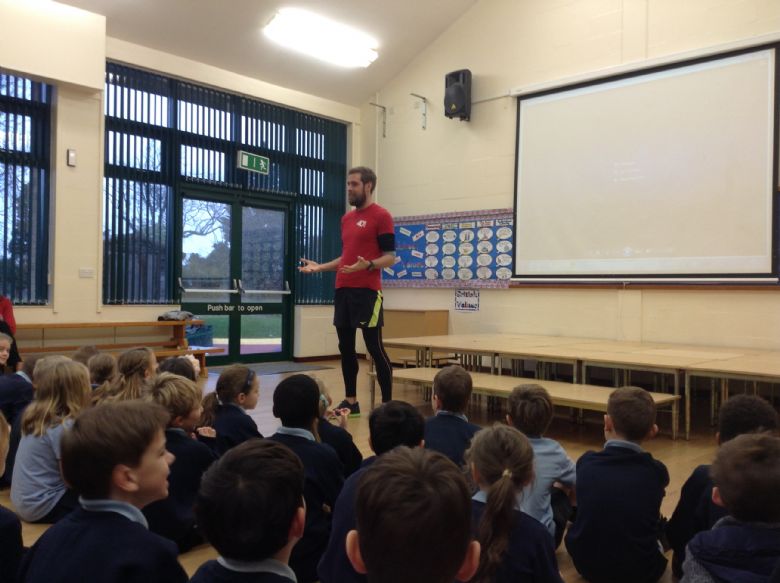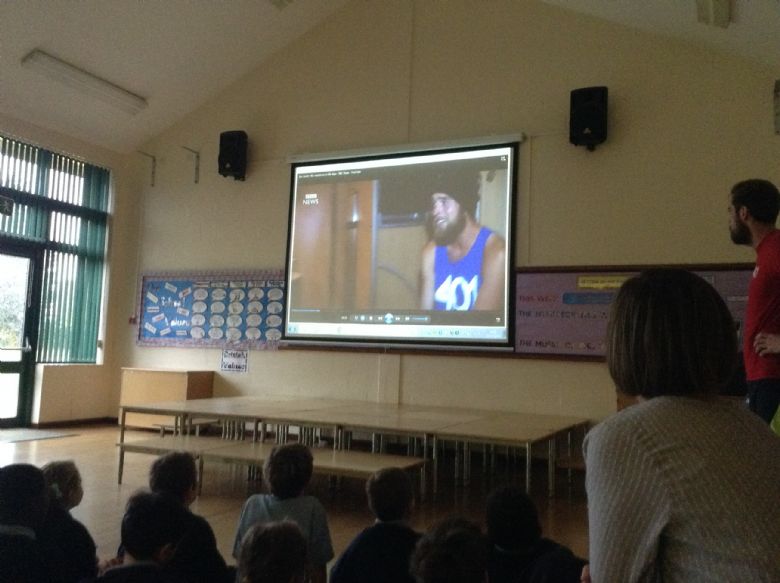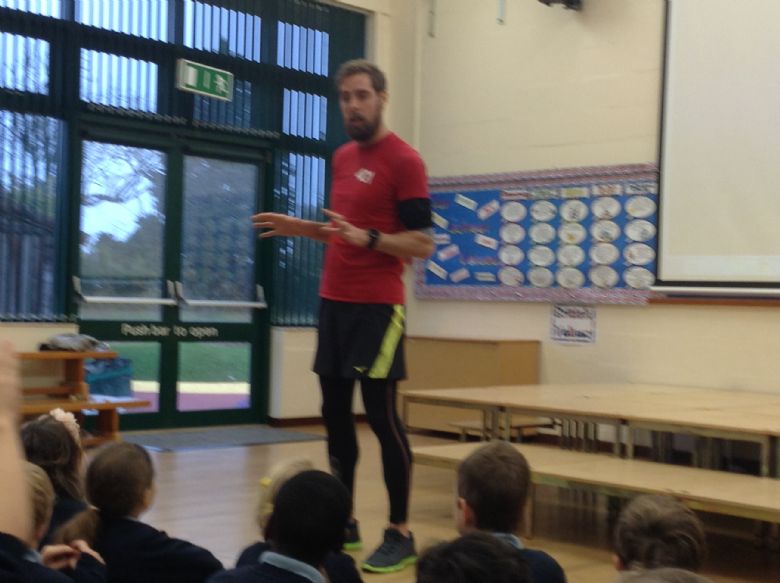 BUGTOPIA TRIP
This week we went to visit Bugtopia the Zoo at Rutland Water. It is a rainforest environment with a variety of plants and animals typical of the rainforest.
We had a fantastic day; we started with exploring as a whole class, there was so much to see and take in! This was soon followed by a meet and greet session with some snakes! We got to hold them (if we wanted too!) After lunch we split up into smaller groups to look at some different animals in more detail and learn about their different characteristics. We ended the day with another meet and greet session with some lizards.

A brilliant day was had by us all and we cannot wait to use all our new knowledge about the rainforest back at school!
Have a look in our class gallery to see more photos!!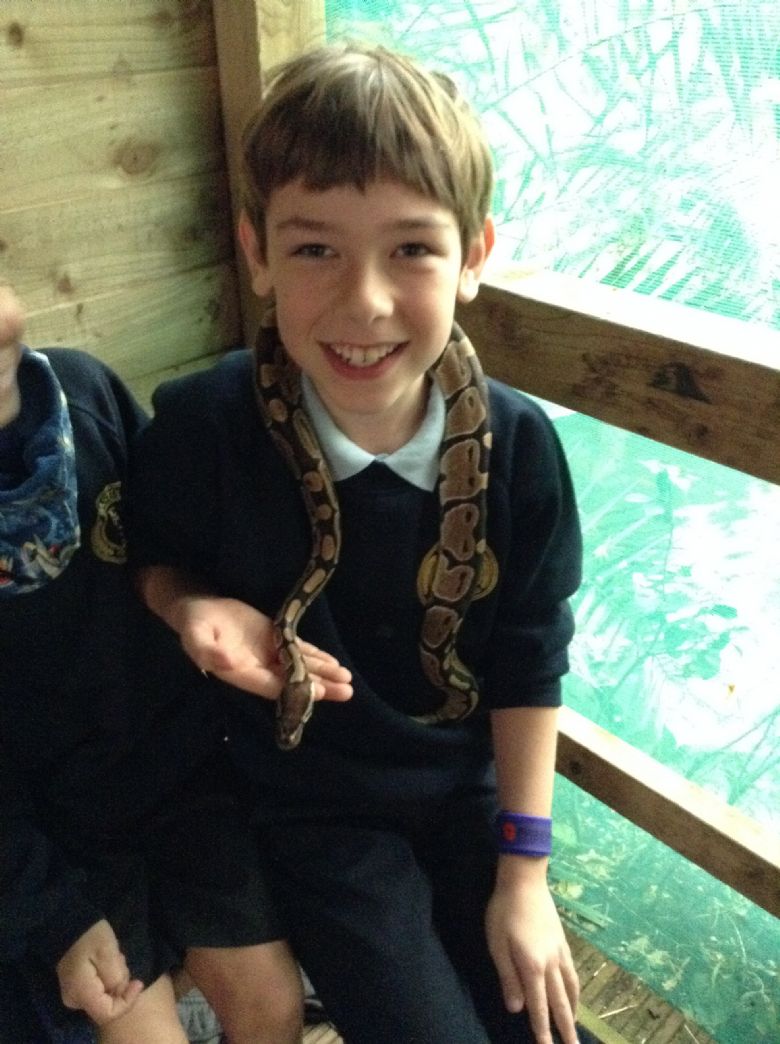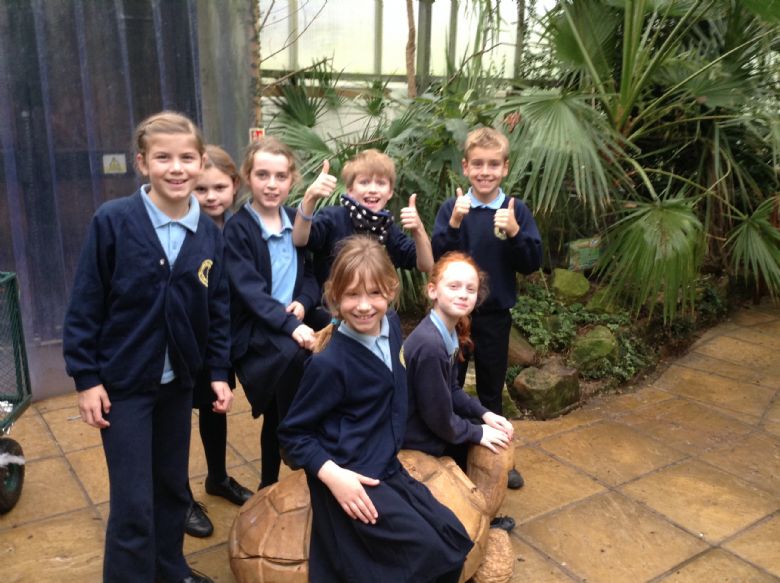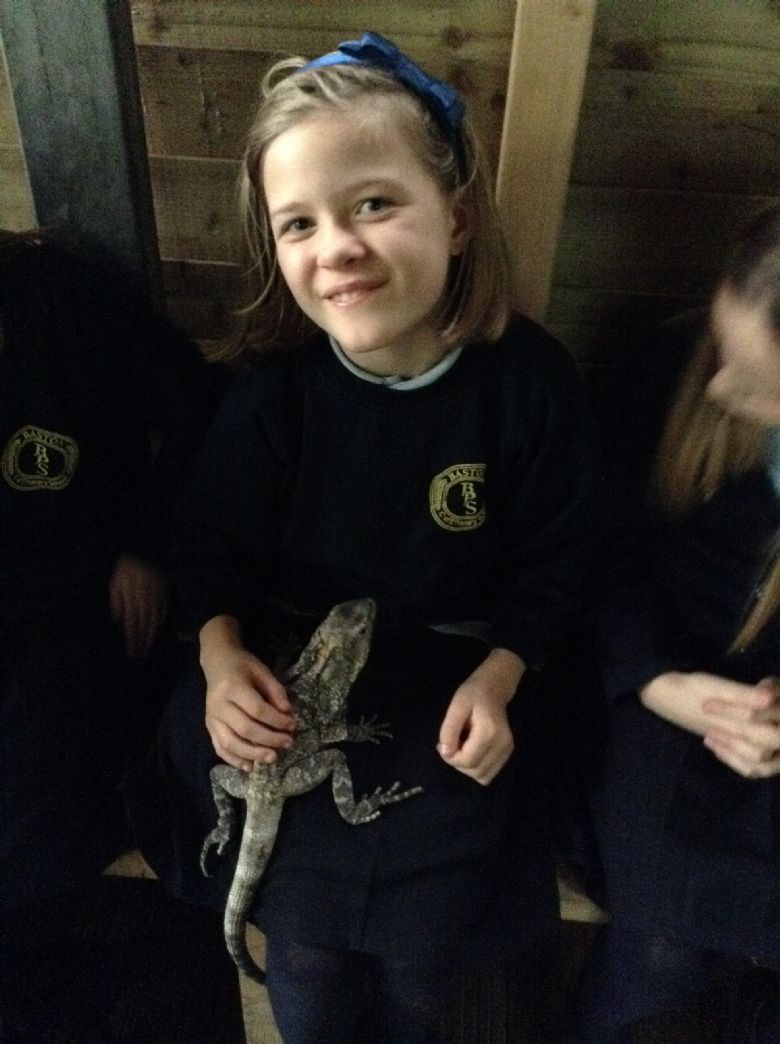 Viking Week
This week we have been learning all about vicious vikings; we have had a fantastic week taking part in many different activites. We created jewellery out of clay, bread using a traditional recipe, we then created a viking dance and made helmets. Over the week we have also spent time out in forest school building longboats. We ended the week with a fun filled viking afternoon with all of KS2 where we enjoyed eating stew and the bread we made around the fire and performed our viking dance!

Have a look in our class gallery to see more!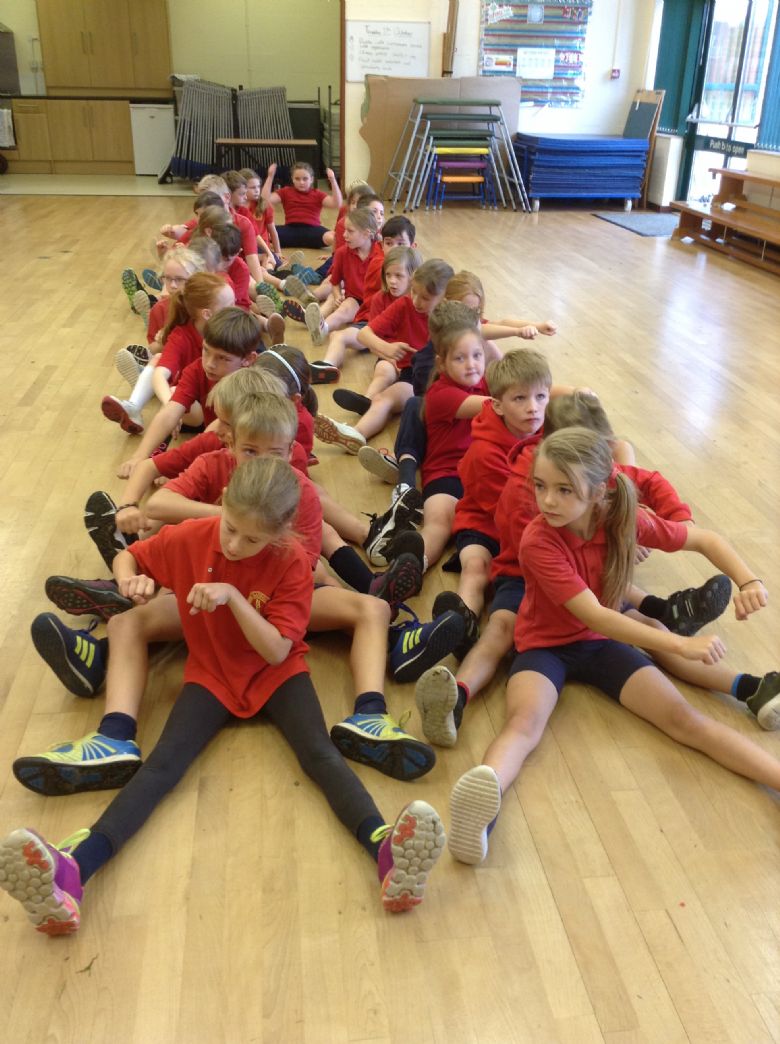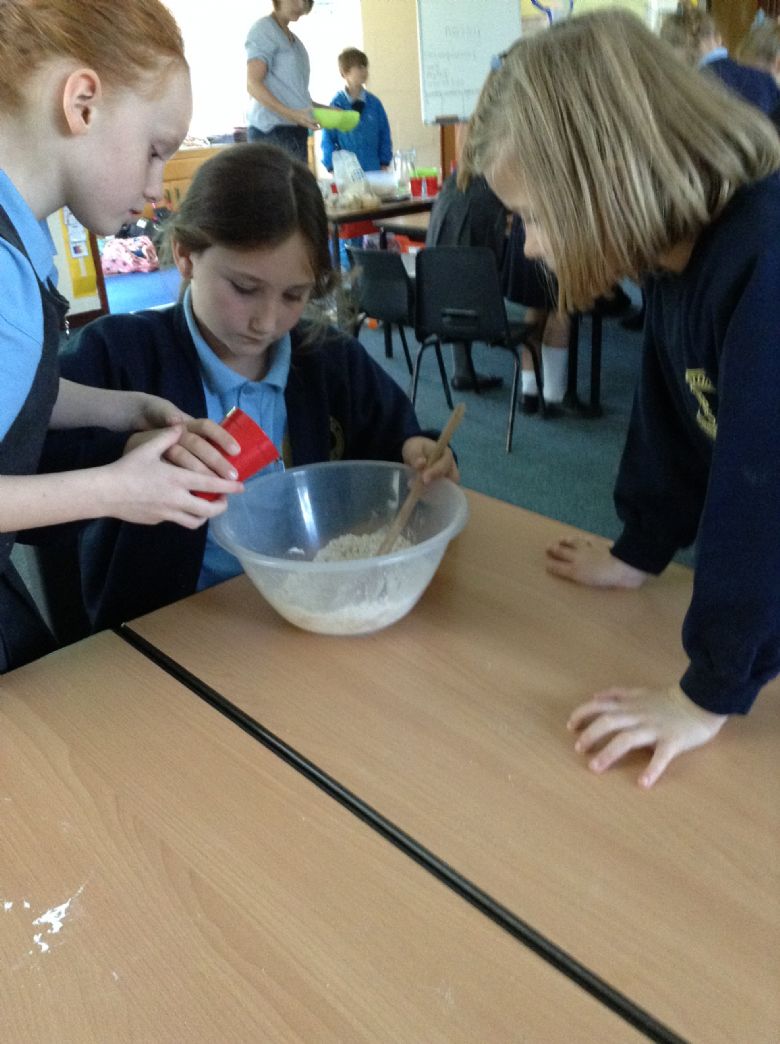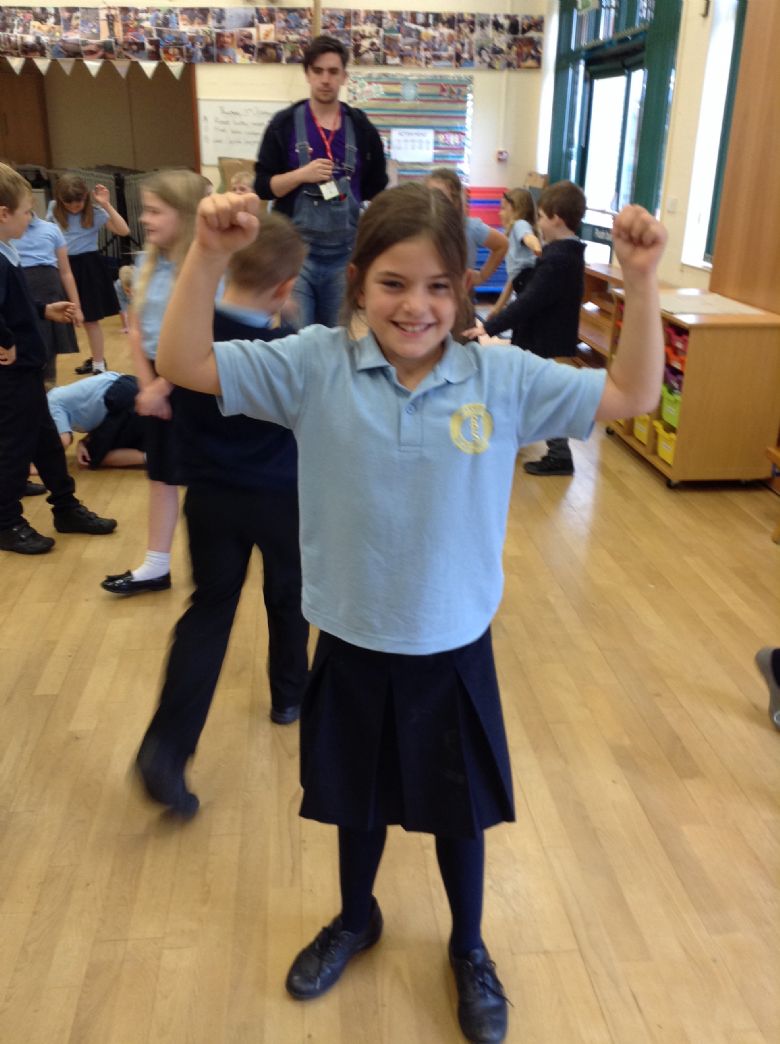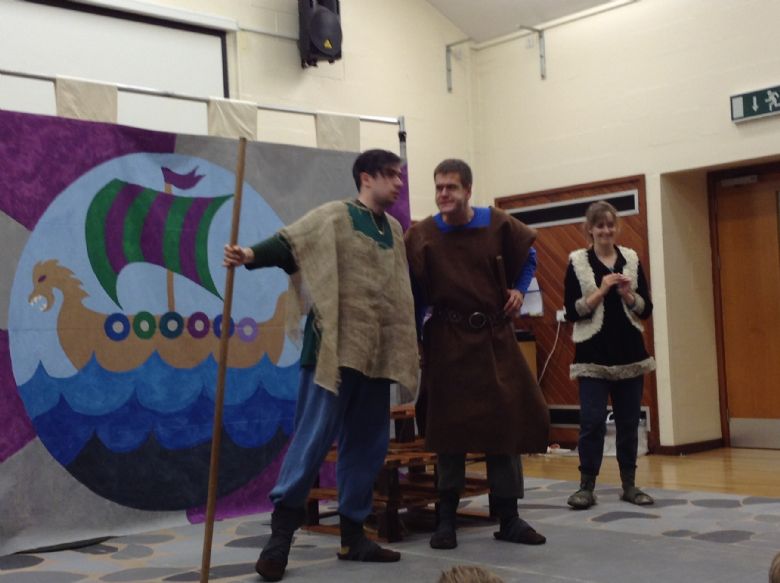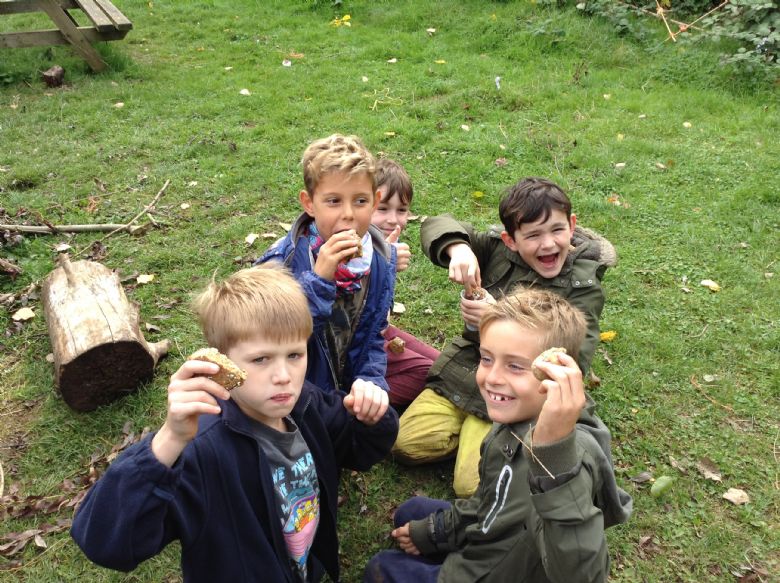 Sci Fest!
May the force be with you!
As part of Sci Fest week we have had different visitors into school, we have enjoyed exploring the world of science in more detail and have loved the different shows we have seen!
On Thursday we learnt all about Electricity (look in our gallery for some great pictures of the show!)
Sam showed he had magical powers by making a bulb light up..............


Year 3 and 4 Cross Country Champions!
On Tuesday 4th October some children from Year 3 and 4 went to a cross country competetion in Spalding. Everyone did really well and the boys came 1st in the medium school catergory bringing back to school a fantastic trophy!! Well done Ben, Louis, Max, Henry and Noah (Yr3)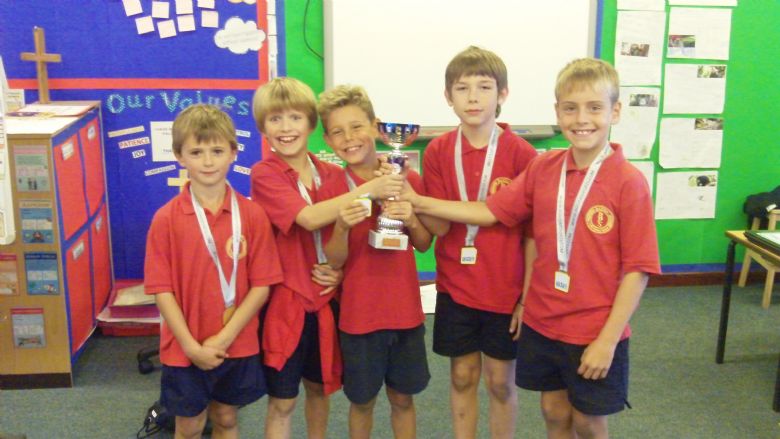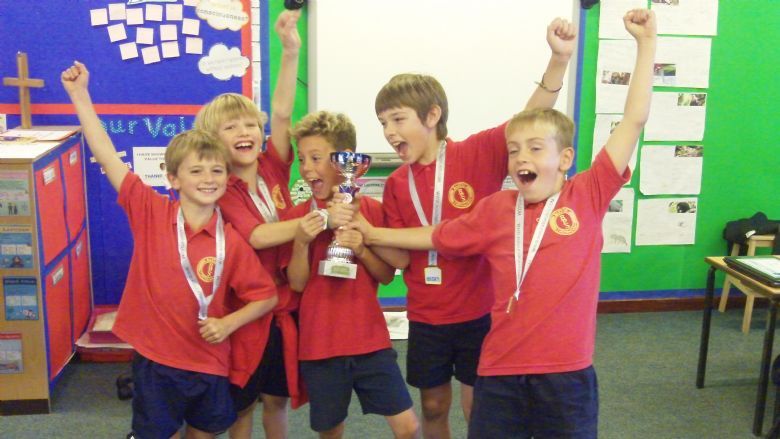 WE LOVE PHILOSOPHY!
In year 4 we are working on developing our deeper thinking skills, we are doing this through carrying out philosophical enquiries. They start with a stimulus and we develop our thinking through a process ending up with a question created by the class to discuss and debate in detail.
This week we have had a go at our very first enquiry!
Initially we found it a lot to take in as it was completely new to us all! But after taking it step by step we found we really enjoyed the process and it made us think about things very differently!
Our enquiry question was.........
Do animals always get treated fairly in the zoo?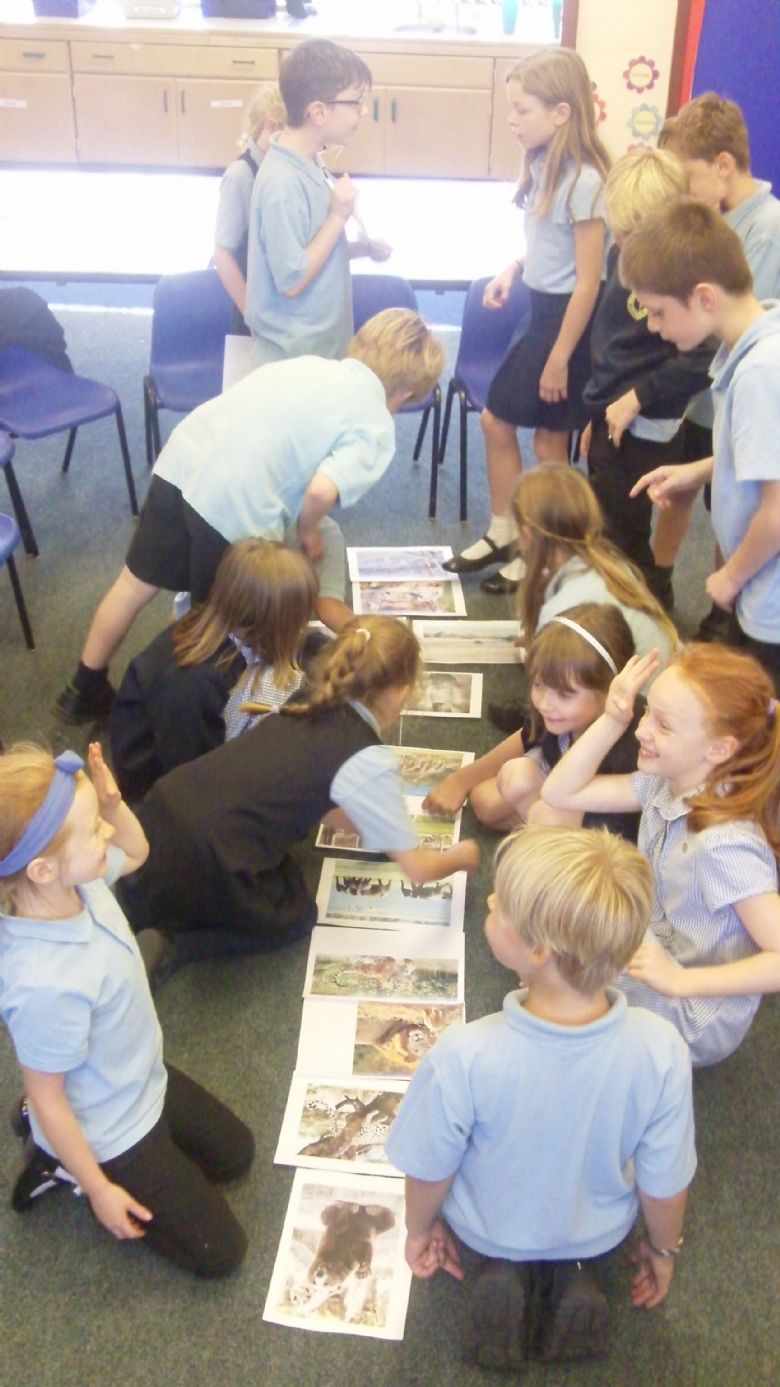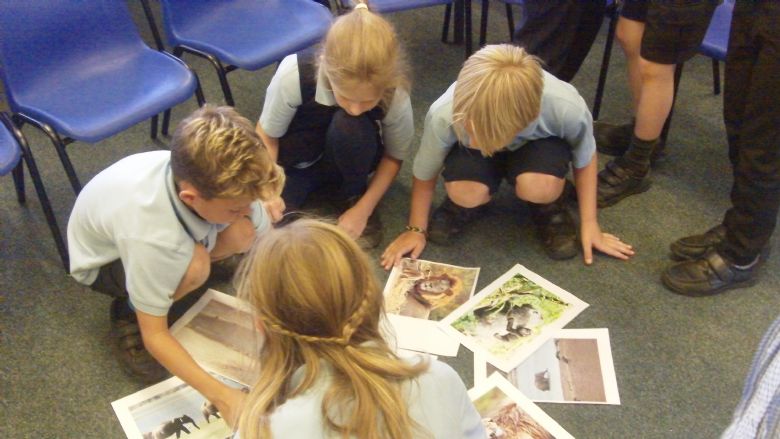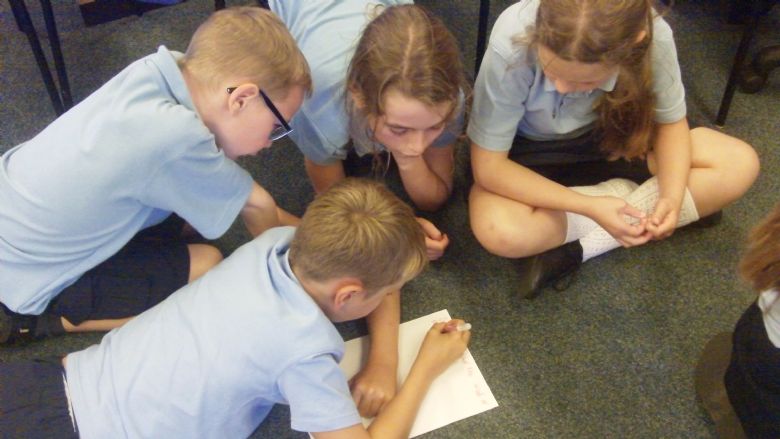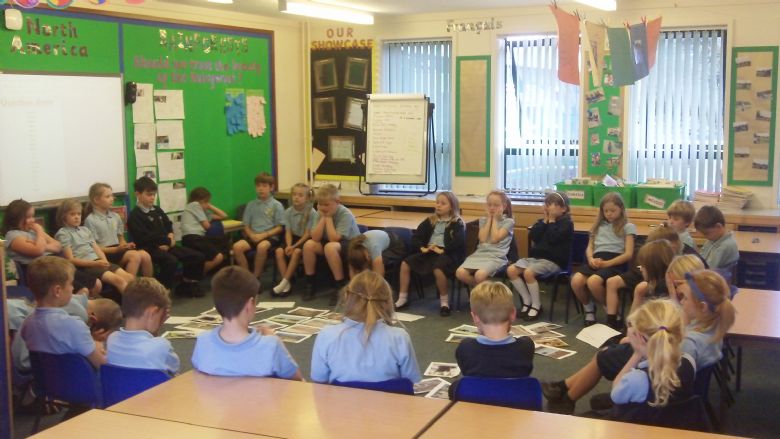 At the end we discussed What Worked Well (WWW) and Even Better If (EBI) which helped us to evaluate our enquiry in detail.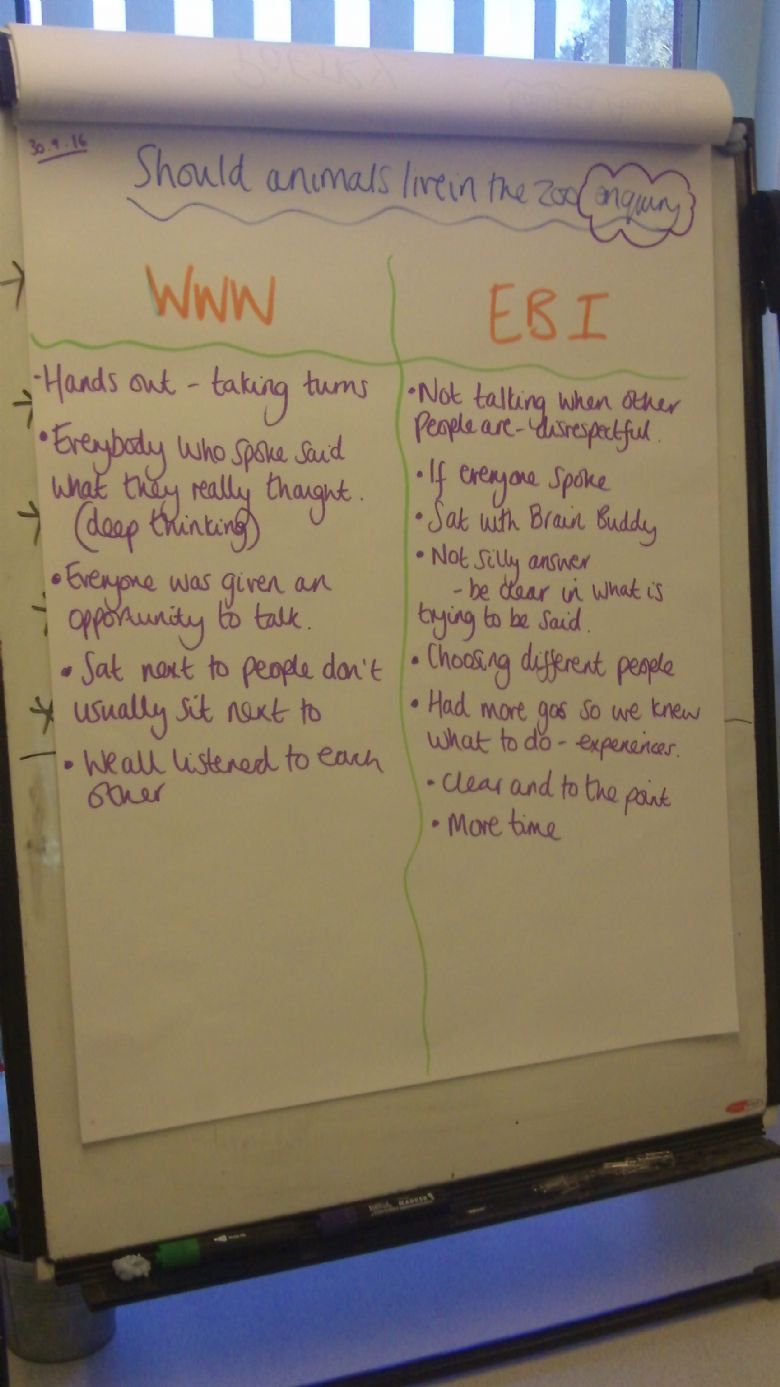 Have a listen to some of our thoughts about the enquiry!
DAISY
TOMMY
JACOB
KOBE
ELOISE