Queen's Birthday Tea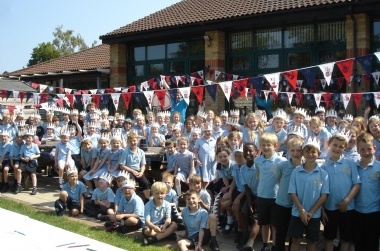 Royal celebrations for the Queen's 90th Birthday!
On Thursday 9th June, the children at Baston CE Primary School were treated to an afternoon of 'royal' themed activities and an Afternoon Tea party to celebrate Queen Elizabeth II's 90th birthday. During the week, all the children had been learning about the Queen and why she celebrates her birthday twice. On the 9th June, each child was able to add their handprint to the patriotic bunting that had been made and then decorated their own crown which they then wore to the tea party. The children had a wonderful time and were also given a commemorative coin as a reminder of this special occasion. Our very grateful thanks go to the Baston School PTA who organised this exciting event which will no doubt be remembered by the children for many years to come!