Book Ambassadors head to Deepings Library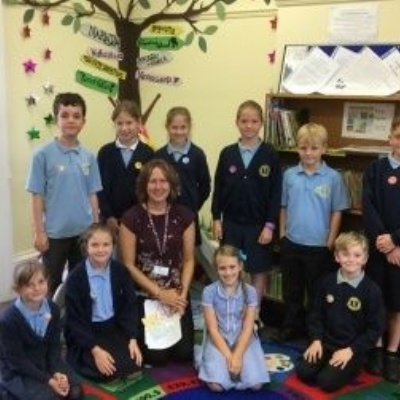 Two book ambassadors from Years 2-6 went to Deepings Library with Mrs Mullock, and Mrs Mullock's report is below.
The Baston Book Ambassadors visit Deepings Community Library!
During the summer holidays, an exciting reading challenge is being launched in local libraries and on Friday 30th June, the Book Ambassadors from Baston C.E. Primary School were invited by Mrs Louisa Crowson, from the Deepings Community Library, to visit the library and find out more about the Summer Reading Challenge 2017. Mrs Crowson very kindly showed the children how the library is run and how the books are sorted and stored. The children were then treated to a story read to them by local author, Liz Underwood. The Book Ambassadors will now go back to school and report their findings to the rest of the school to encourage everyone to sign up for the challenge at Deepings Community Library on Saturday 15th July. We would like to thank Mrs Crowson and her team of volunteers at the library who made us feel so welcome.