Year 6
Year 6 2018-2019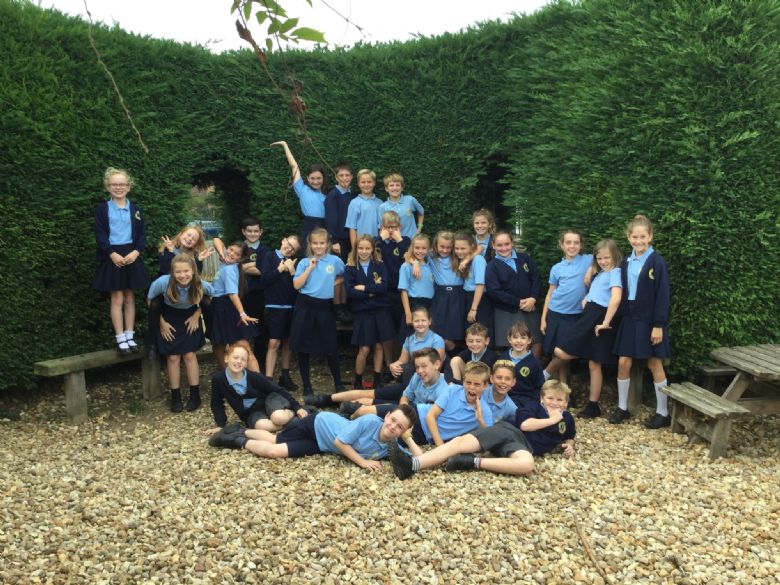 We have settled back into school nicely and have been extremely busy! Our first star was Eloise and our second, Matthew- well done to them both.
We have had our first trip of the year to Willow Tree Fen where we learnt about the environment and different habitats.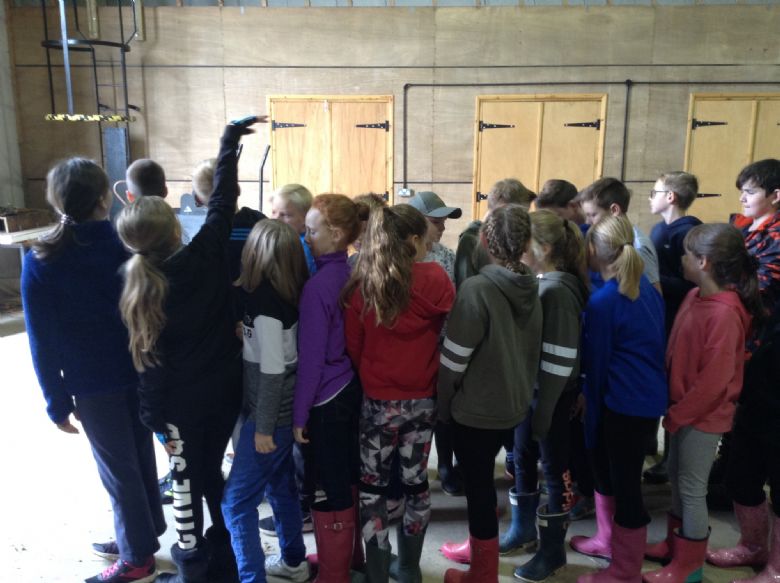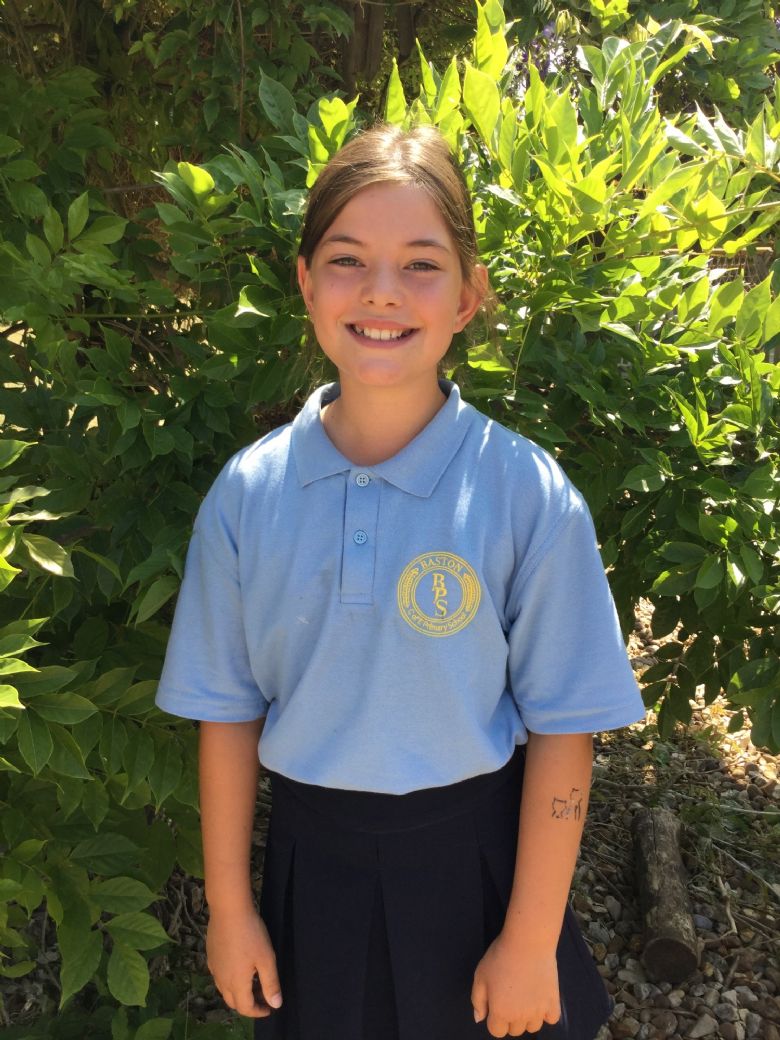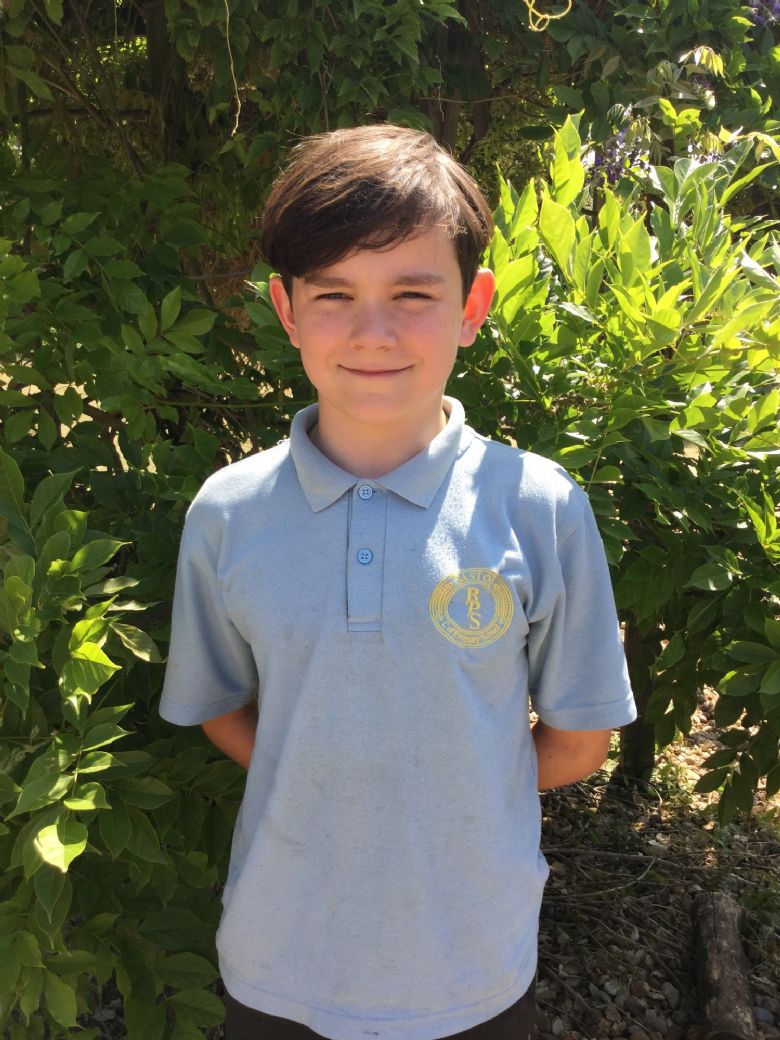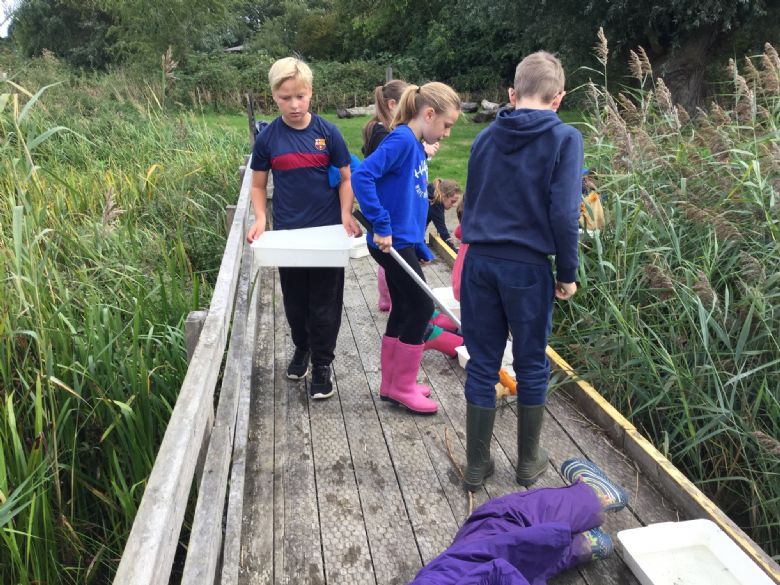 This week we have been looking at the assassination of Franz Ferdinand, division in maths, good/harmful drugs in science and what God is like in RE amongst many other things! Our star this week is Louis-an absolute superstar all round!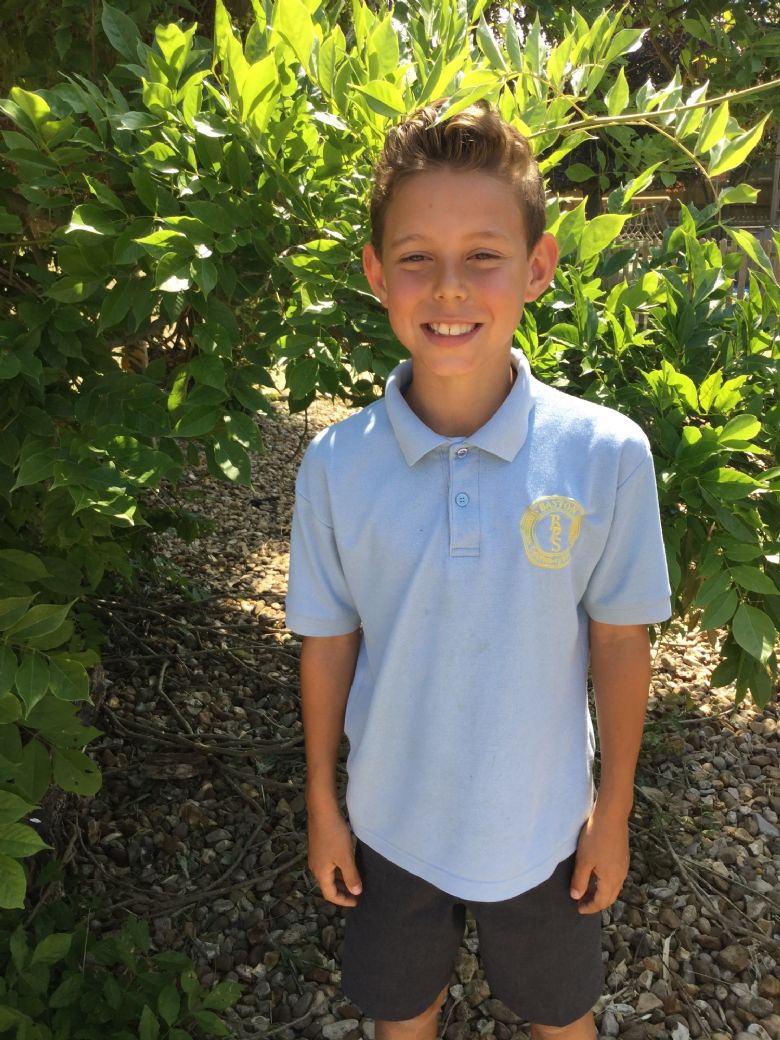 We've had a hectic week what with Golden Boot, baking, apple pressing, MacMillan coffee afternoon, multiples countries were involved in WW1, mini police and E Safety. We have also been preparing for Harvest next week. Our superstar this week is Max who has worked hard all week and is like my right hand most days! He also demonstrated great sportsmanship during the week too.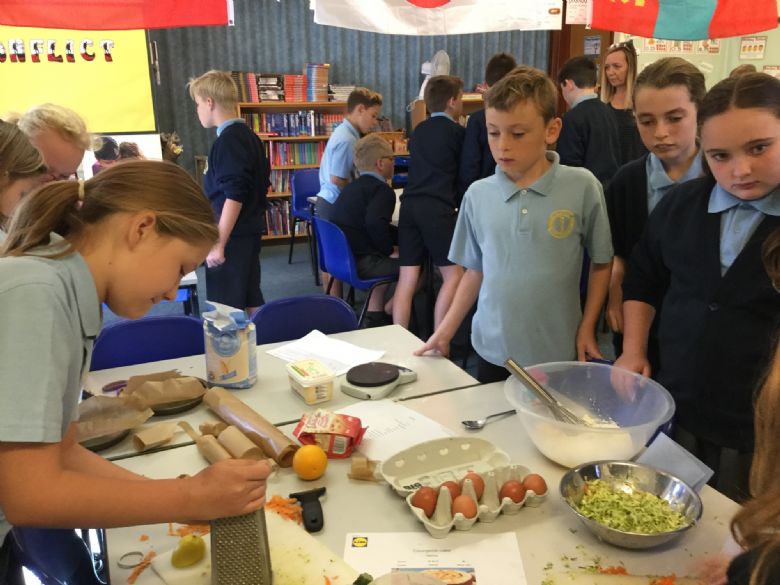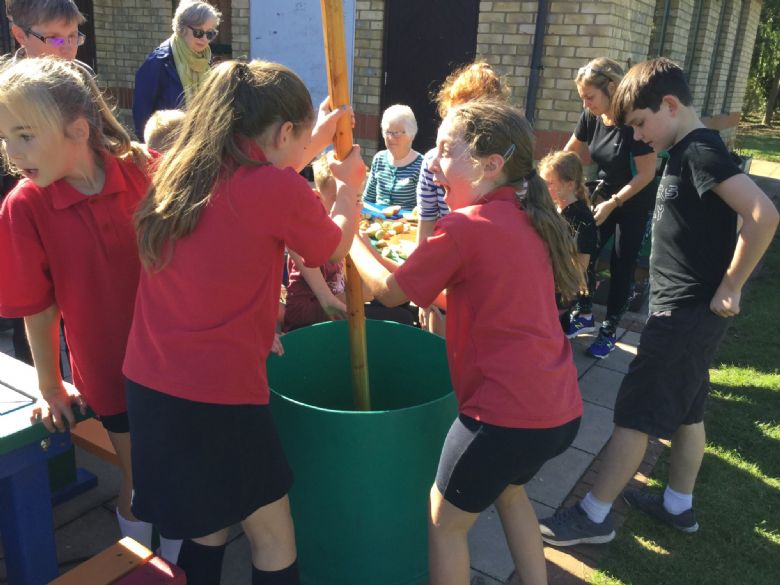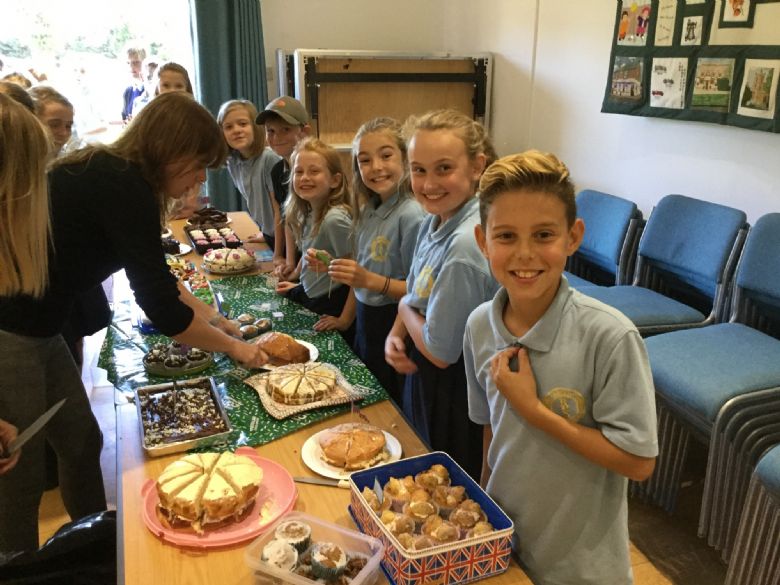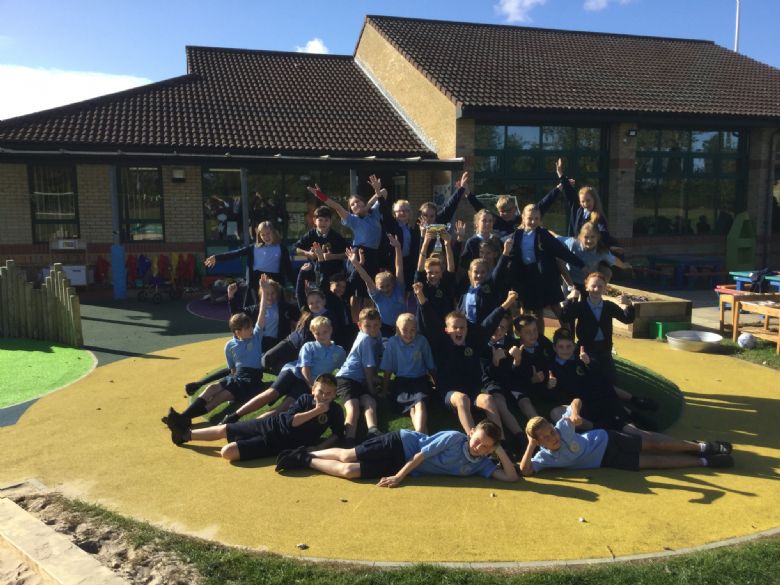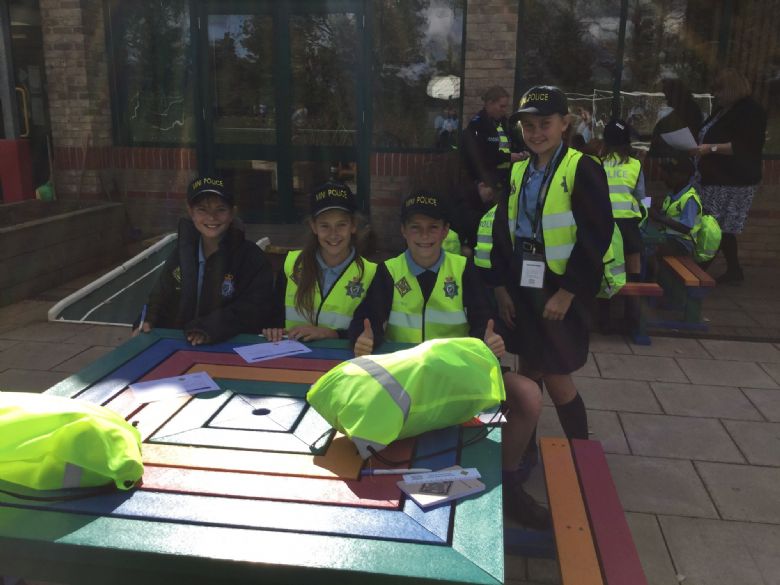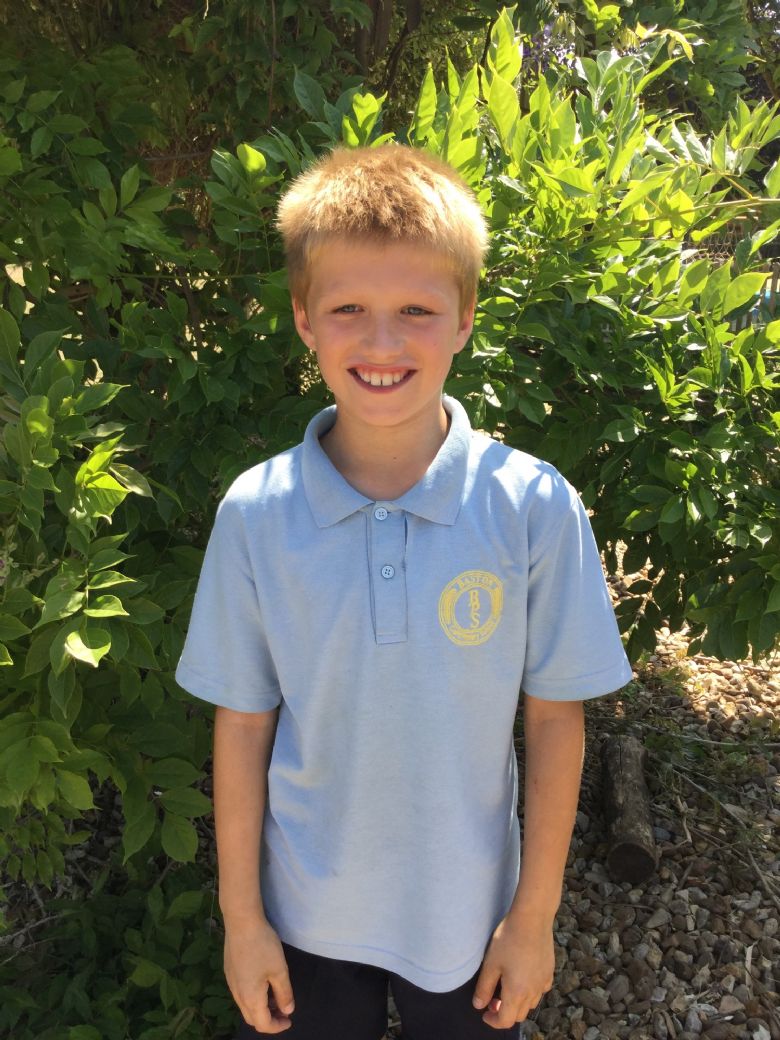 Sci-Fest this week and we have enjoyed making carbon dioxide sandwiches, creating tornados in bottles and trying to get a whole boiled egg in a milk bottle We have also celebrated Harvest at church. Our netball teams enjoyed success against MDCP. Our star this week is Ebony with a magnificent performance during netball and a brilliant attitude to all of her learning.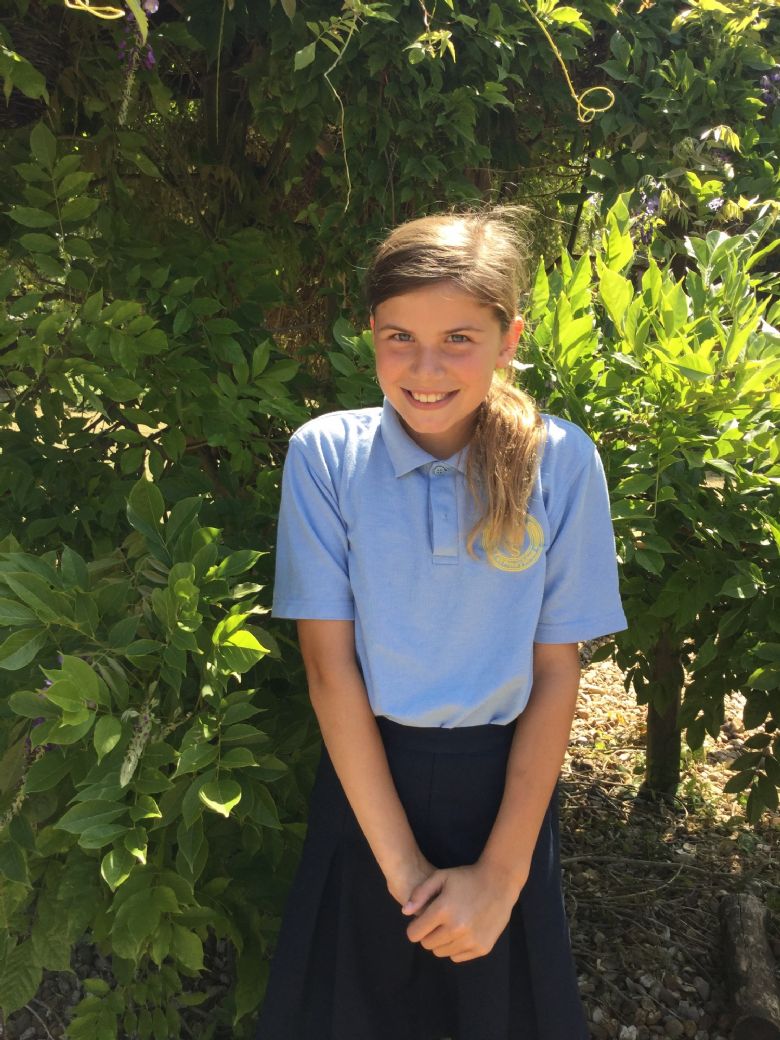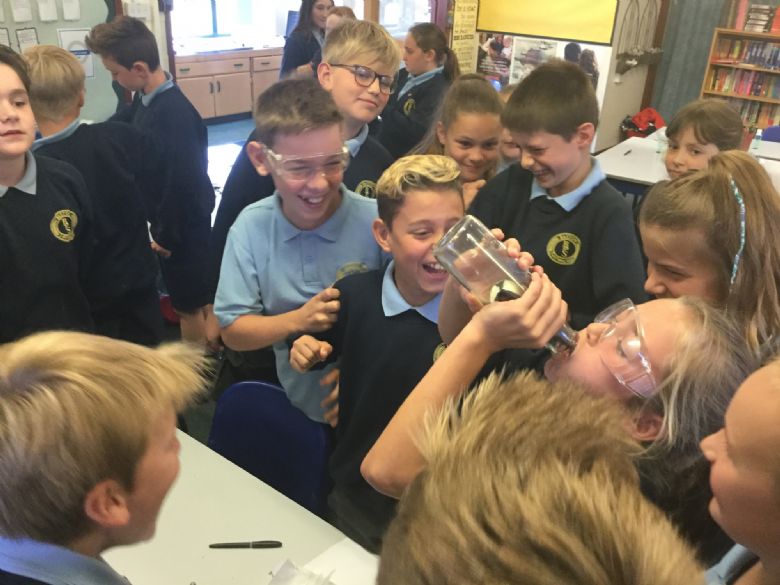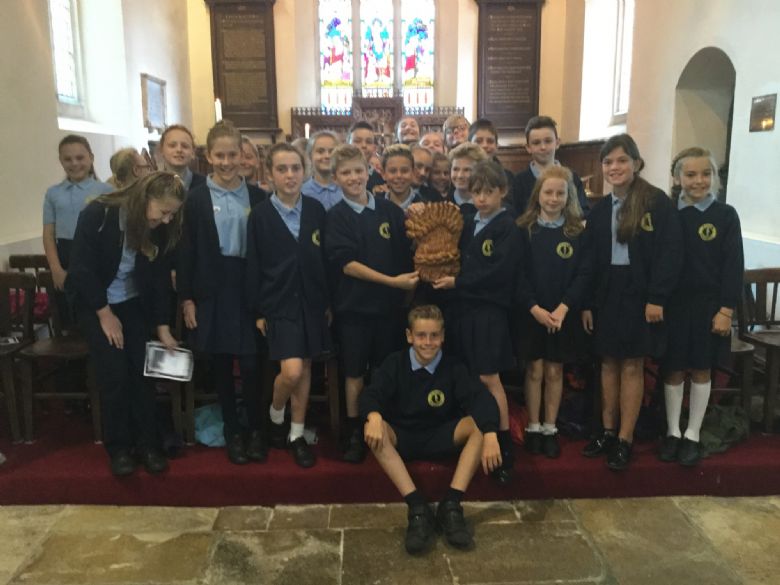 Challenge Week and Parents' Evening along with a football tournament, learning about life in the trenches during WW1, continuing to choreograph our ROH dance, baking bread, lacrosse, Spanish and
Anglo Saxons- what a busy bunch we are! Our star this week is Anna who despite having an injury has 'soldiered' on giving her best efforts in every aspect of school life.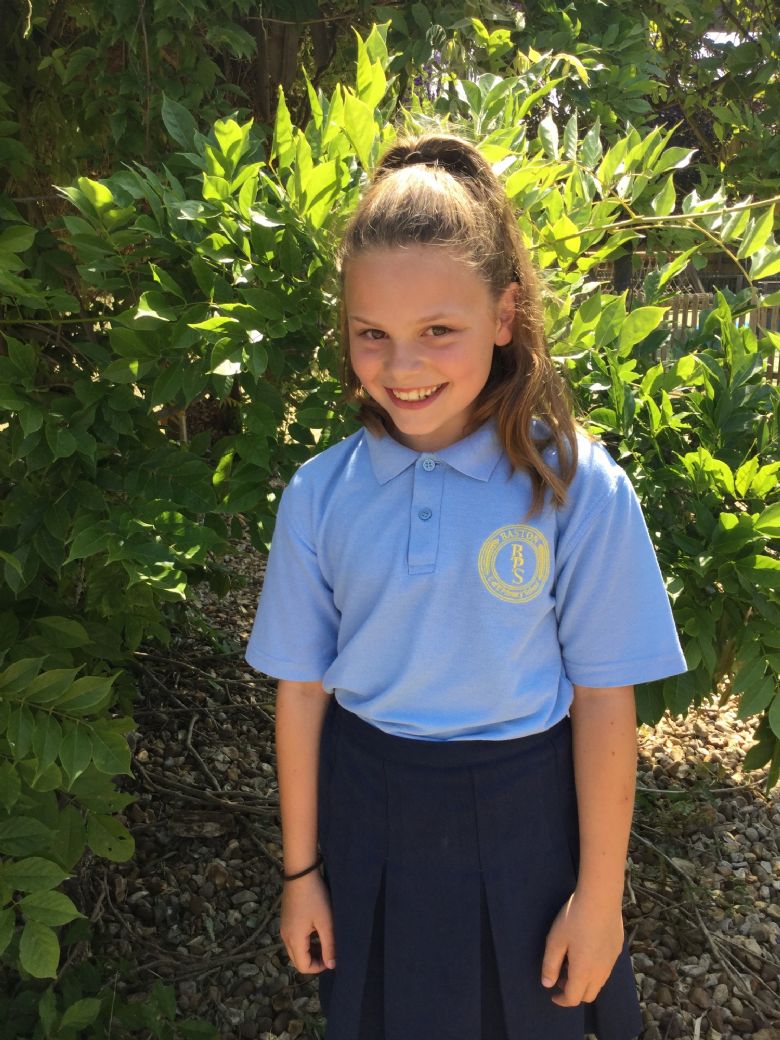 This week we have had two netball matches and the girls went to Holbeach to take part in a football tournament. We have been looking at life in the trenches during WW1 and the Christmas Day football match in 1914.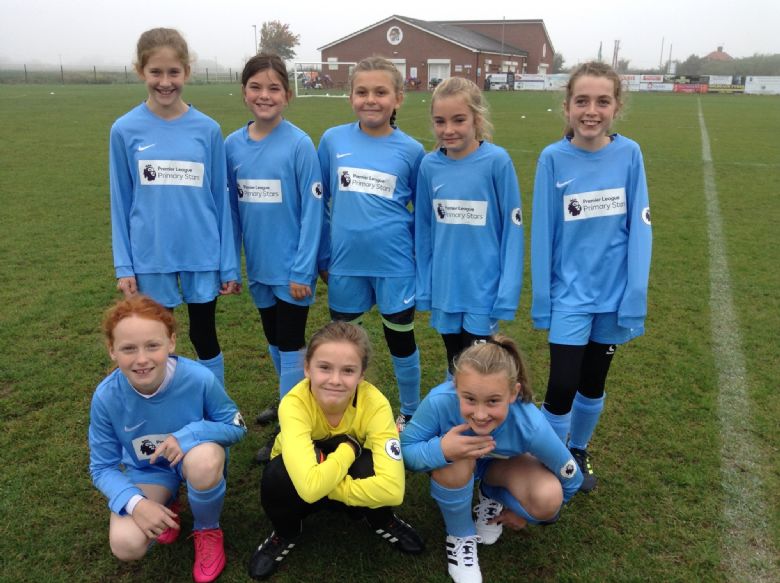 Most of us went to the disco and had great fun.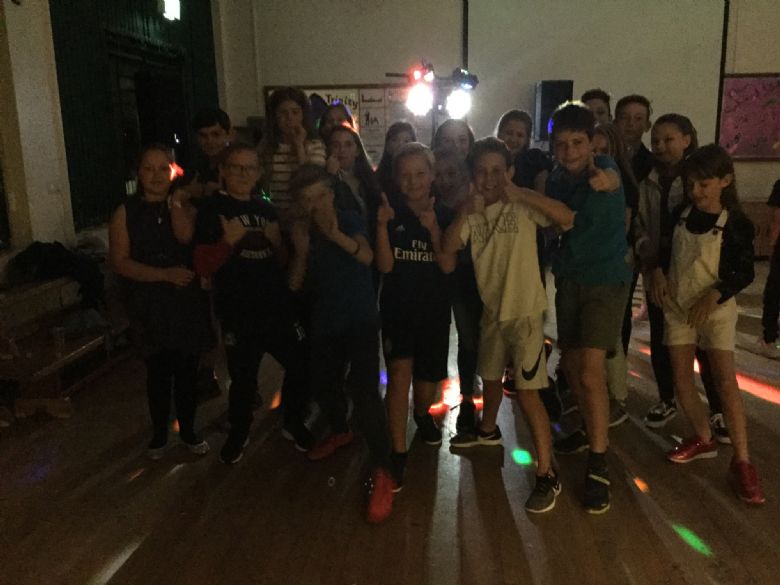 Our star this week is Kobe - with a fantastic attitude to all of his learning. Well done!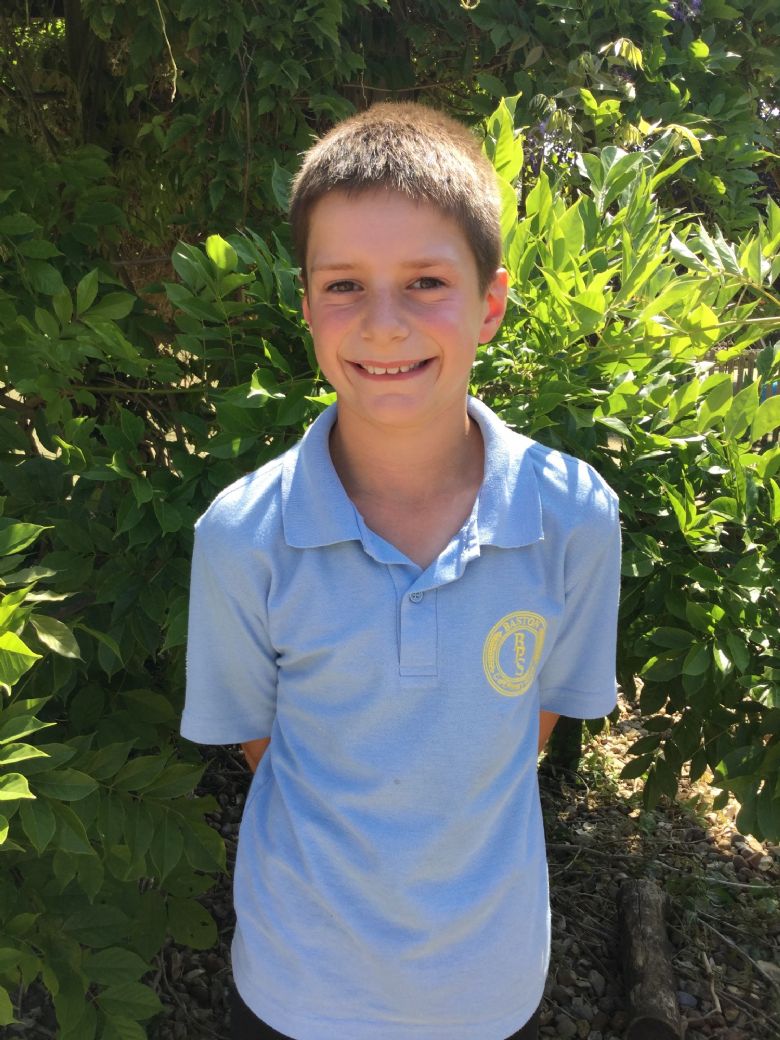 It's great to be back! We've learnt about PALS battalions during WW1; how to multiply fractions; how the circulatory system operates, serving lunches at church and concluded our week at Stamford Construction Day. Our star is Phoebe - a great start to Term 2 and great skills in tiling and plumbing.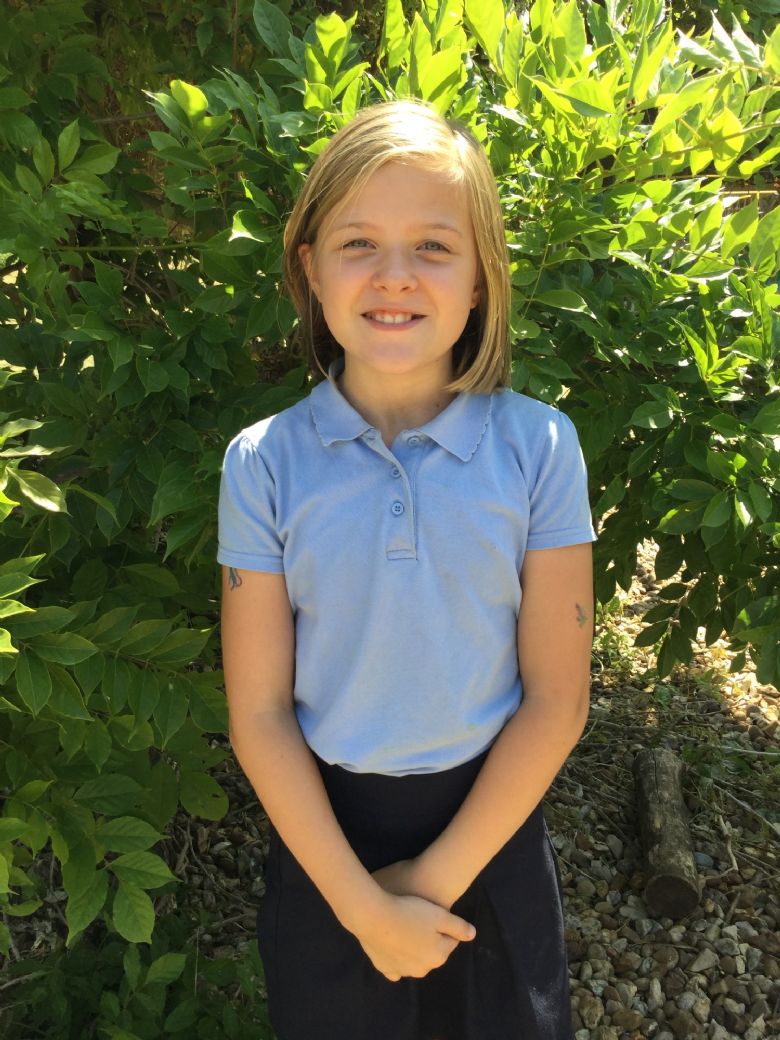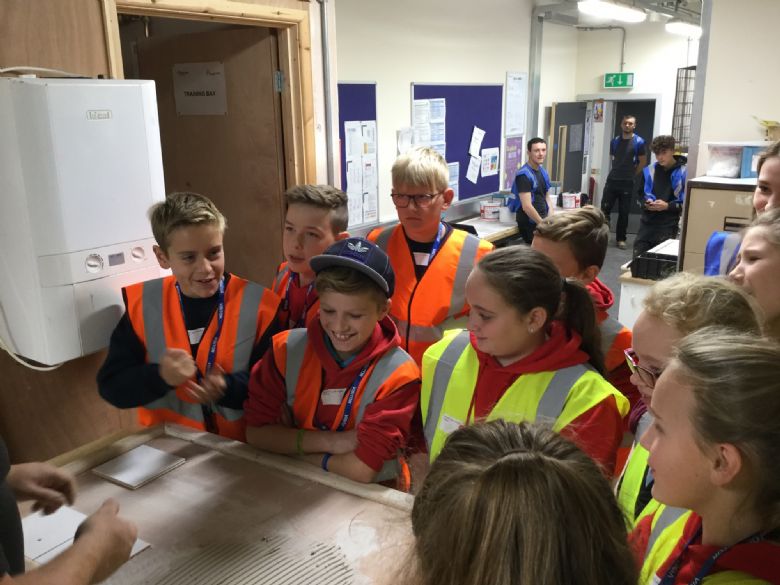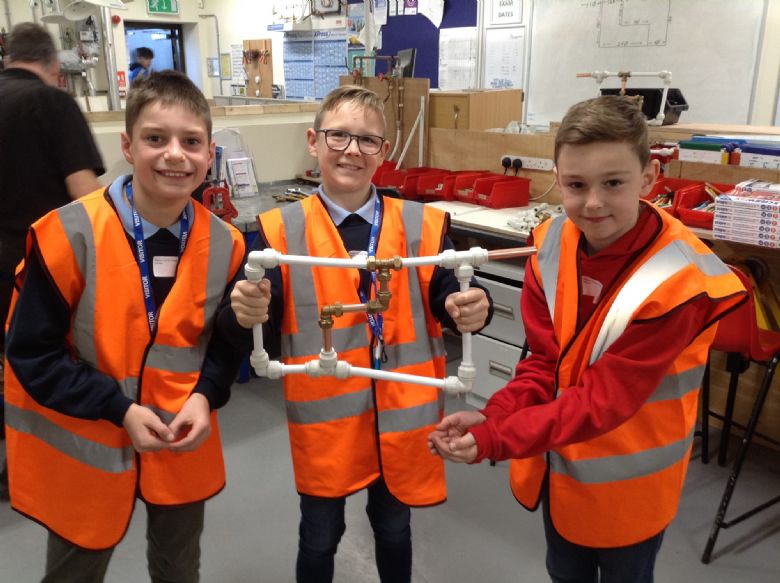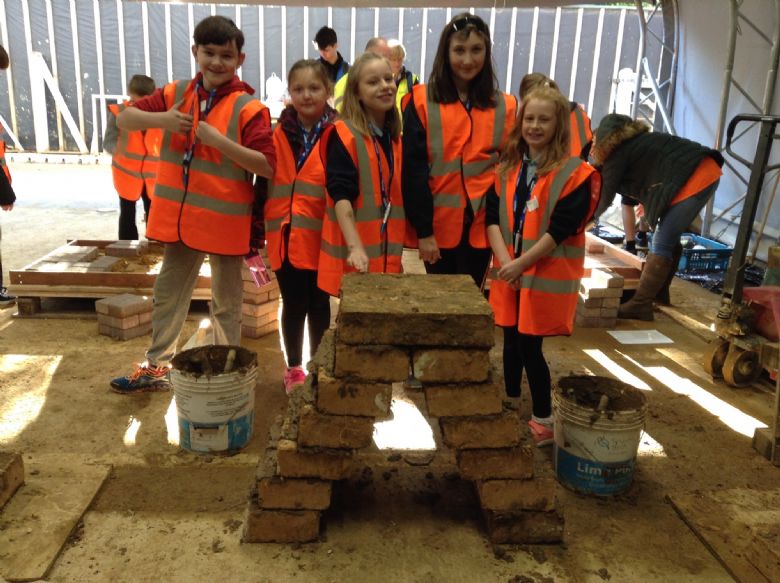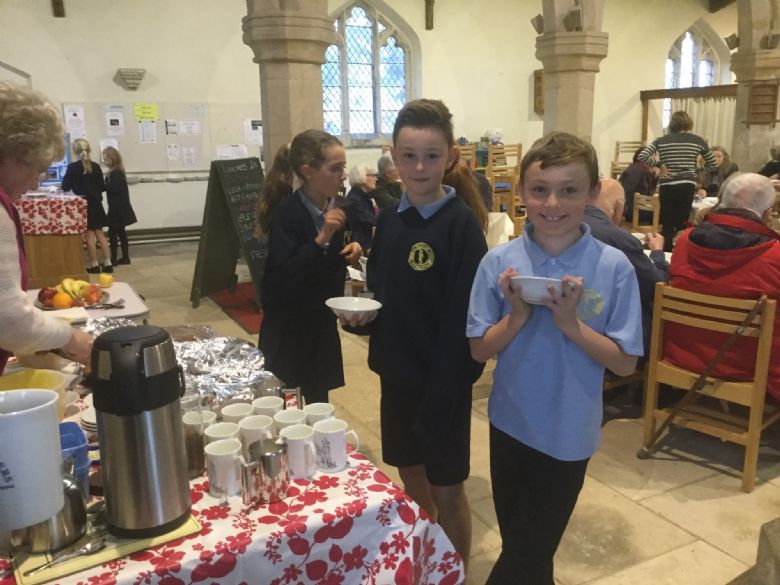 We have finished our dance! Just to fine tune it now! We have also written poems of Remembrance in English; division of fractions in maths and problem solving; learnt about the circulatory system and some of us have represented the school at the annual swimming gala. We also went to church to remember all of the soldiers that fought in WW1 & 2.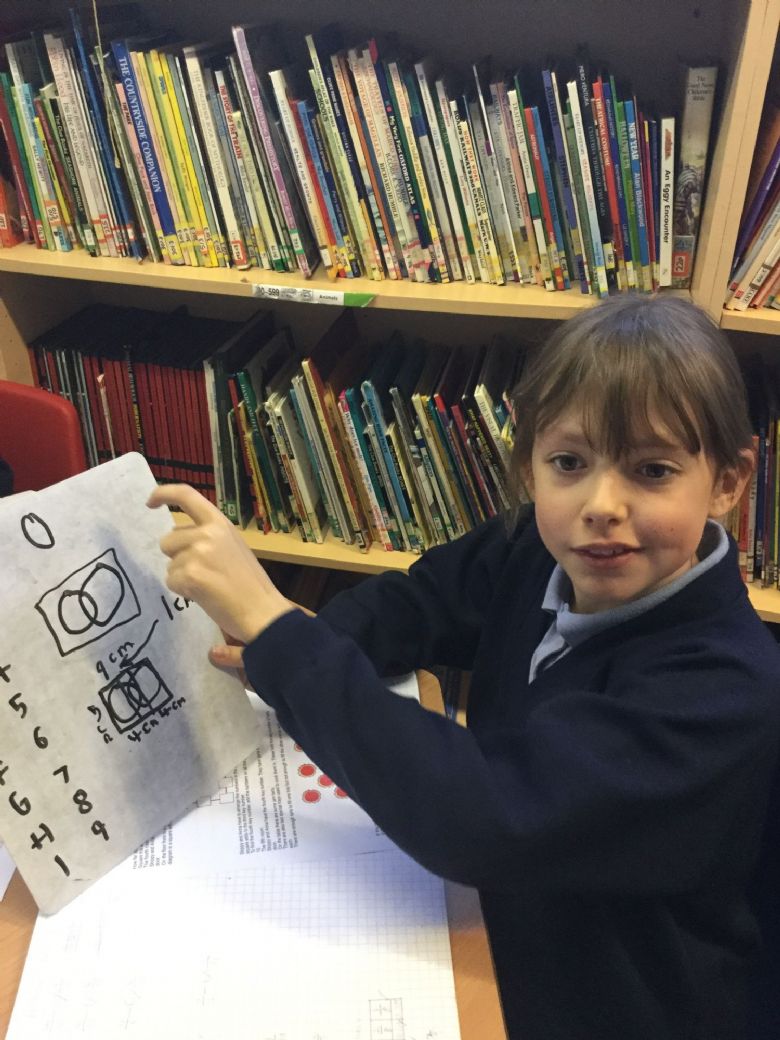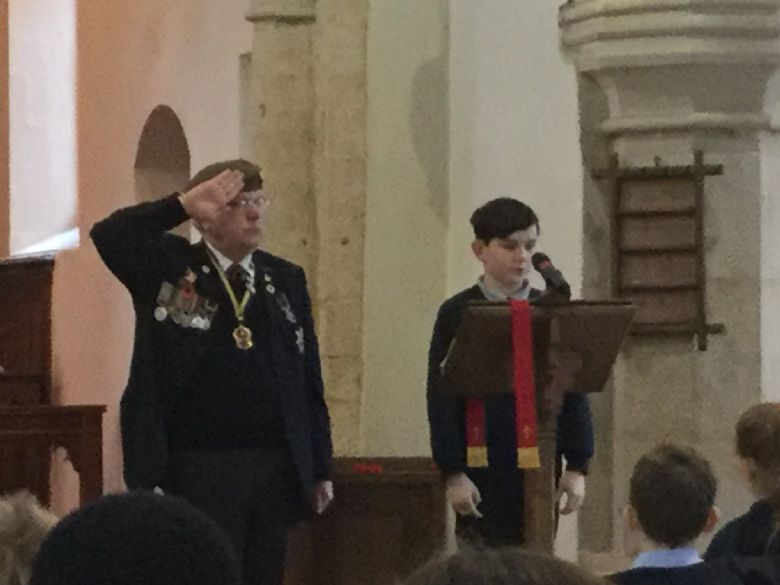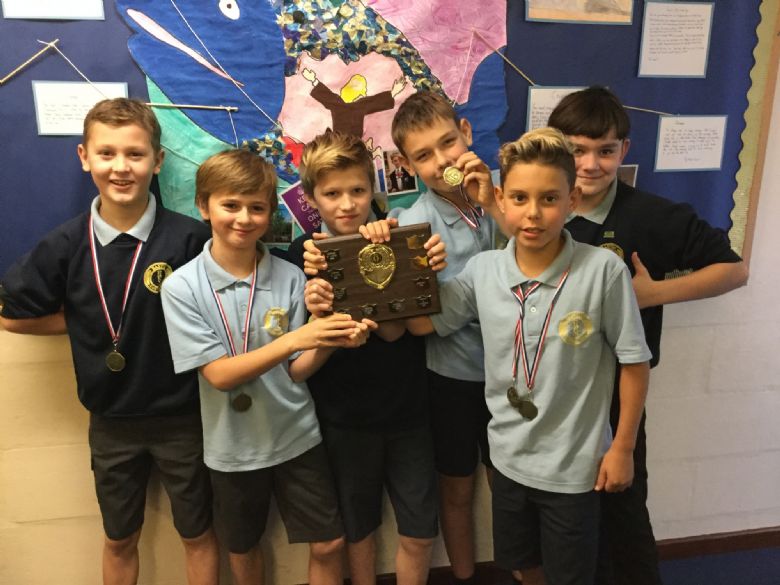 We have been 'angle' crazy this week! Measuring, calculating missing angles. area of triangles, problem solving, Active Maths partner finding and congruent angles. We have also learnt about the Battle of the Somme in English. In science we have learnt about arteries, veins and capillaries, plasma, platelets, red and white blood cells- we even made a blood smoothie!
Our star this week is Luke who has worked his socks off in all subjects and has shown a great attitude in all aspects of school life!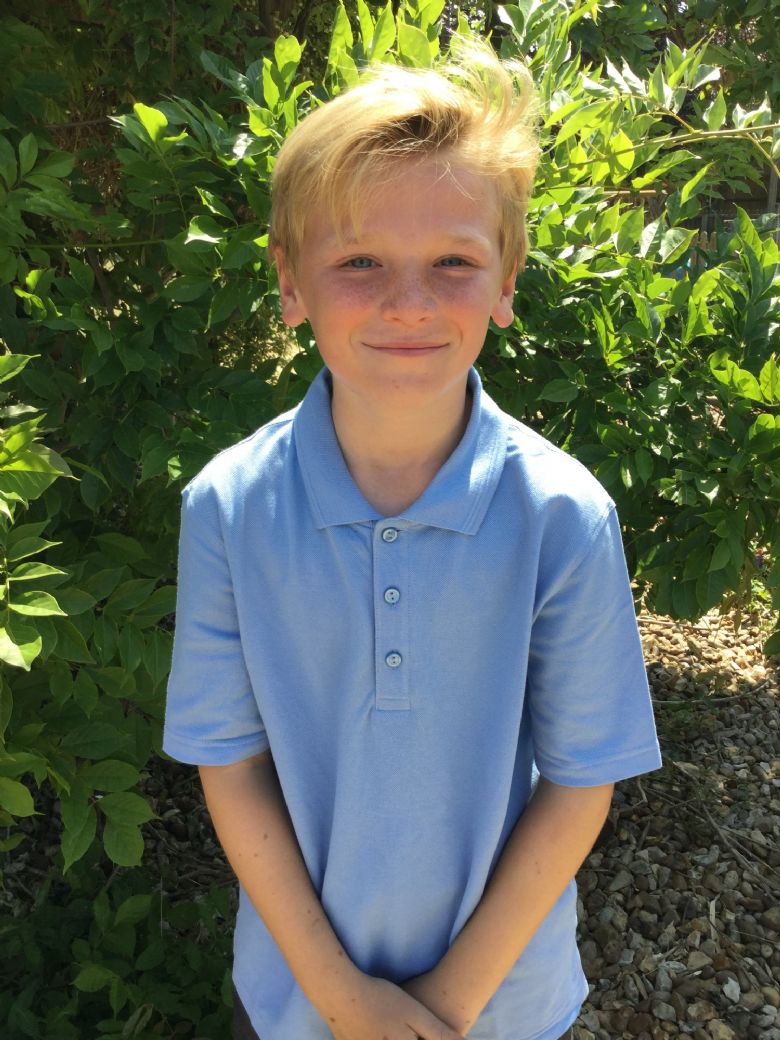 We have been looking at area and perimeter in maths and have written a narrative to accompany the literacy clip 'Alma'. We have drawn the different blood components in science and have thought about 'believing, living and thinking' in RE. We are putting finishing touches to our dance in preparation to it being filmed next Wednesday.
Our superstar this week is Lydia; she has had a brilliant week especially in maths lessons. She is also a fantastic friend to have!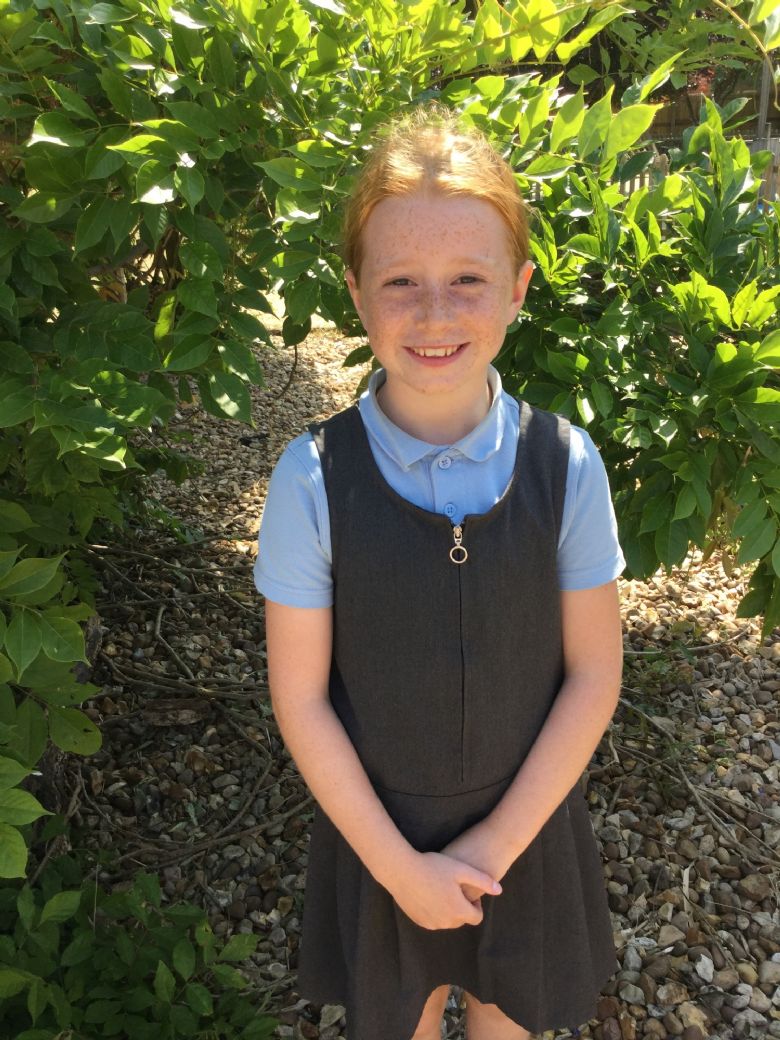 We've had an amazing week! We started by having a tetrahedron workshop with Clive, who some of us met at the Construction Day. Then we hosted our L2L where we performed our dance to our parents. On Wednesday we had a fun-packed day at SES where we filmed our dance, dissected hearts and completed the day with an hour of drama. We really are a lucky bunch!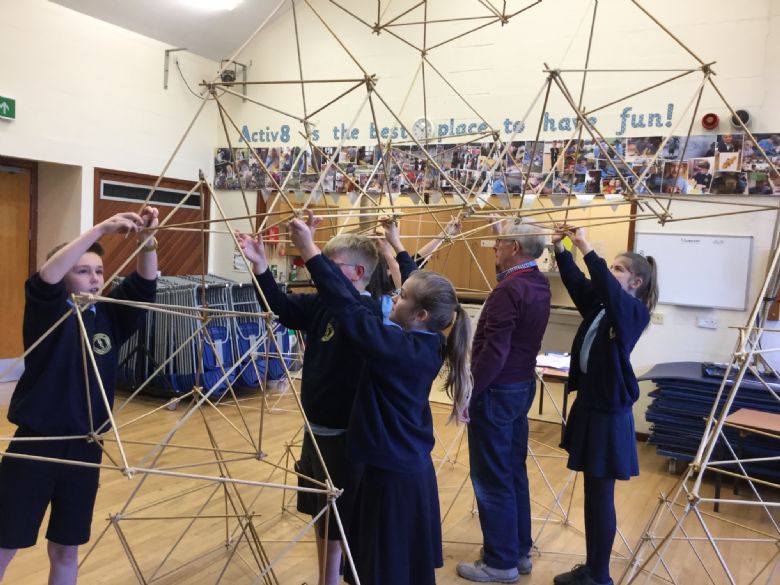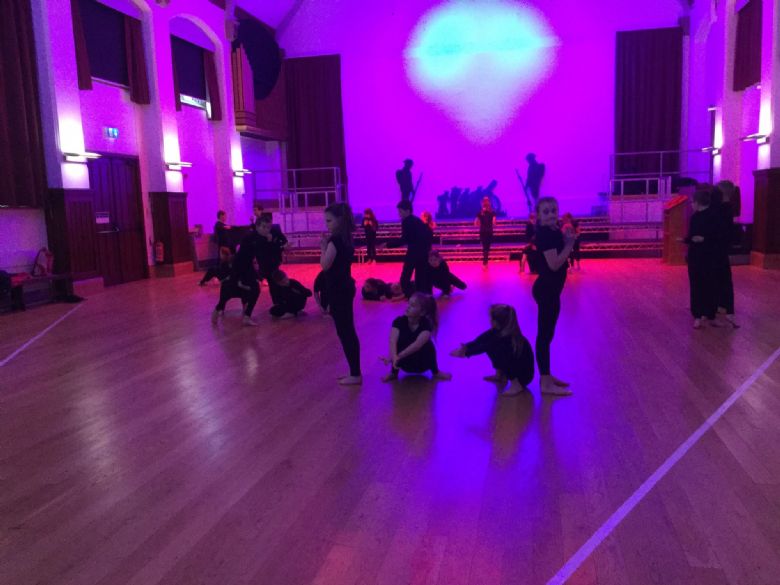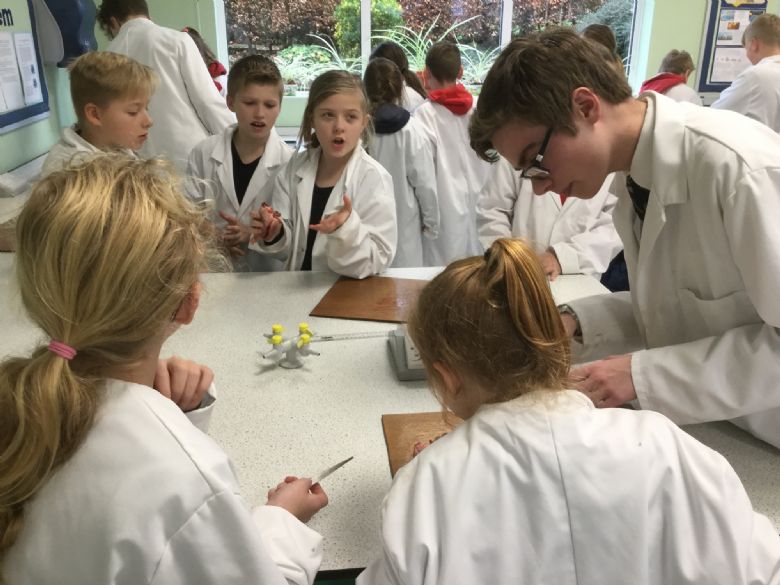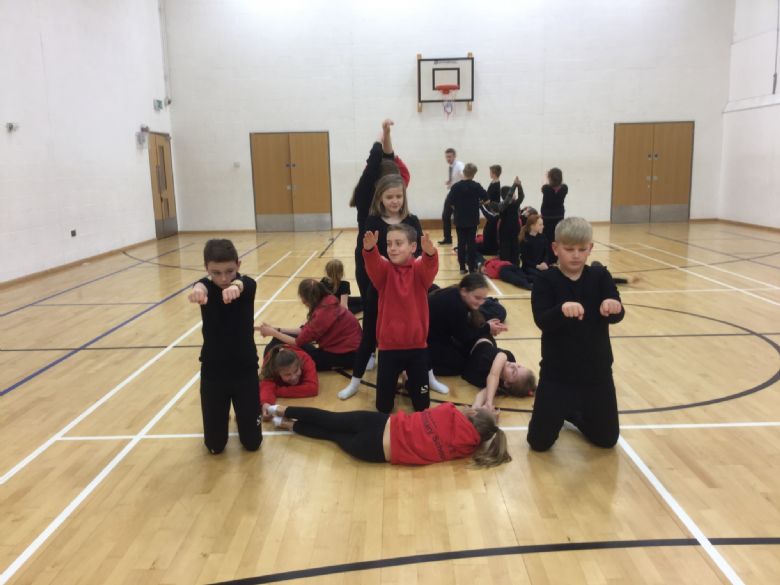 We have had two magistrates in visiting today who did a workshop with us looking at the different roles within the magistrate judicial system. Our superstar this week is Henry who has been working ultra hard over the last three weeks :)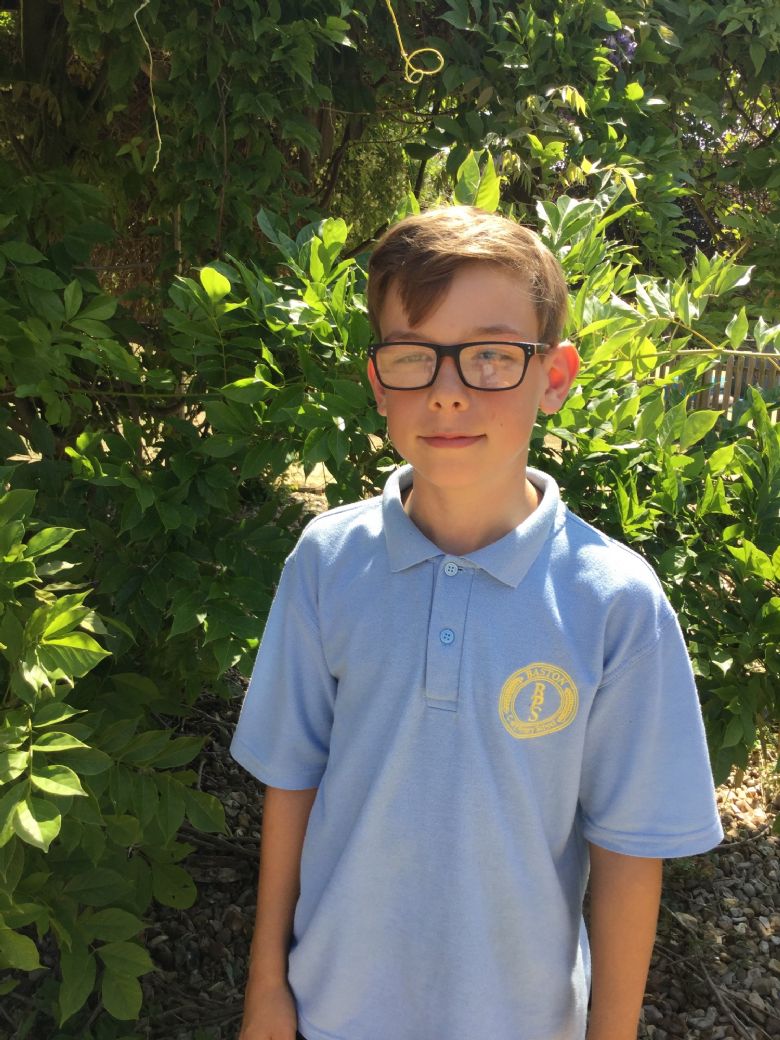 We've had our second 'Challenge Week' of the year, so we have been reasonably busy! We have also learnt about proportion and ratio in maths. We have had all of the gym equipment out in PE which was exciting! In Forest School we lit our own fires and toasted marshmallows. Our superstar this week is Emily - a great Year 6 role model who always gives 100% in whatever she does!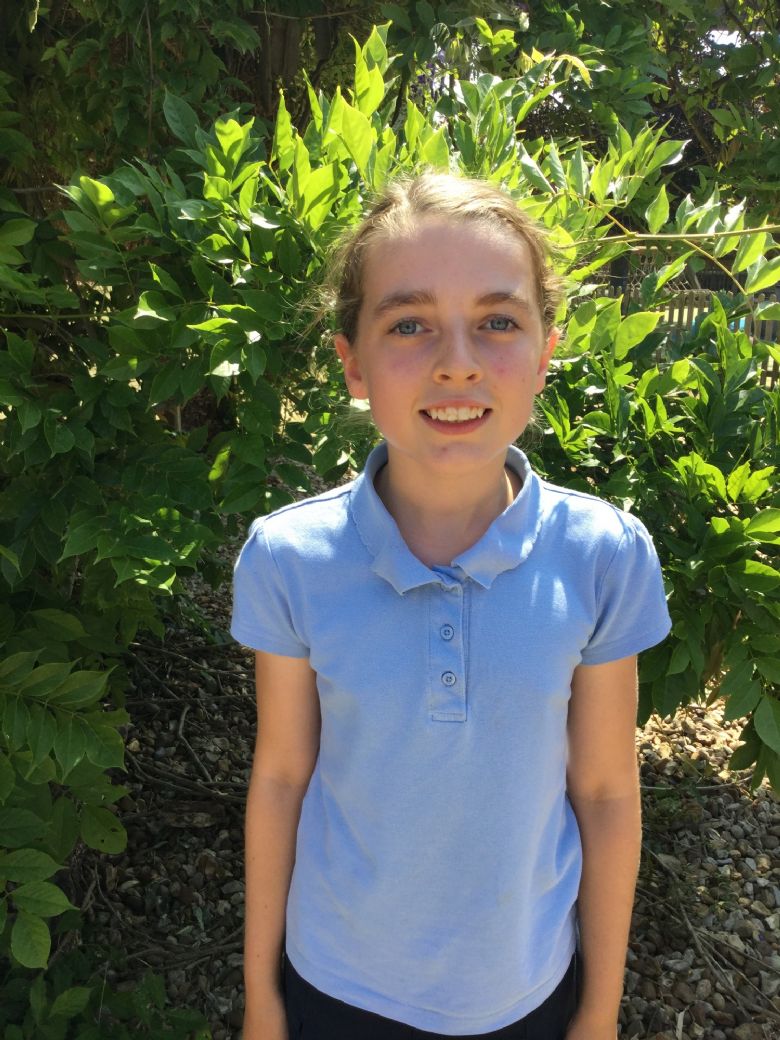 We have been looking at ratio and coordinates this week and have also written a narrative based on a clip from Literacy Shed that we watched about a Christmas Lottery in a mannequin factory. We have also being thinking about what is good in RE and how we think about things that we cannot see. Jacob has had a fantastic few weeks and is our Christmas Star.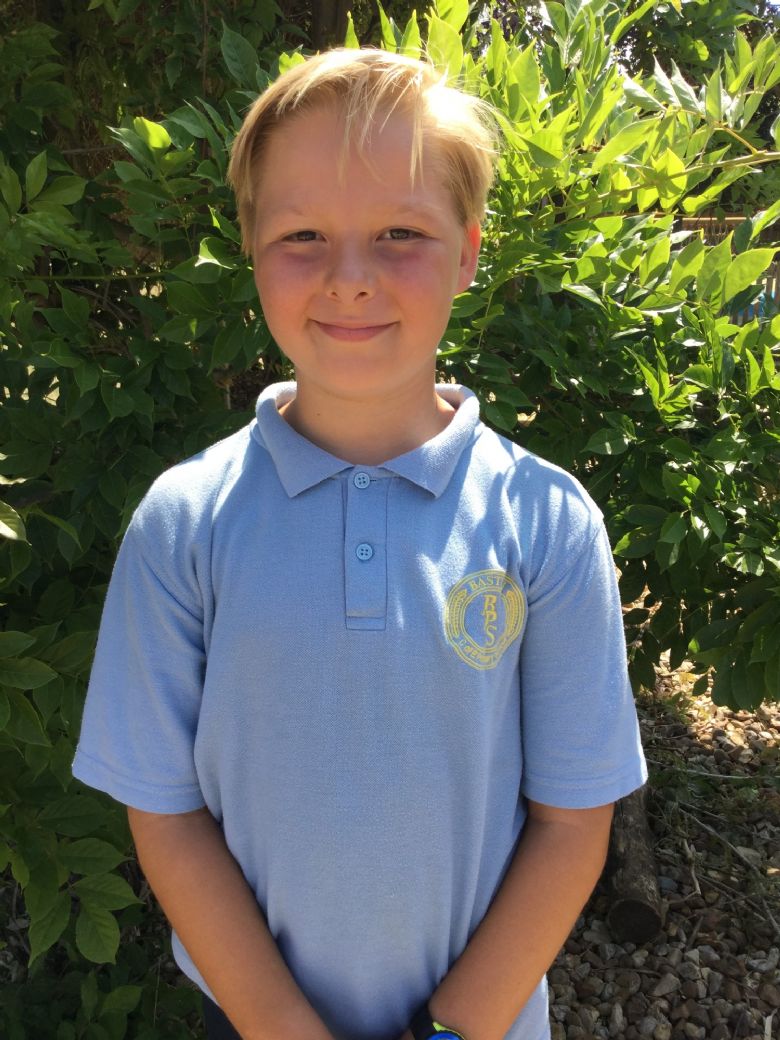 We had a fabulous time preparing for Christmas...disco, party, church. We were more than ready to have a 2 week break!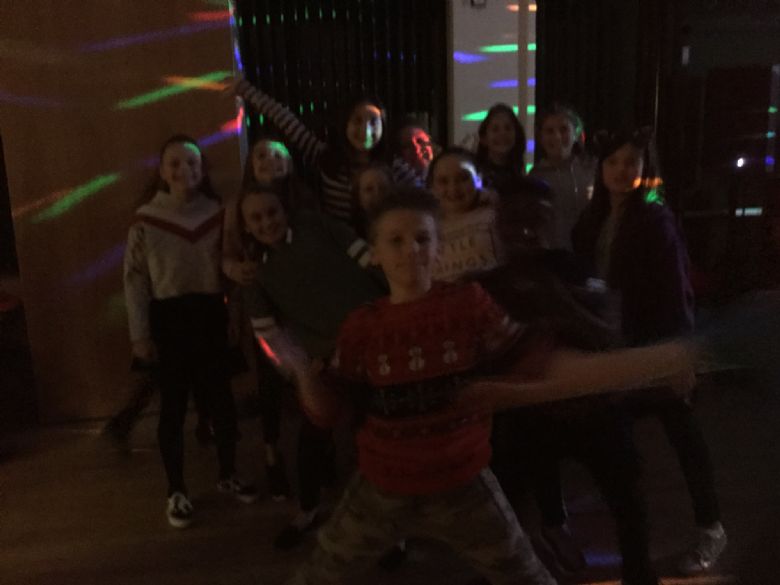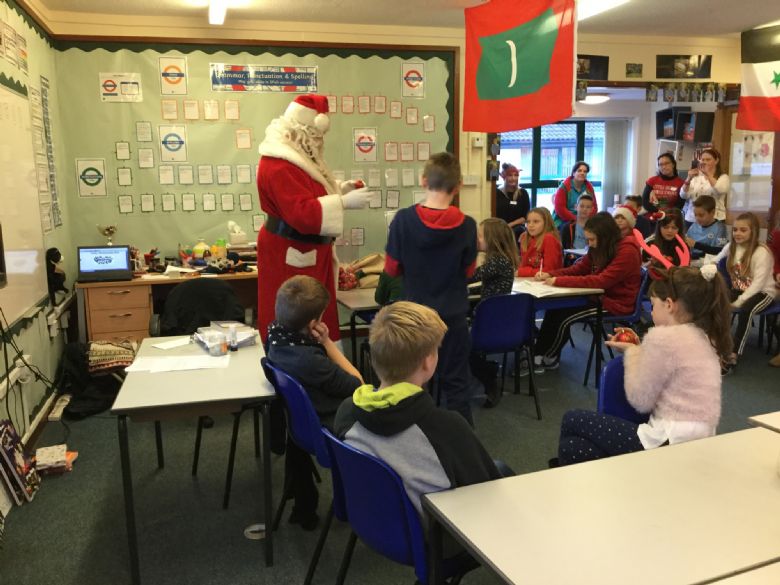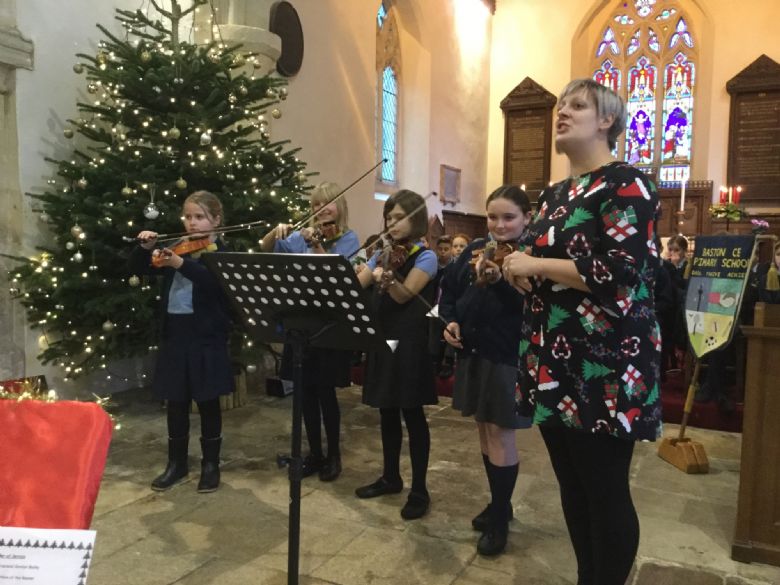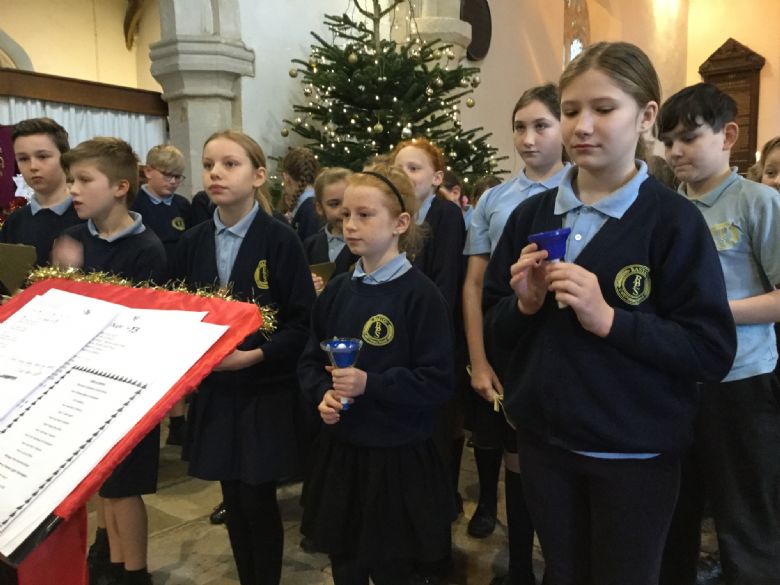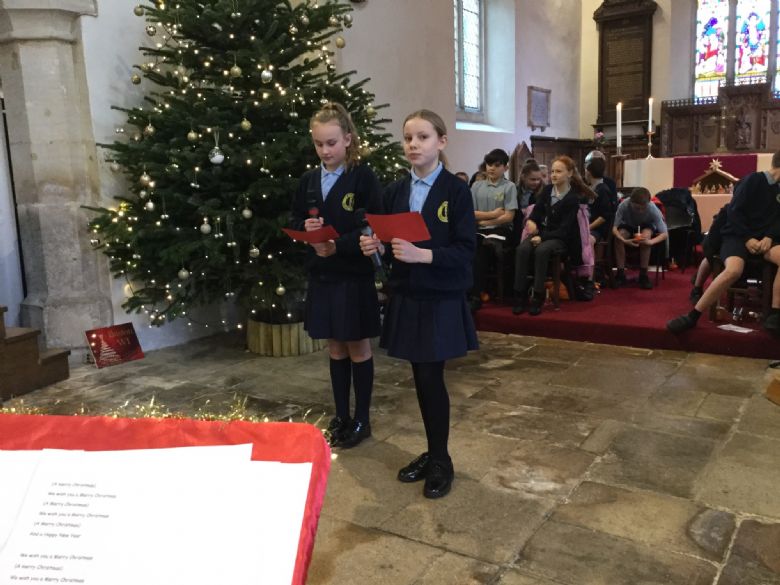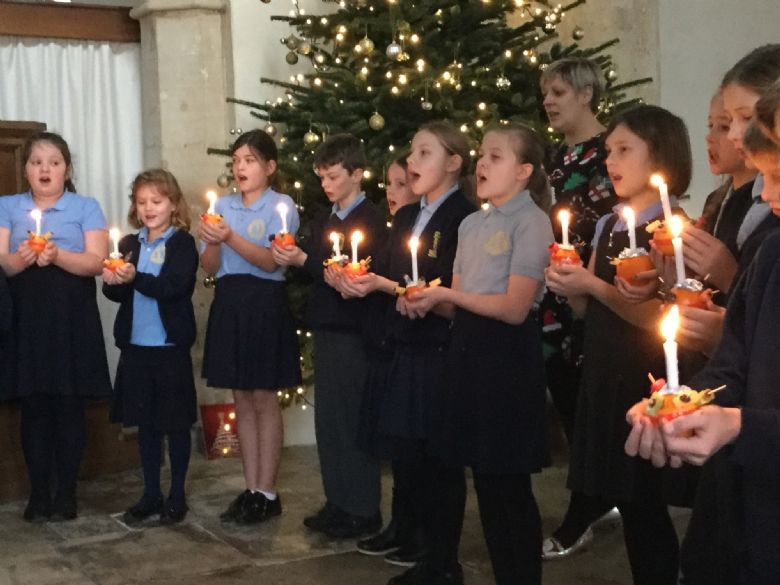 Happy New Year to everyone! We have returned back to school and understand the importance of the next two terms! We have looked at the end of WW1 so that we can start our study of WW2 next week. We have learnt how to find the mean average of numbers and learnt about the five kingdoms of classification in science. We have also served church lunches and a few of us travelled to Sheffield to sing at Young Voices. Our Y6 star this week is Josh because he is always ready for learning, always puts in 100% effort and is a delight to have in school :)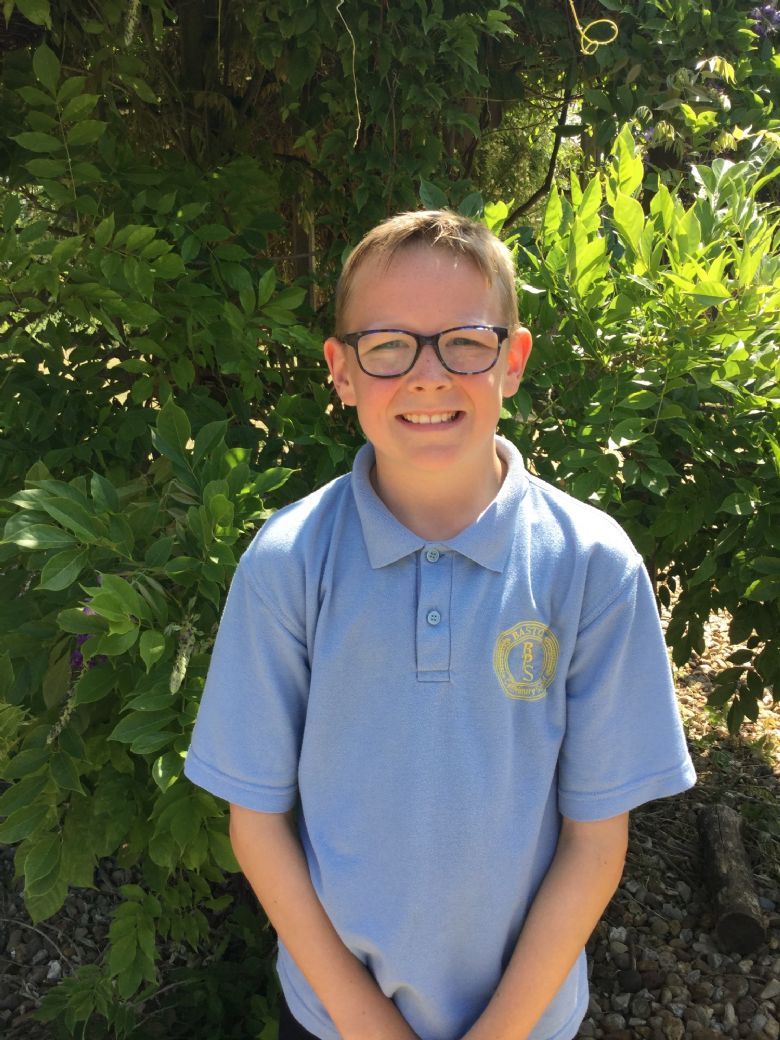 Back to normal again; it didn't take long! We've written speeches this week and presented them to the whole class, we have revised adding and subtracting fractions and also looked at converting measurements; we are looking at the question 'Religion v Science, Complimentary or Conflicting?' in RE. Our focus this week was on doing the right thing which isn't always the easy option. Maths workshop has also started with a few parents attending - thank you!
Our star this week is Niamh. She always puts in maximum effort and always does the right thing!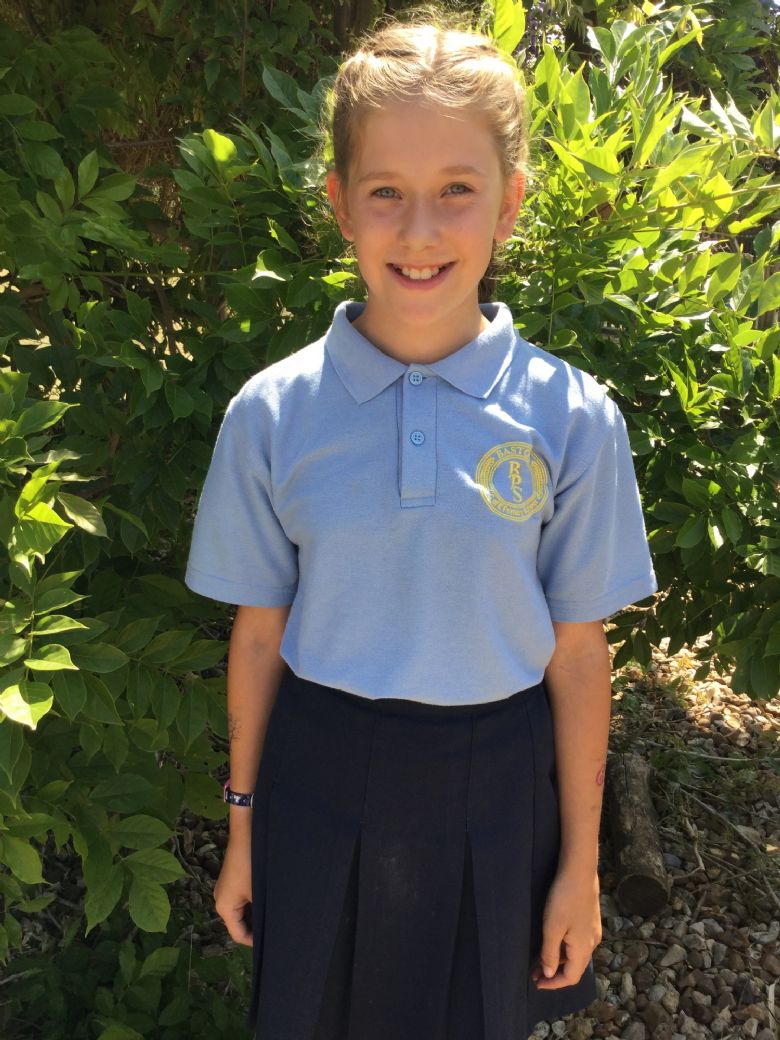 A few photos of what we have been up to over the last two weeks...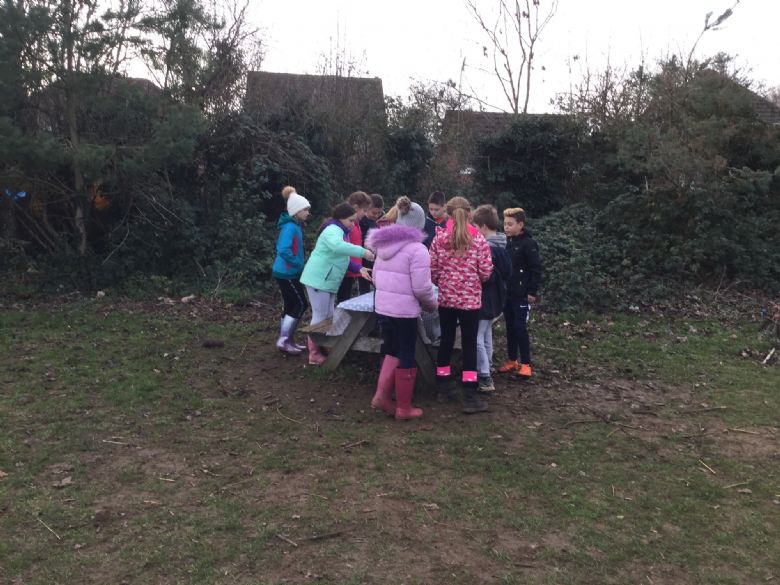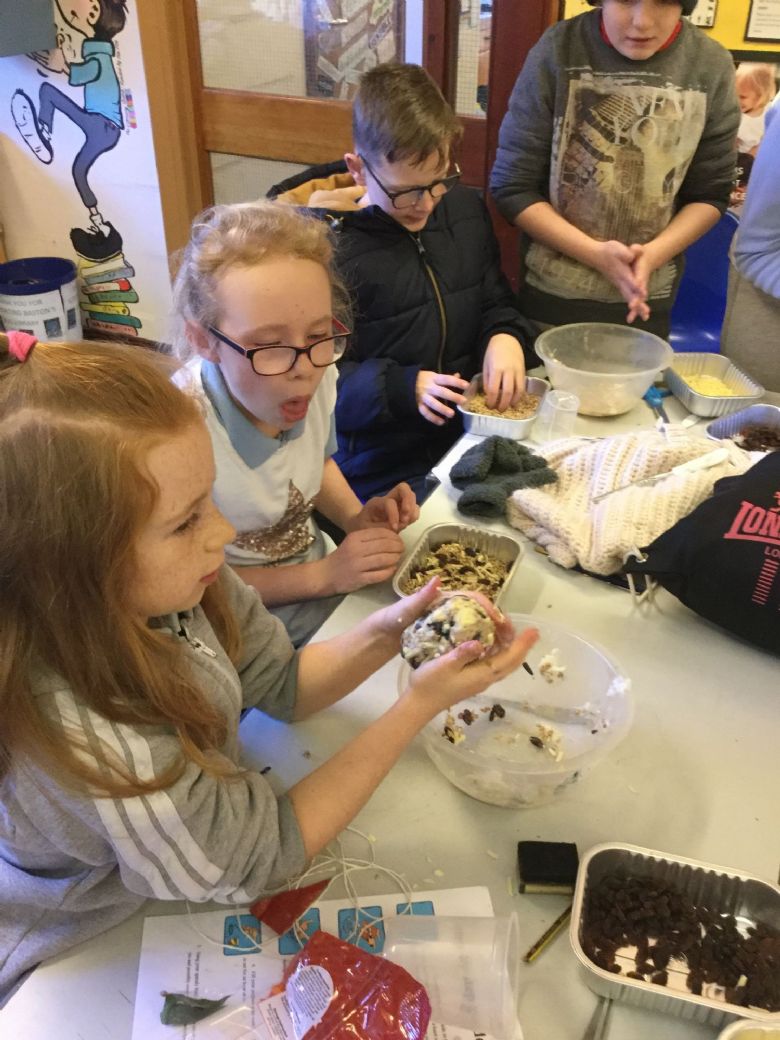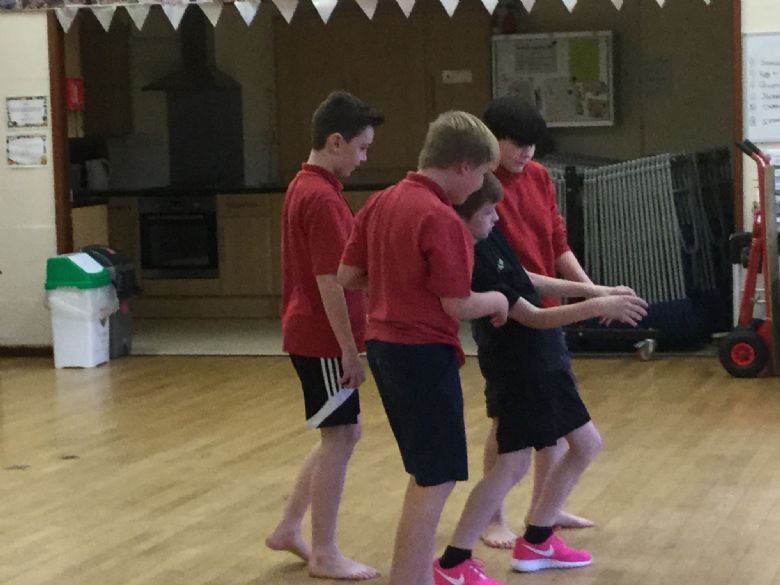 We've had a really good week and have produced fantastic work in English, maths, RE and science. We have been working on time problems in maths and have created a WW2 information leaflet on protection in English. Today (Friday) we looked at biodiversity and the effect human beings have on different species around the world. Our Y6 superstar this week is Alarna, who is always working hard and showed great understanding in maths this week.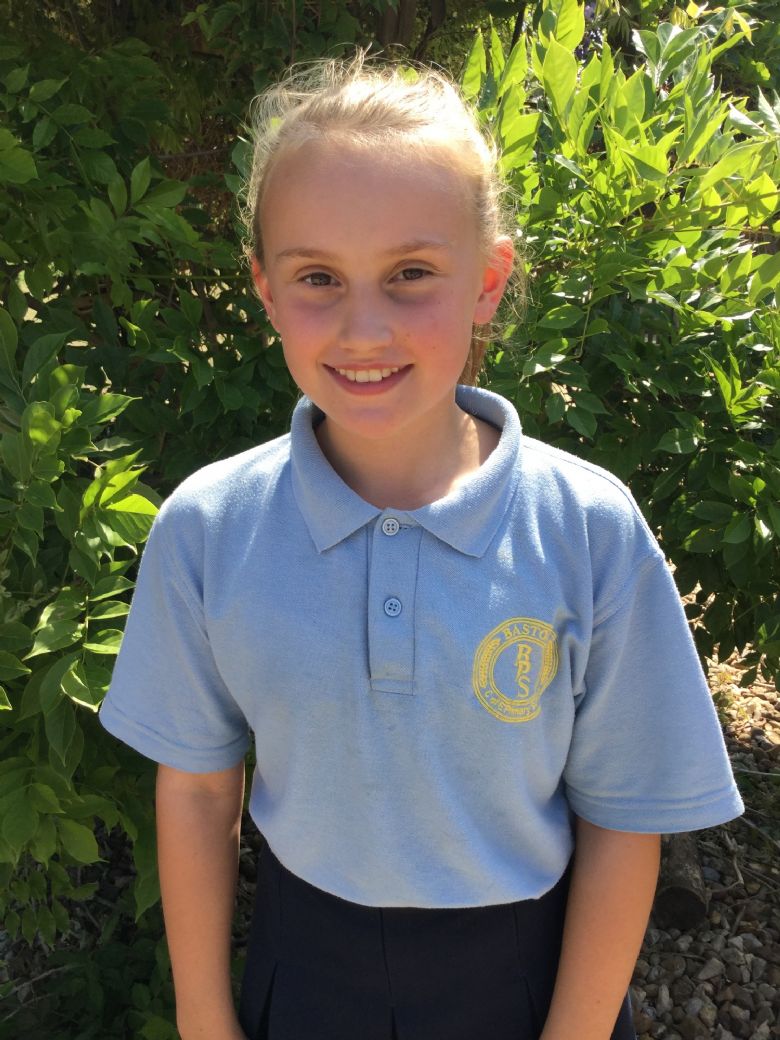 We've had a fun-packed week again...algebra in maths, evolution in RE, balanced argument in English and a netball tournament. Maths Workshop took place again after school on Thursday. A big thank you to all of the parents that attended.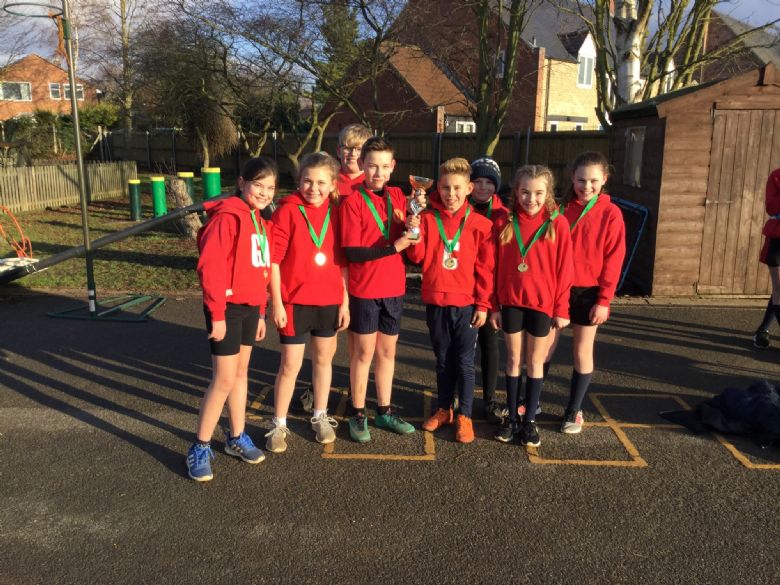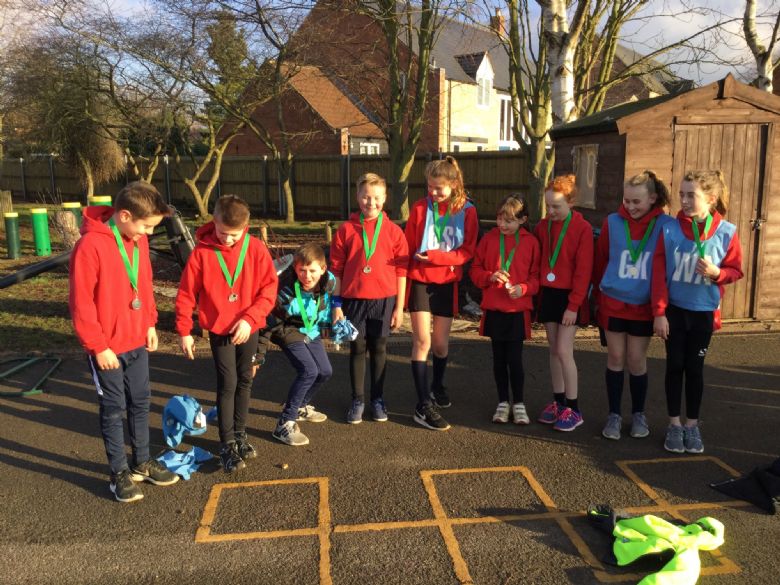 Our superstar this week is Lily who is constantly working hard and managed to beat her dad in 'Around the World' at Maths Workshop!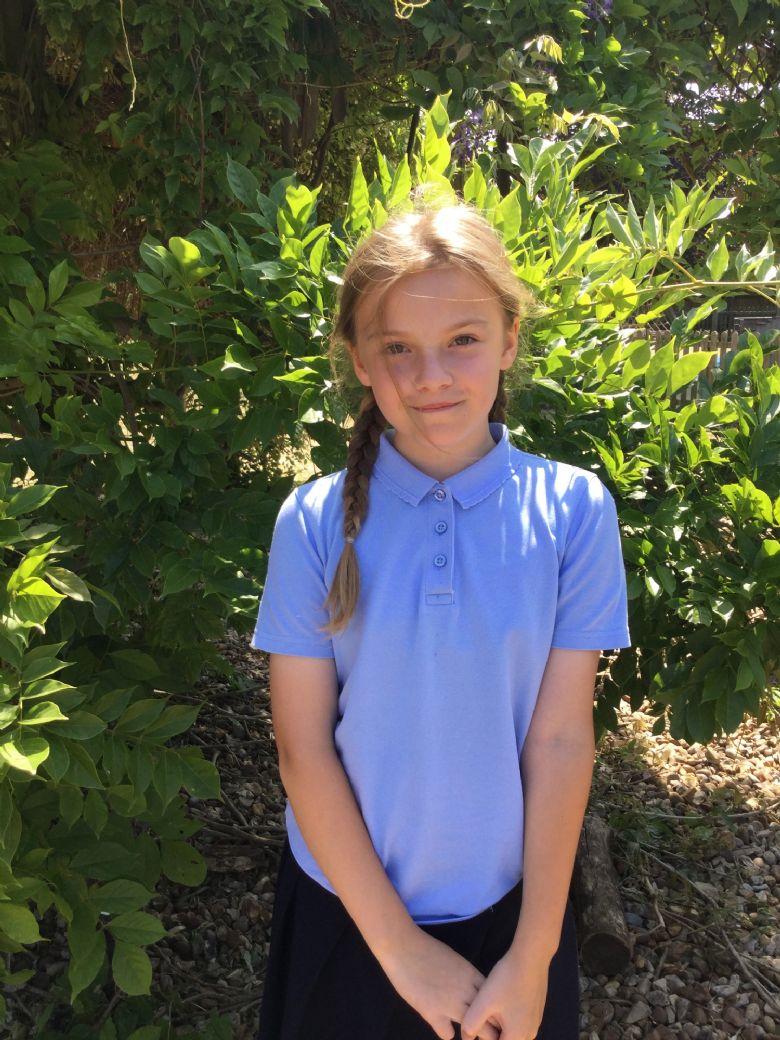 As part of our study on biodiversity we have chosen to adopt a snow leopard through WWF. Take a look at the Eco tab on the Pupil's Page.
We have had a 'Challenge Week' full of SAT papers to start getting prepared for May this week. We have also enjoyed creating mini Anderson Shelters in Forest School, made a gas mask box for our trip to Stibbington next week and looked at characteristics that we have inherited, or acquired from our parents in science. A few of us served lunches at church on Thursday too.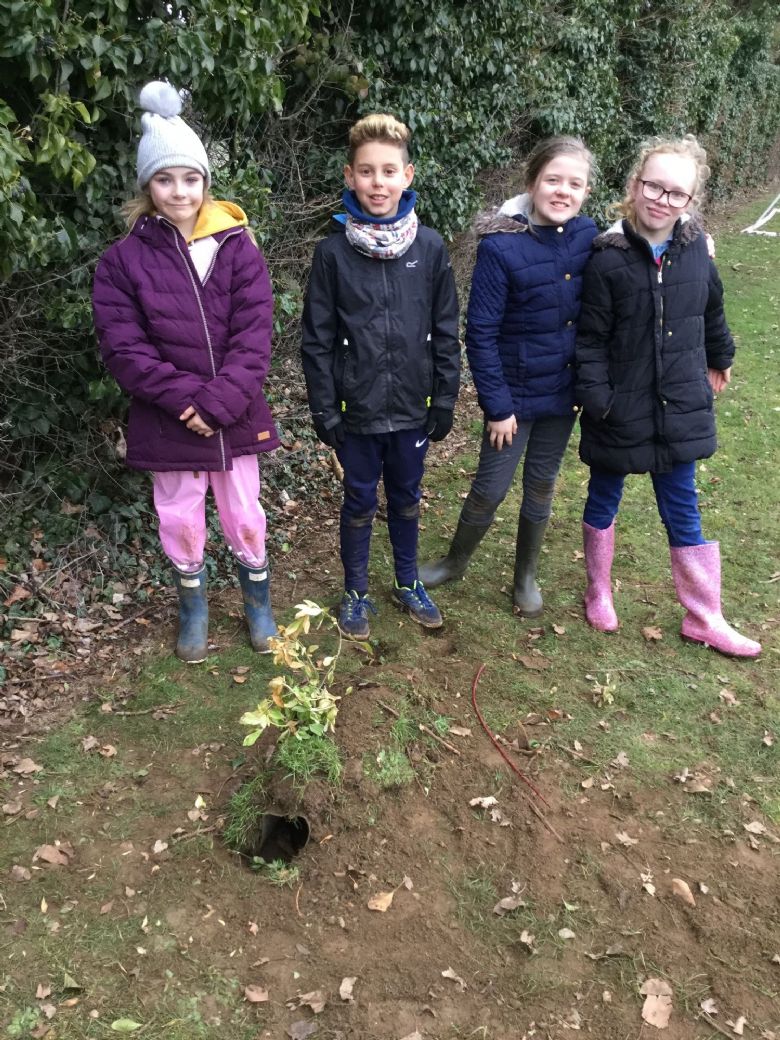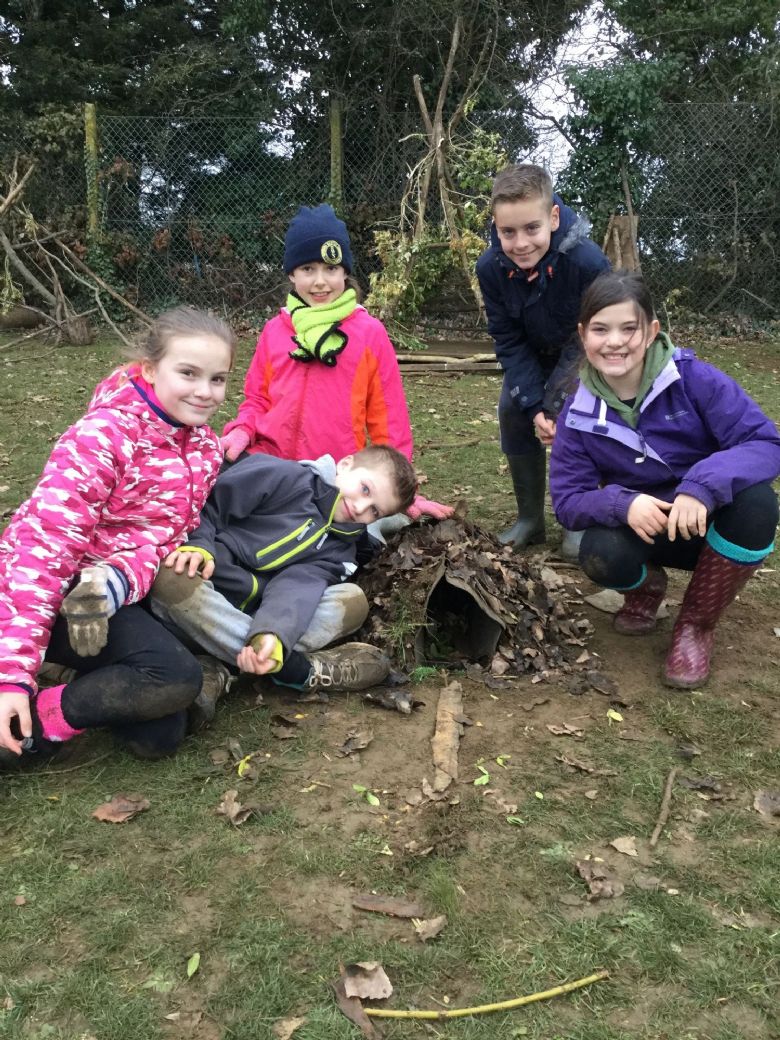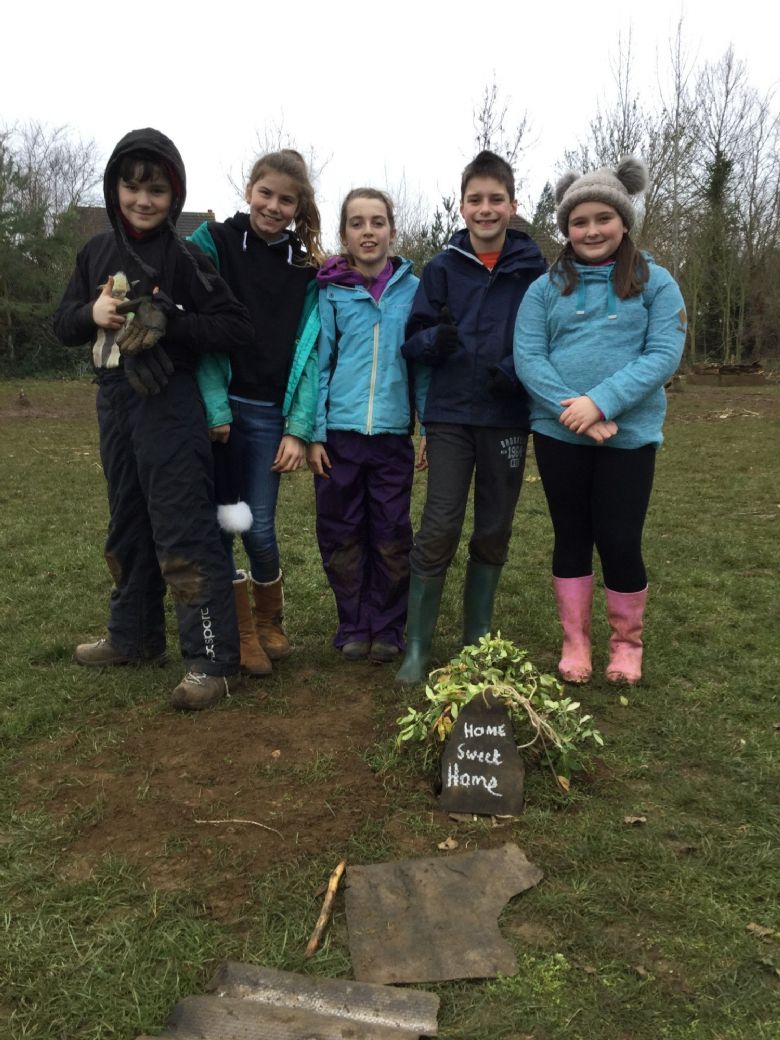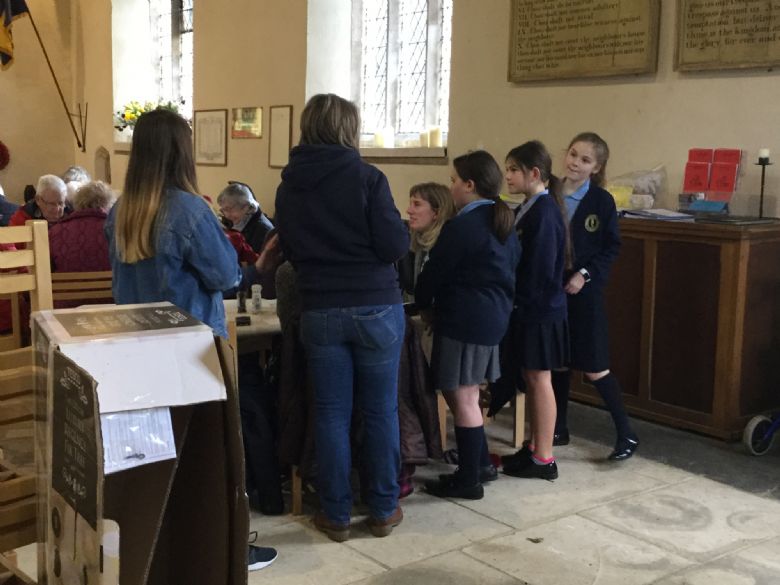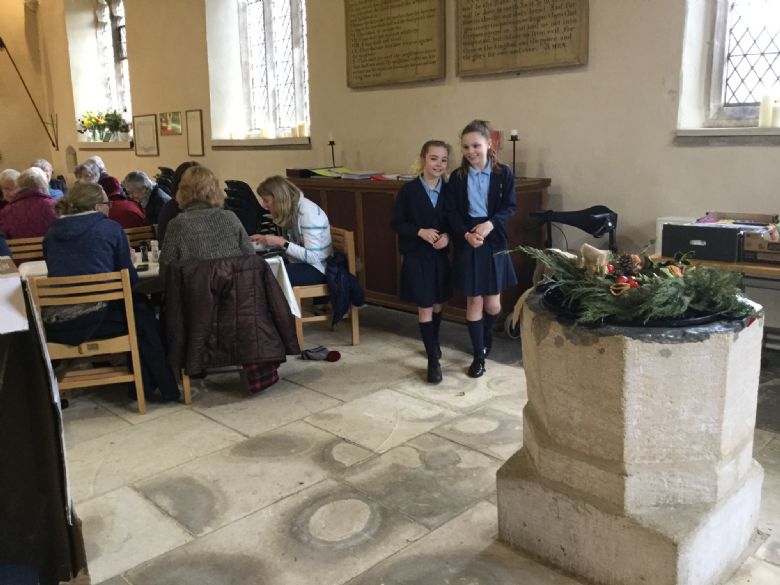 Ben is the Year 6 'Star' this week; he has been working really hard for a long time now and has kept this up for a long period of time. He is always polite and cheerful and is great fun to be around - apart from marking him on the netball court!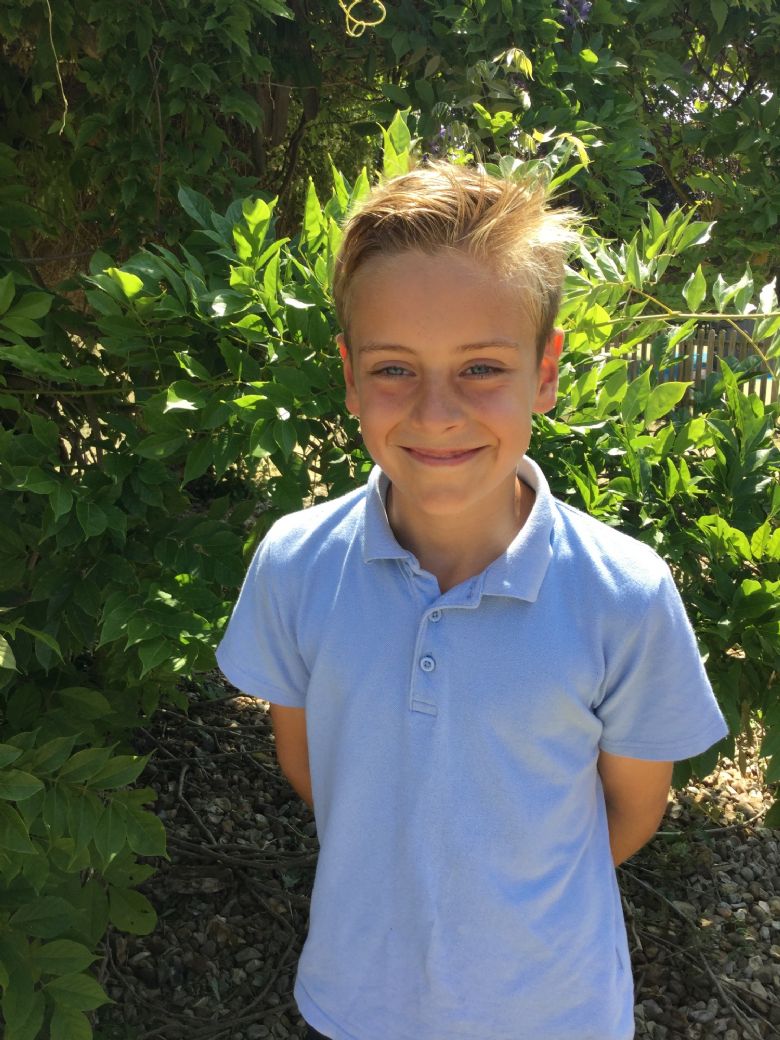 We finished the week doing writing and drama (freeze frames) on Carrie's War.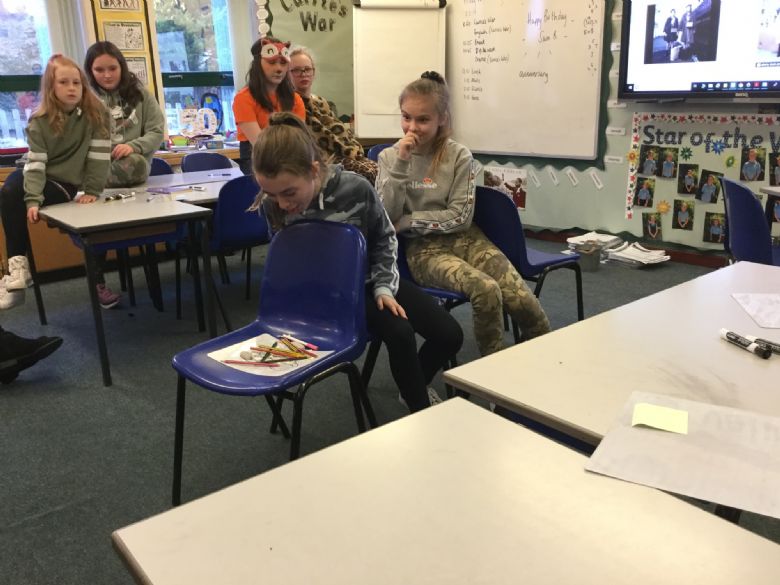 A day out in Stibbington as evacuees (see separate tab for more photos)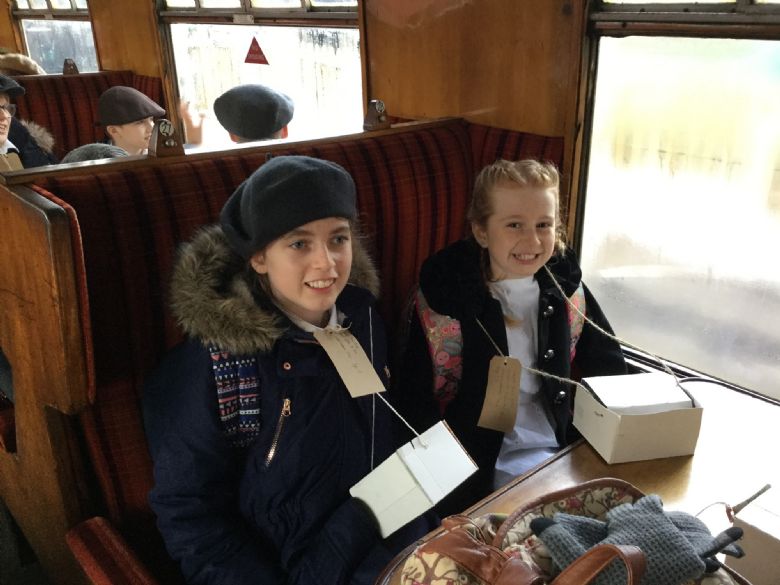 Most us have received our Blue Peter badges this week following our lesson on formal letter writing. As I'm not in school on Friday we are going to celebrate our star tomorrow...Tommy is the Y6 star this week. He is always an exceptional role model, showed great knowledge at Stibbington and is always extremely polite to everyone in school- a great member of our class!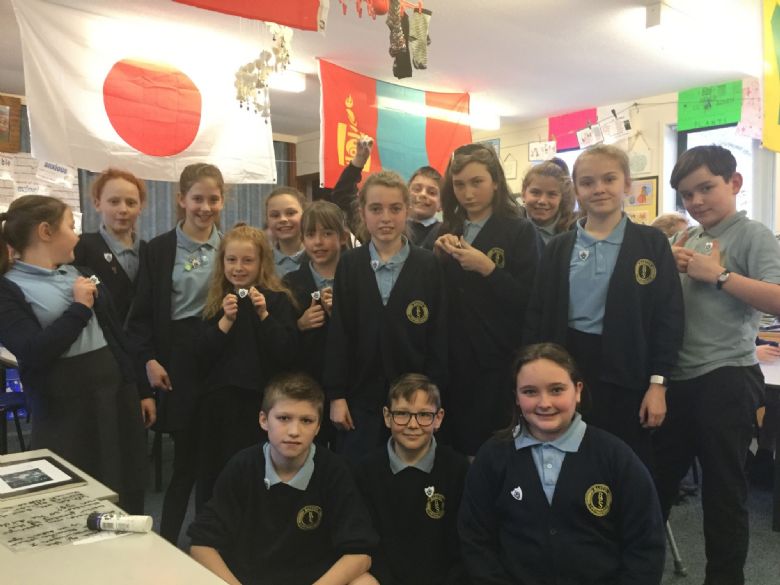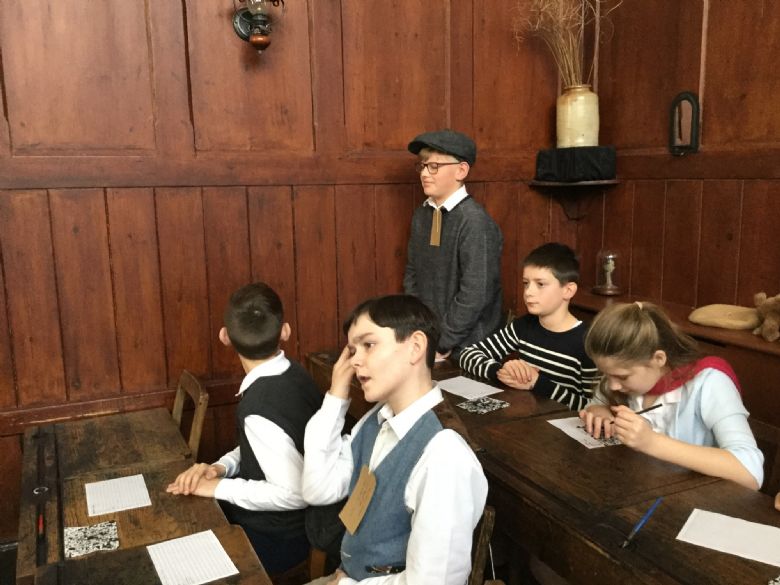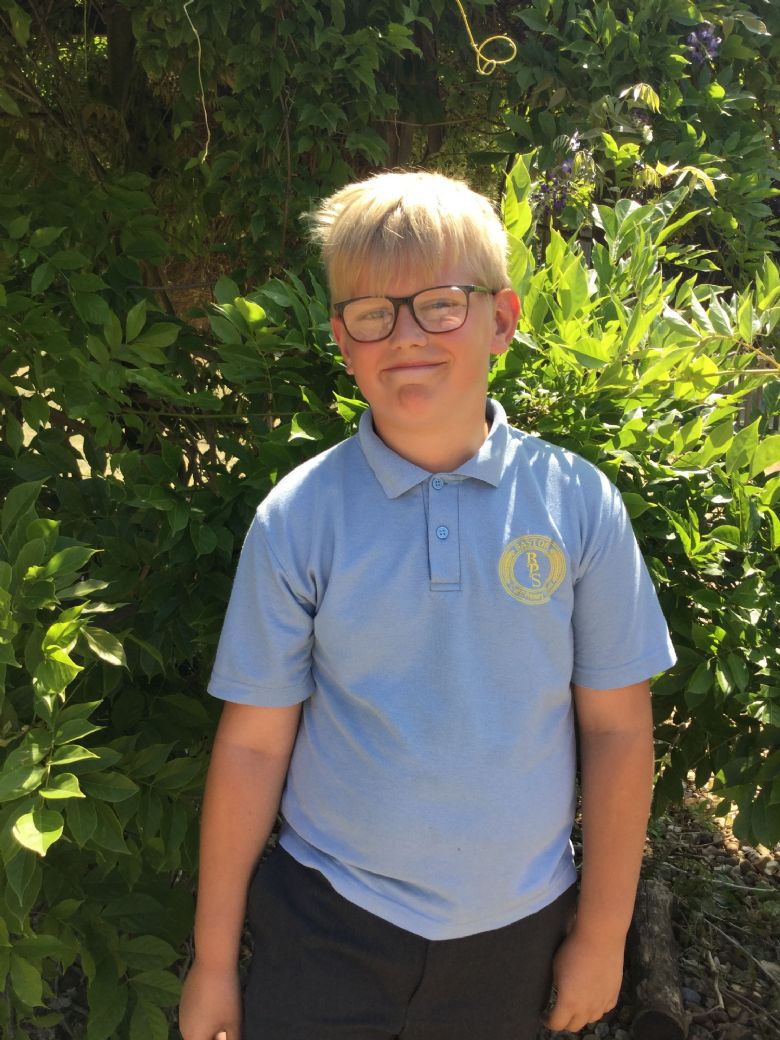 In RE we have done a line of enquiry asking the question 'If God made the world who made God?'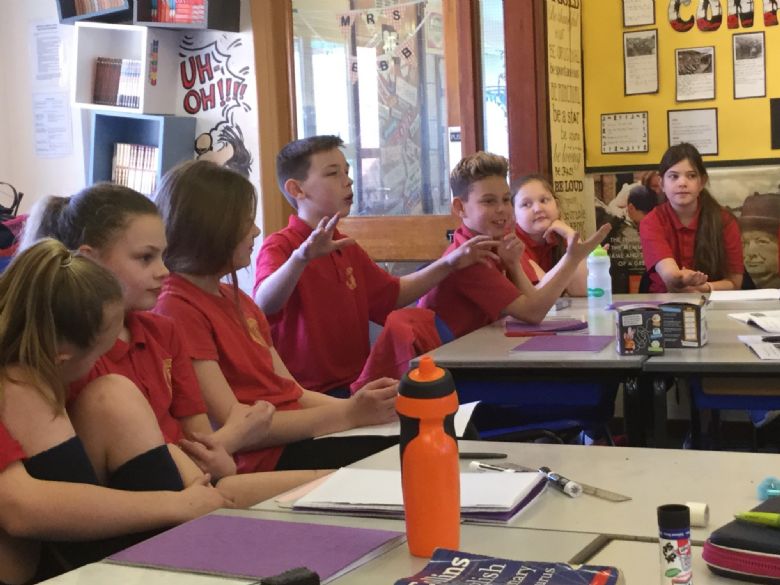 Half way through the year now - not long until we will be venturing into Year 7! We are preparing for SATs with sample reading papers, but we are also continuing with our reading books in Guided Reading groups. We are looking at the story of Rose Blanche in English and re-visiting SPaG terminology. We have looked at a variety of data handling reasoning questions in maths. On Tuesday afternoon we produced Jackson Pollack painting that depicted emotions. We are also choreographing a dance for the ROH on the theme of 'The Mad Hatters Tea Party'. In science we have recapped 'adaptation' using our knowledge that we learnt in Forest School in the Autumn Term.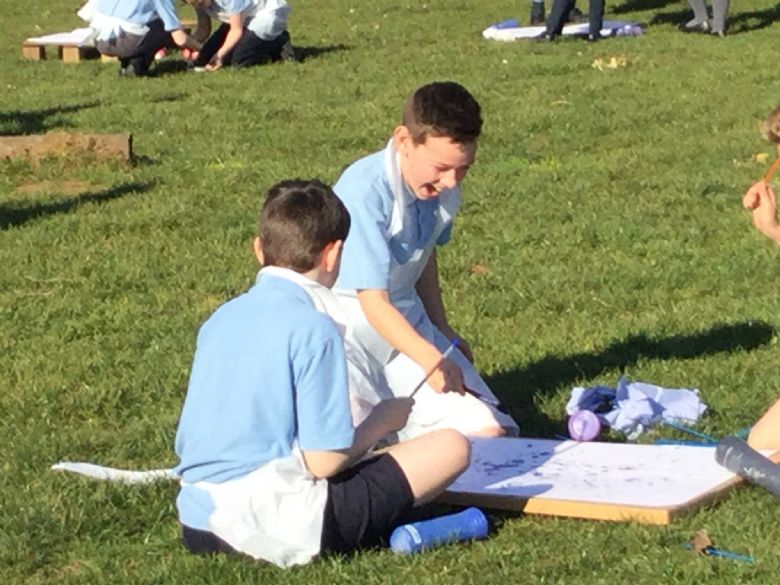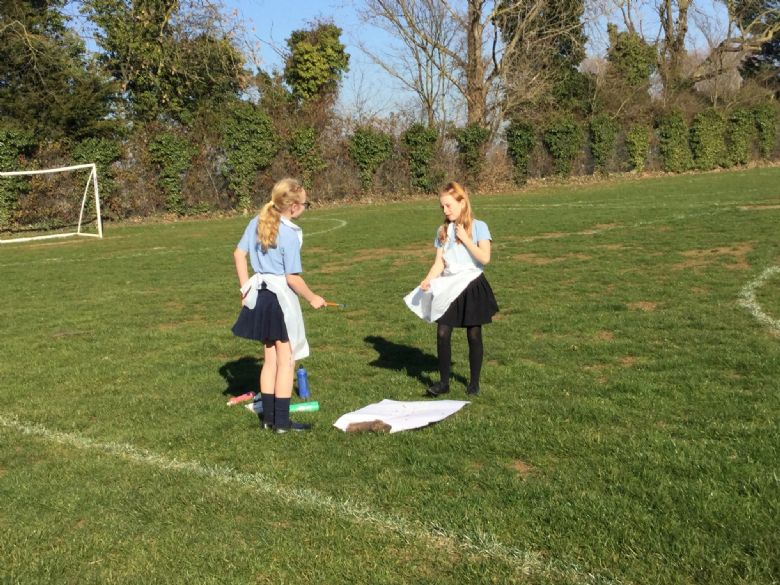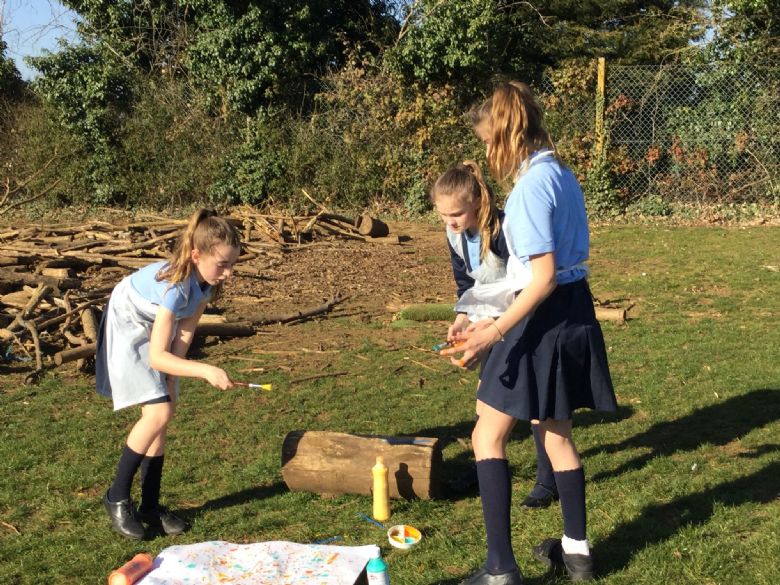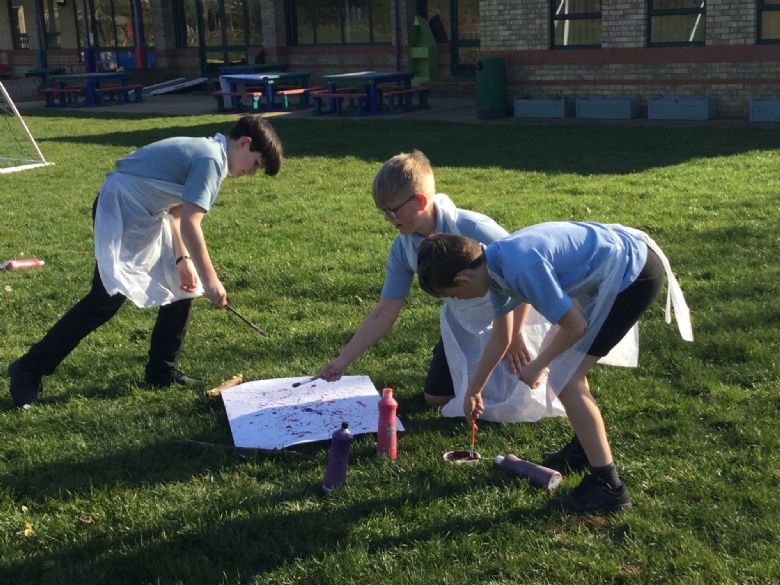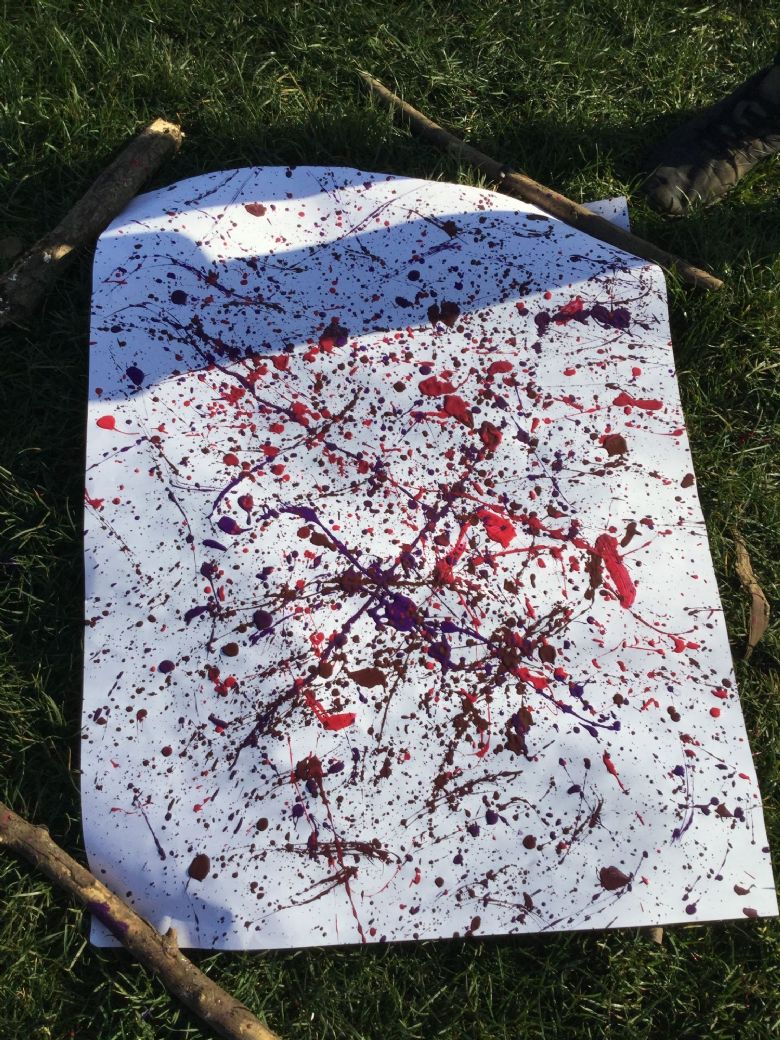 Our star this week is...(you'll have to wait for tomorrow!)
Our Star this week is...Aimee. Great independence and a real 'can do' approach to work!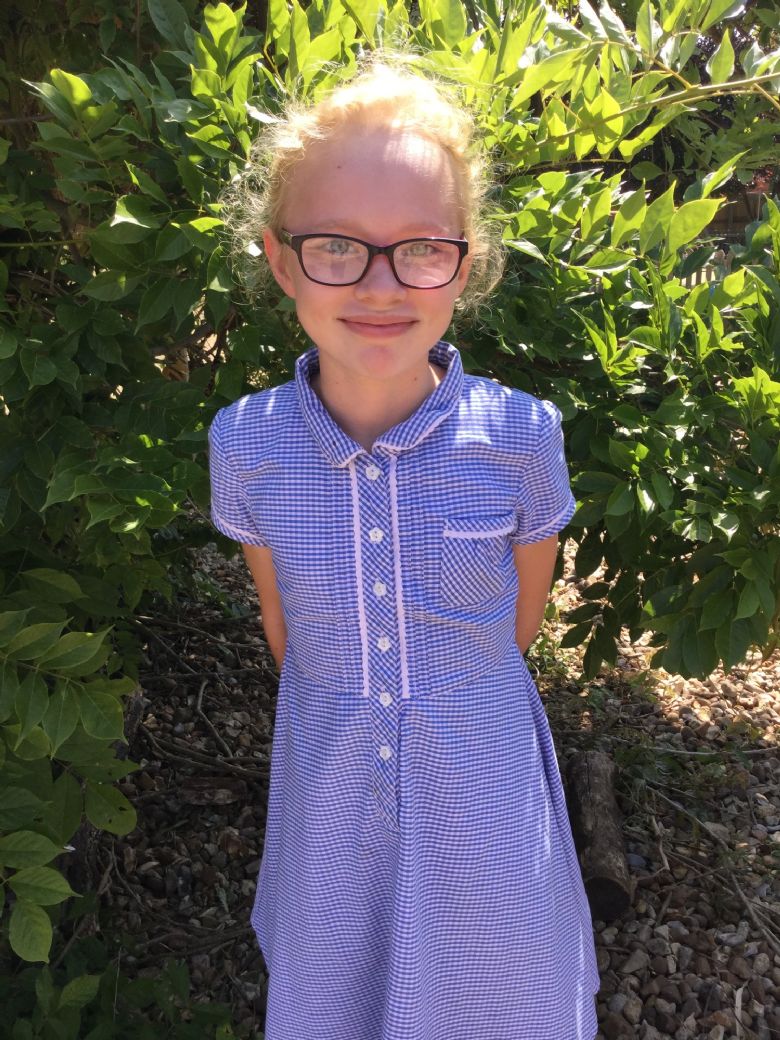 World Book Day today where we concentrated on Traditional Tales. We acted a few out in groups and wrote our own which we shared. We then visited the tractors that were on site and finished the day reading to children in EYFS.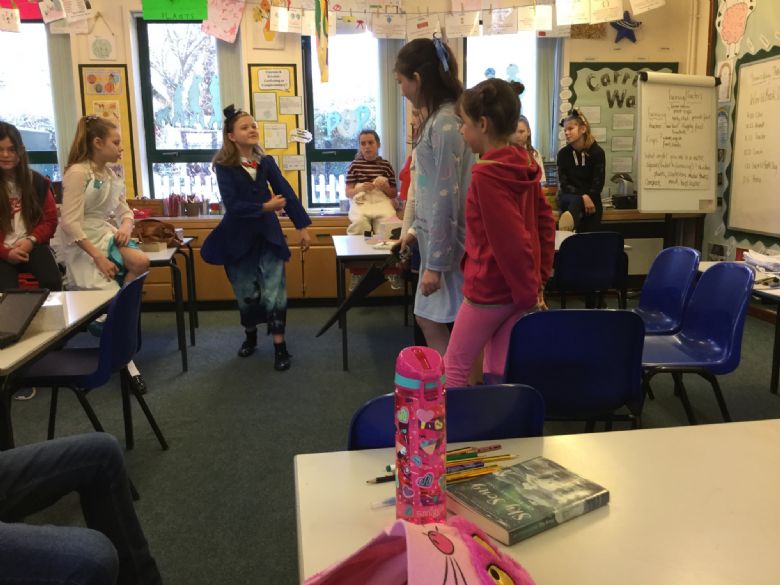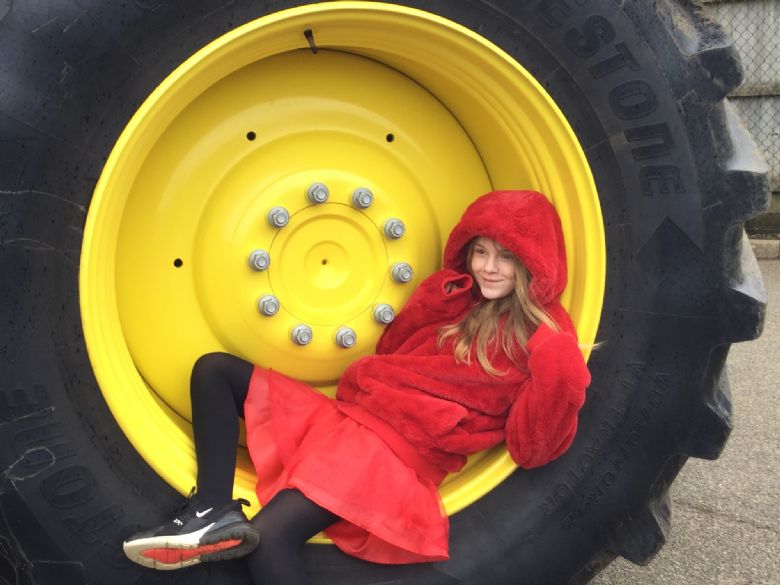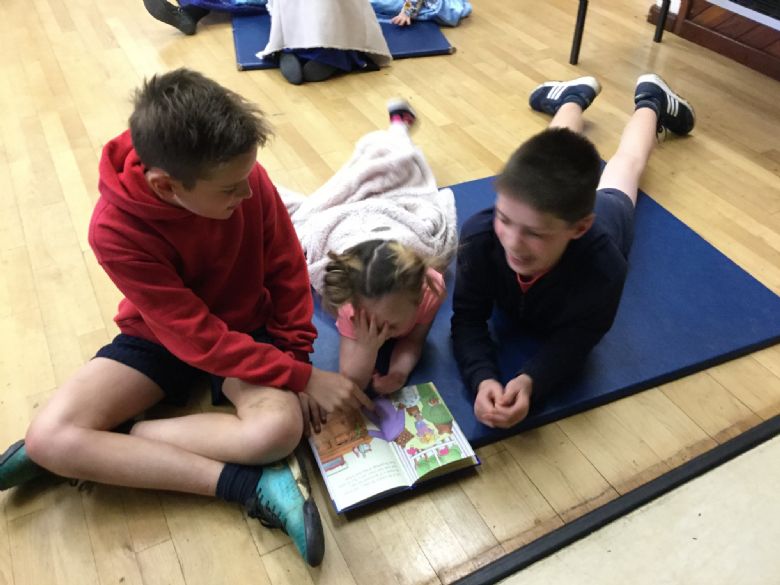 Our Star this week is...Daisy! Amazing writing; I've been waiting a long time for this one!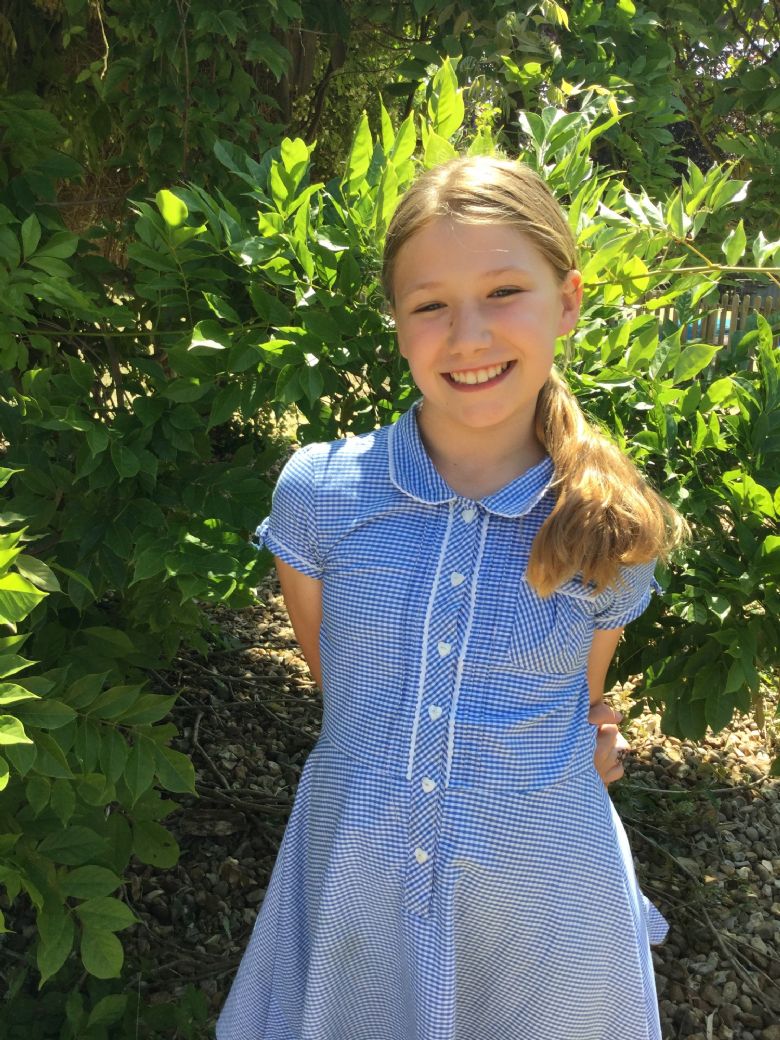 Jonathan Broom-Edwards came to visit to talk about mindfulness.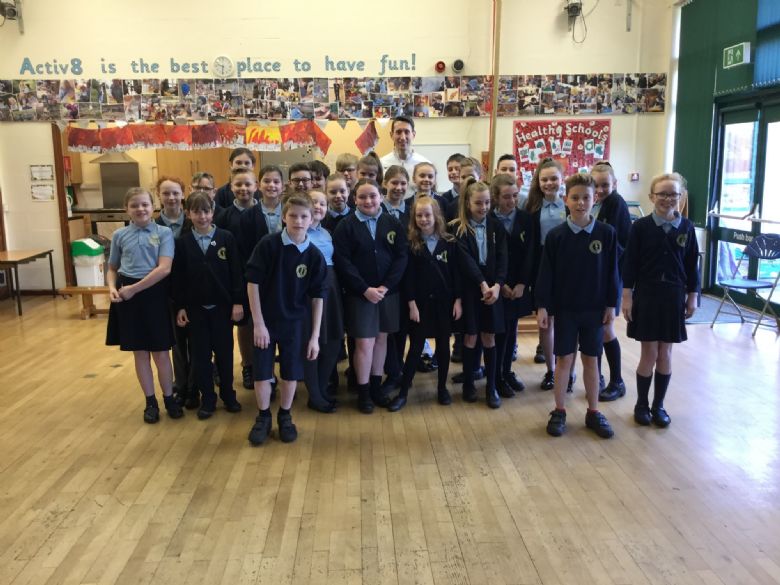 Another busy week; we are getting ready for SATs now which aren't too far away! We have written a recount as an air raid warden and have started a piece on 'Blackface'. We have re-visited place value and multiplying/dividing by 10, 100 and 1000 and co-ordinates in Maths Workshop. Some of us have been enumerating possibilities of combinations using algebra too. We welcomed Inspire + and ambassadors from Corby Glen to launch the Legacy Challenge. Today (Friday) a few children 'entertained' the class to celebrate 'Comic Relief'. The police came in to work with us on stereotyping and gender on Thursday.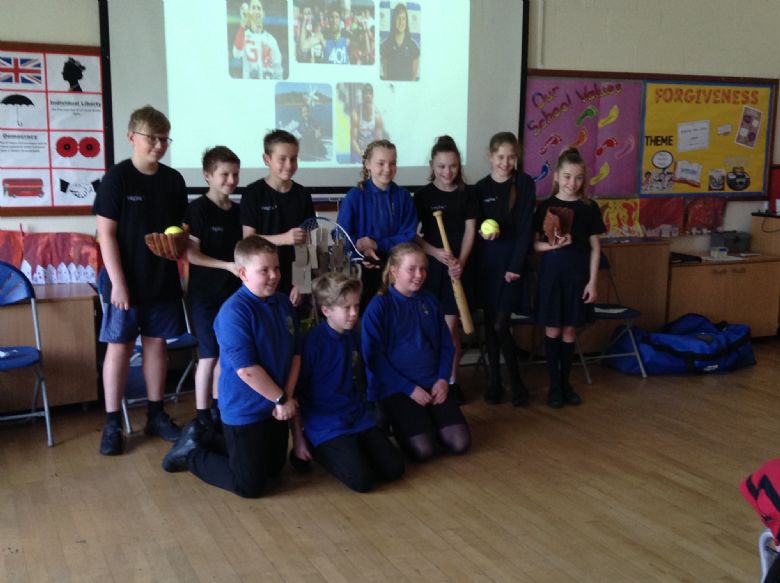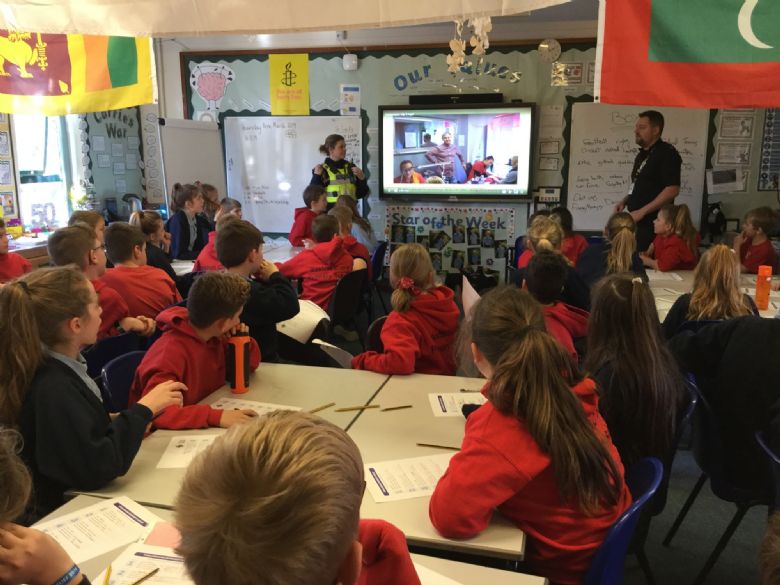 Two stars this week...Mollie for all of her hard work in Guided Reading and Maths and Harriet who is a constant hard worker throughout the day, every day!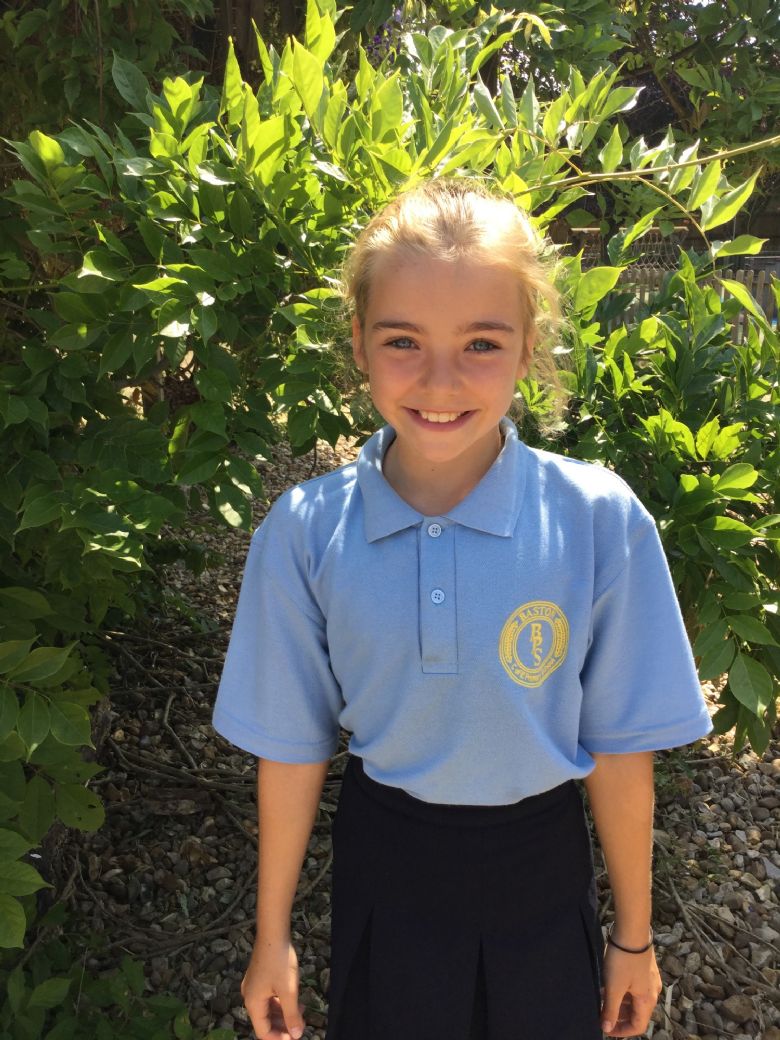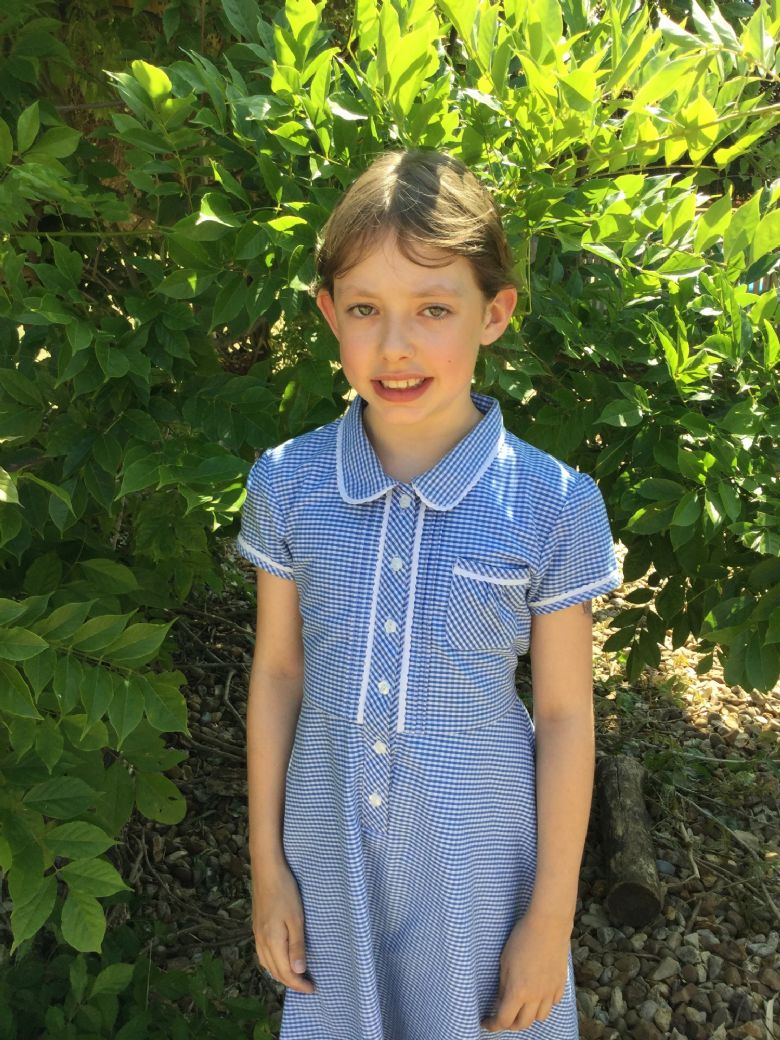 This week we have been looking at reasoning problems in maths (some of us have re-visited volume), continued with 'Blackface' in English and have started to write about the D-Day landings in Normandy as a narrative after watching 'Beyond the Lines' and learning about the historical facts. We had a maths treasure hunt and used the bow saws in Forest School. Following the launch of the Legacy Tour we have started our 26 mile challenge.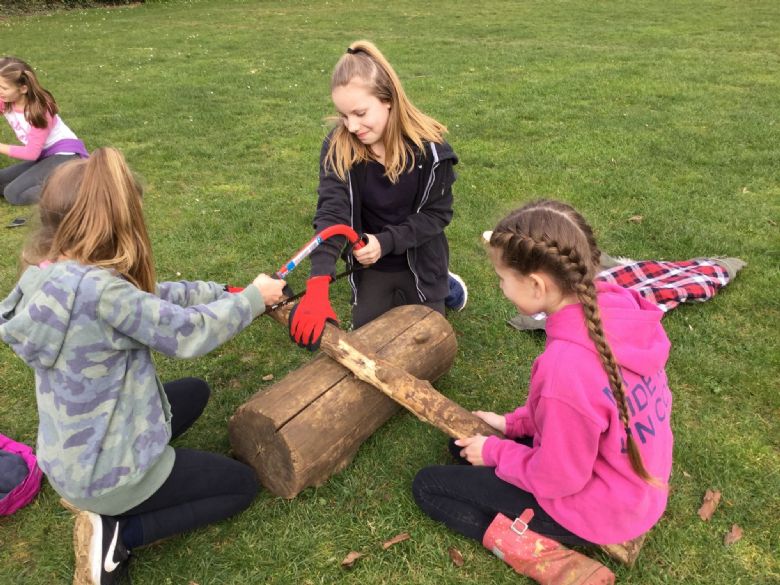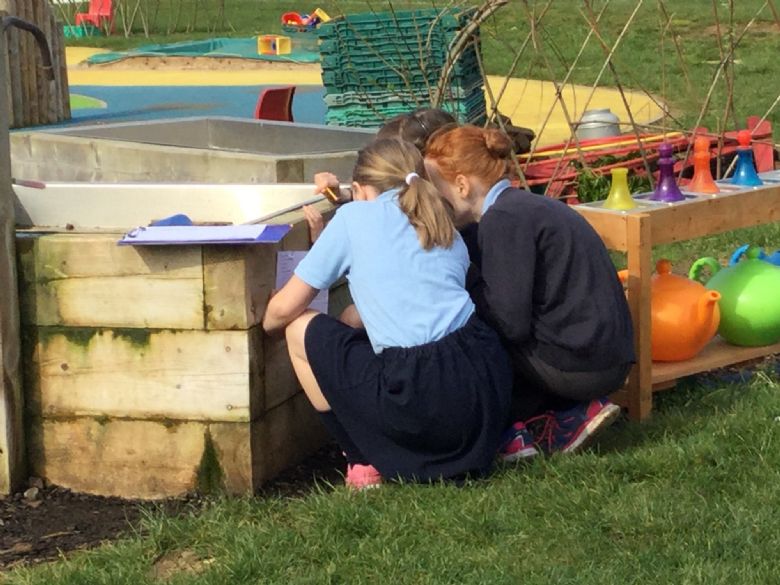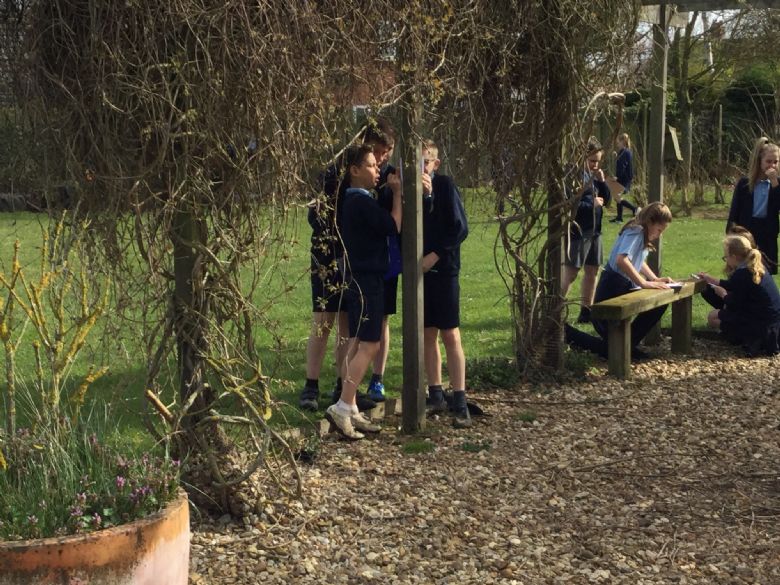 Our Star this week is Sam B for always looking out for others and following our school values all of the time!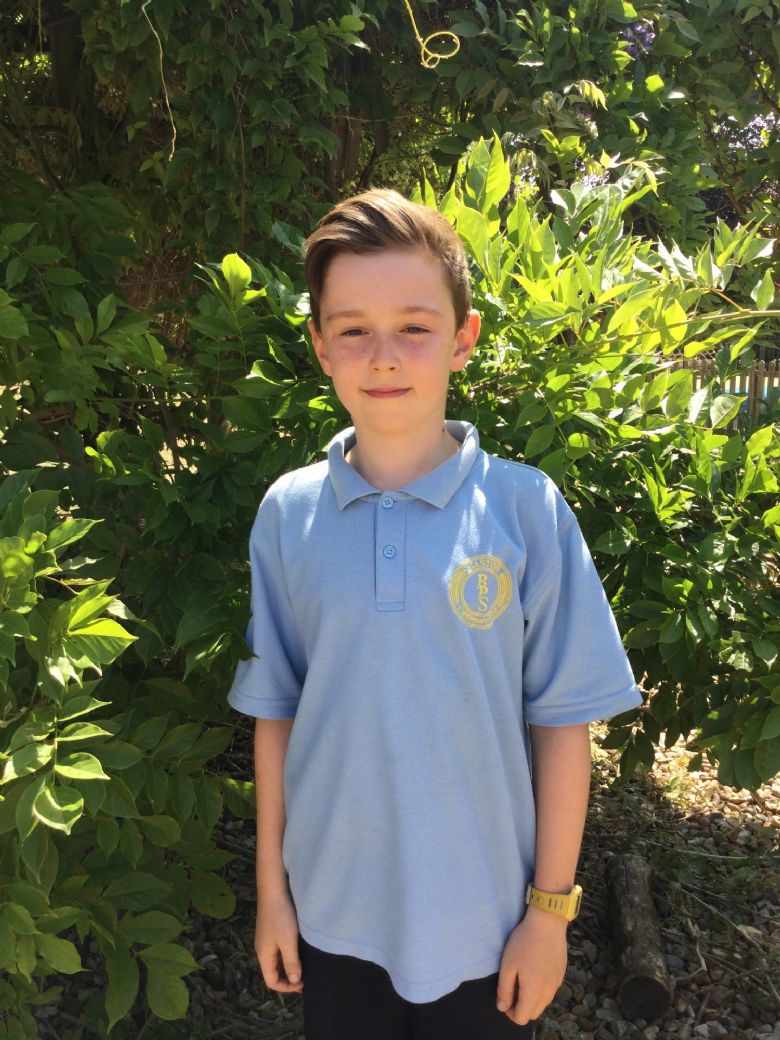 We also had a second 'spontaneous' star...Louis. This week Louis has shown a great deal of maturity when dealing with sensitive situations and has contributed well in class activities too.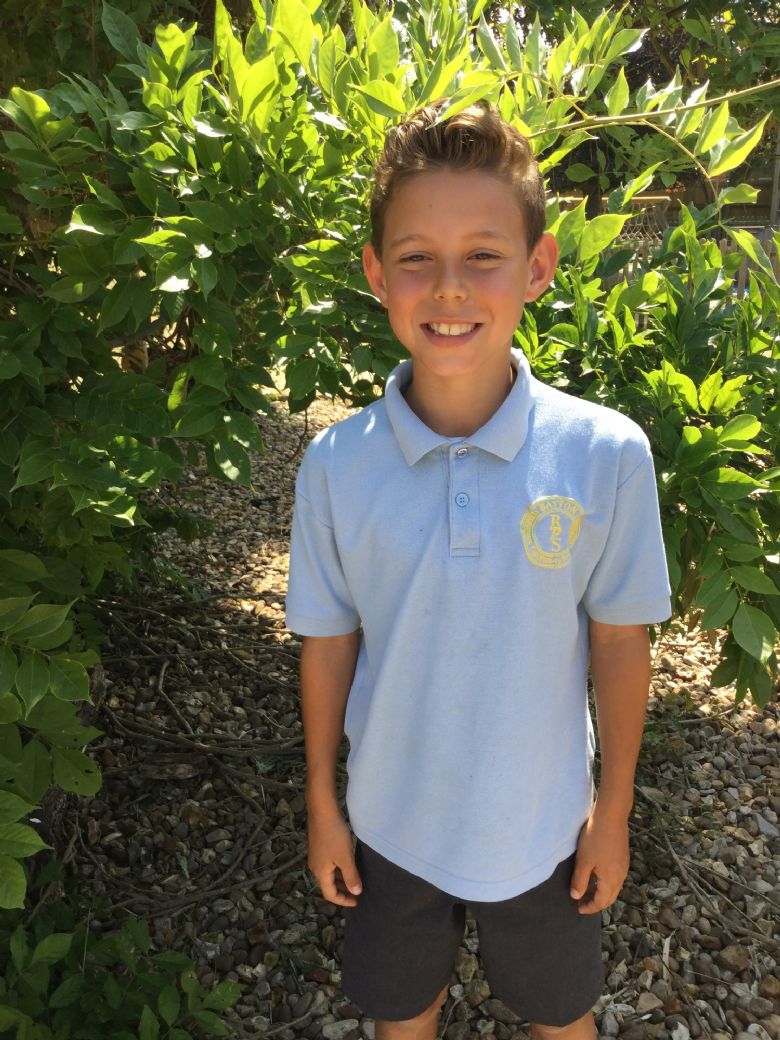 Asia Class 2017-2018
A great start to the academic year...heads down already!! Great positive attitudes to all learning across the curriculum and already great role models for the younger children in our school.
Two stars this week...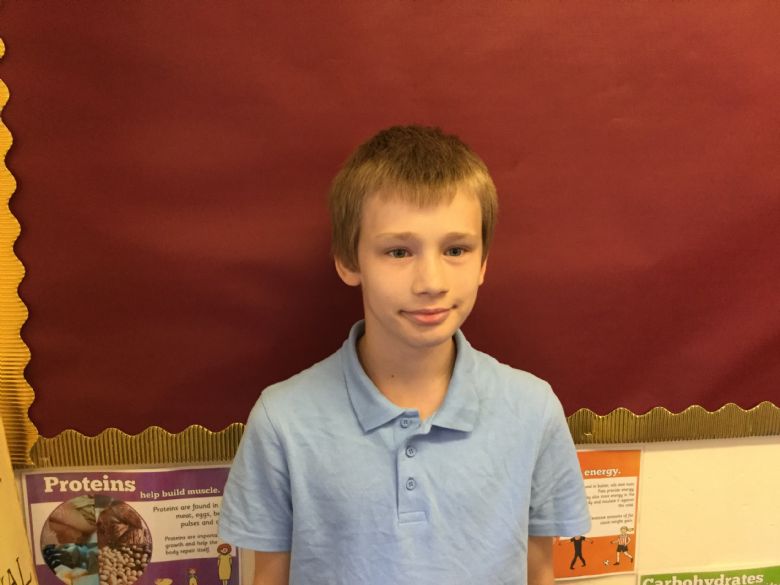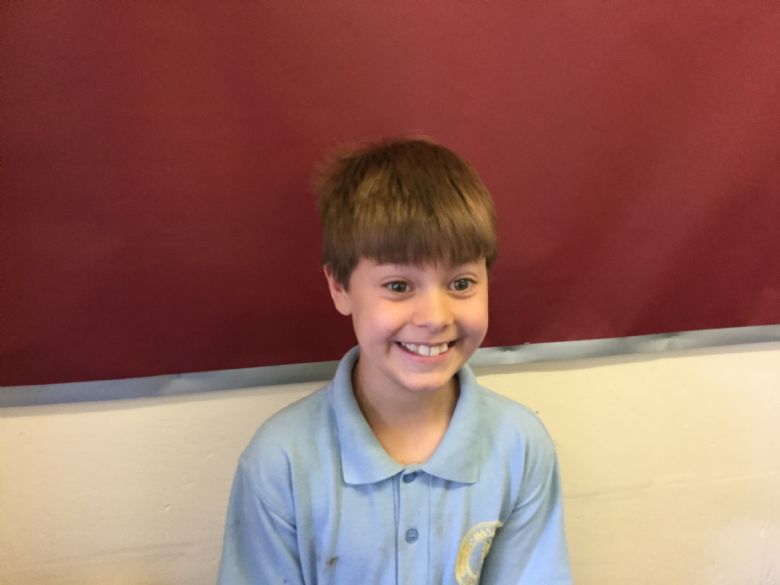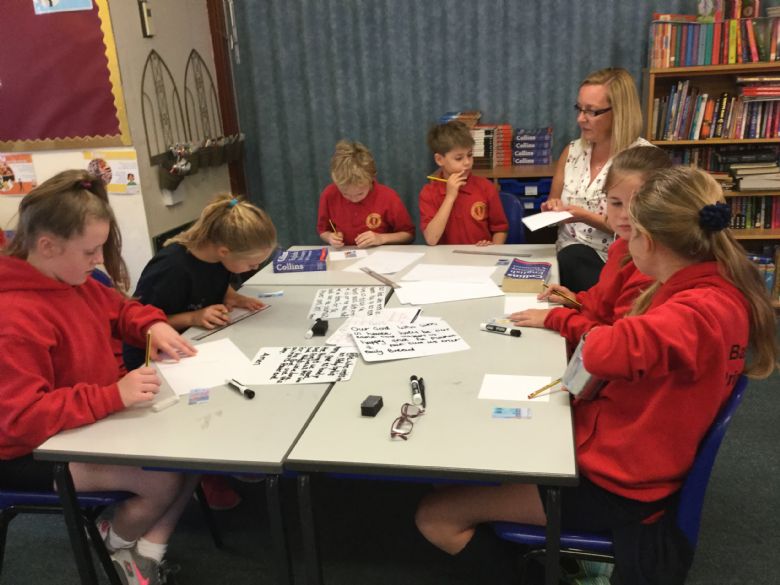 Our first trip of the year...Willow Tree Fen to look at habitats for our Forest School lesson.
Superstar of the week-Harry Hayes-fantastic role model-always works hard, always on task, great friend and enthusiastic learner. Well done Harry!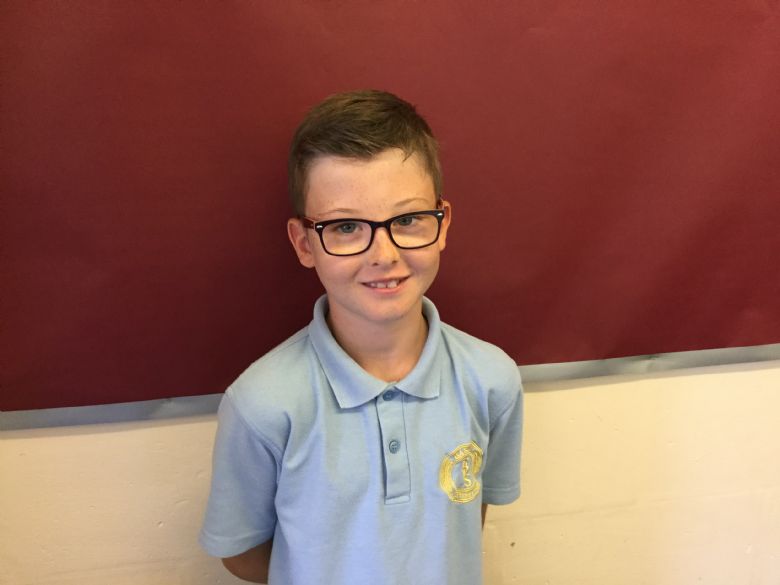 A busy week, we have finished our work on recounts in English and started journalistic writing. We have been doing long multiplication in maths and have started short division showing remainders as fractions and decimals. We have continued our work on evolution in Forest School and have also choreographed more of our ROH dance. We have had a day out at Wilds Lodge Music Festival where we developed our independence and visited a few workshops.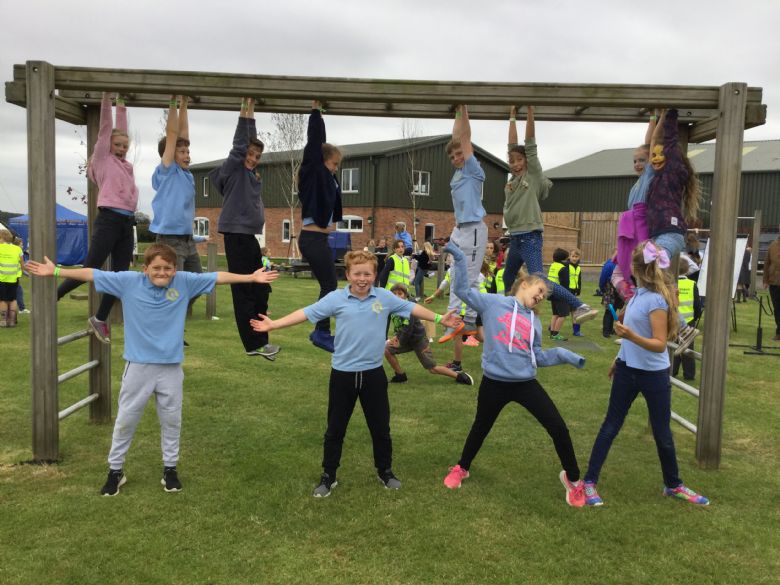 Superstar this week is...Luke. A fantastic start to the year demonstrating an enthusiasm for all aspects of learning ;)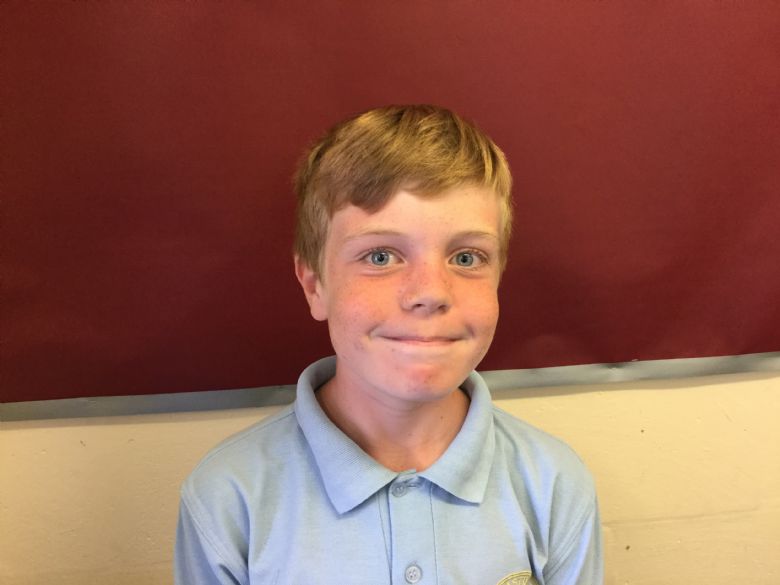 Great work at Cross Country today-second place for Y5/6 girls and 1st place for Y5/6 boys :)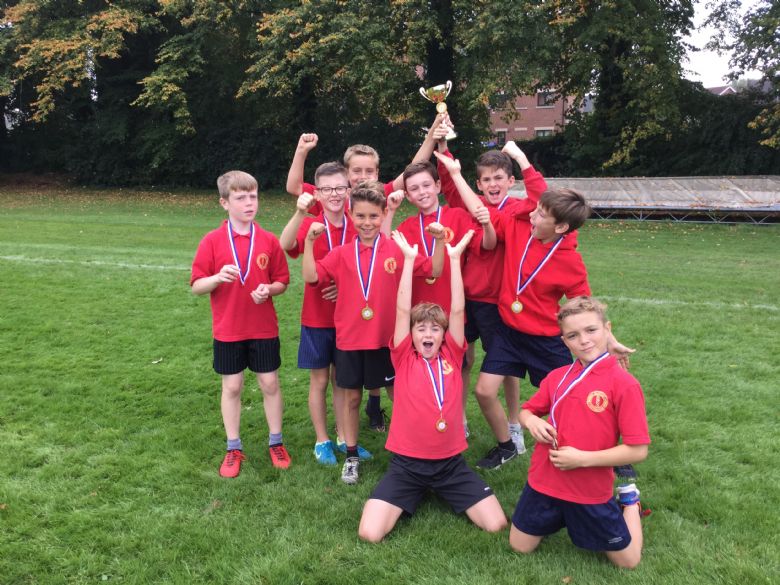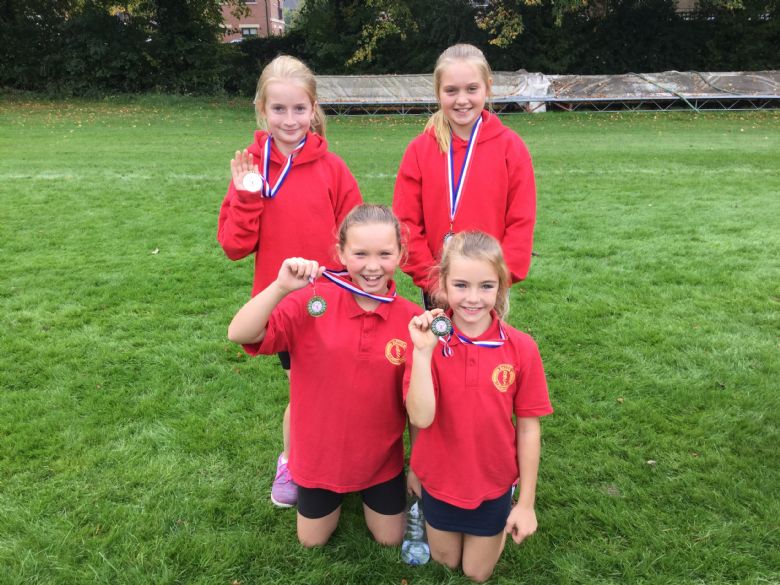 Getting ready for MacMillan Coffee afternoon tomorrow...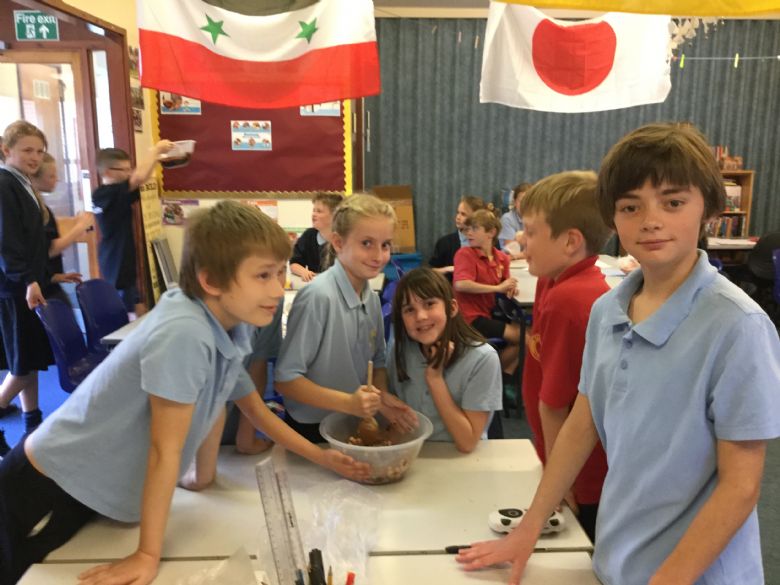 A massive £255 raised-great effort everyone!
Our superstar this week-Anna. Great attitude to learning this week, especially in maths and reading.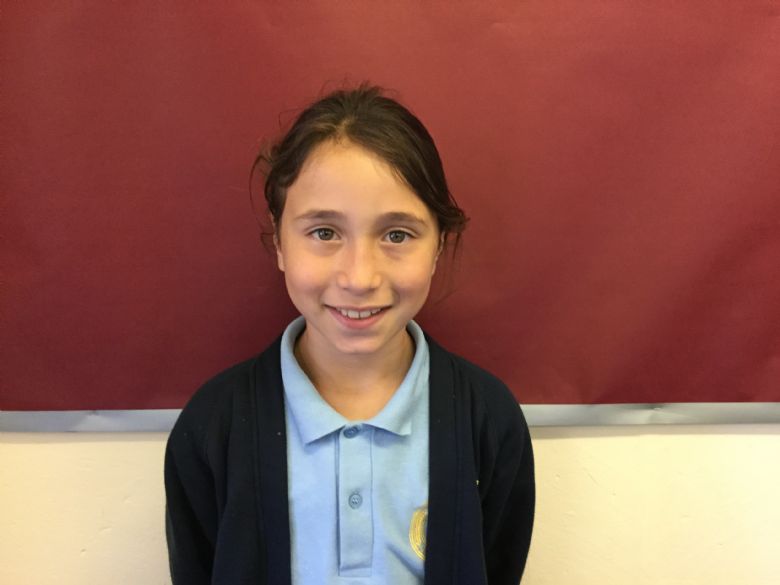 Harvest Festival this week went well with Year 6 taking the lead perfectly-well done everyone!
We have written two journalistic pieces of writing and have recapped the four basic operations in maths, including decimals, multiplying and dividing by 10,100 and 1000, HCF, LCM and Prime Numbers. We have measured our heart rates in science and continued our work on Evolution in Forest School. Our Star this week is Louis, who has worked partcicularly hard in maths and English.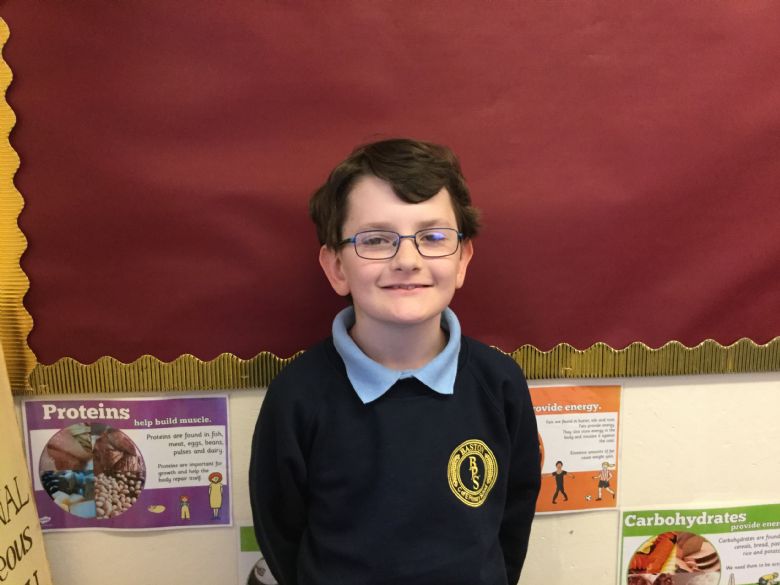 We've had a 'Challenge Week' this week where we have completed reading, maths and SPaG papers along with continuing our Anglo Saxon topic with Mrs Fowler, Spanish with Mrs Emery, our ROH dance, Forest School, disected owl pellets, Forest School and we have thought about what commitment means in RE. An extremely busy week (as usual!) and we have also looked at fractions-finding common denominators and equivalent decimal and percentages.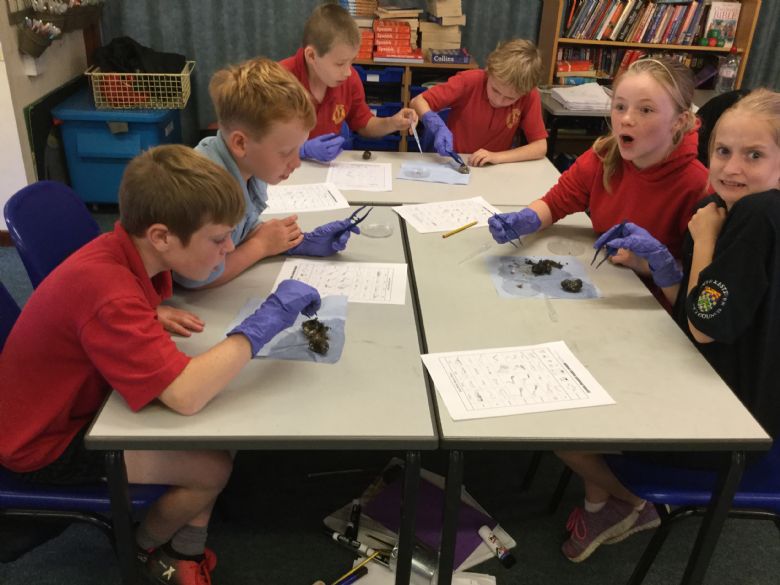 Our superstar this week is...Noah-fantastic week-well done.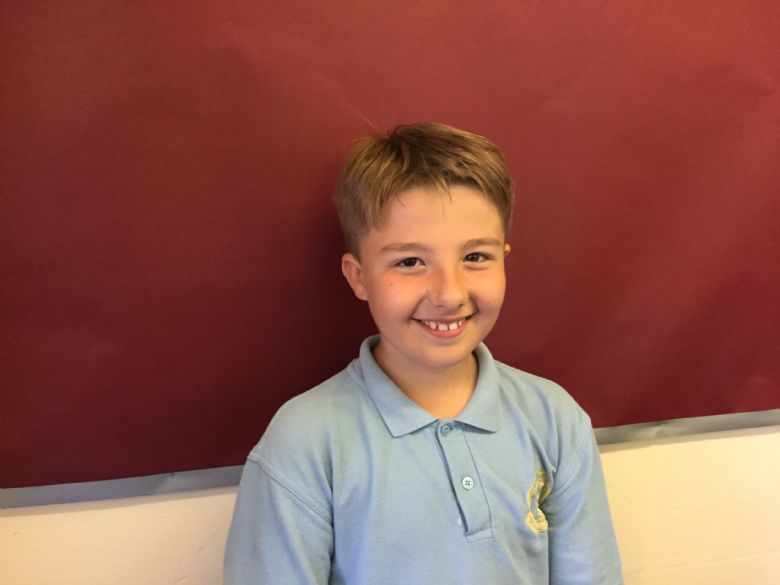 Our last week of Term 1 was spent 'Computing', drawing Skellig with charcoal, drama, completing our dance, character descriptions with expanded noun phrases, multiplying and dividing fractions.
Drama morning...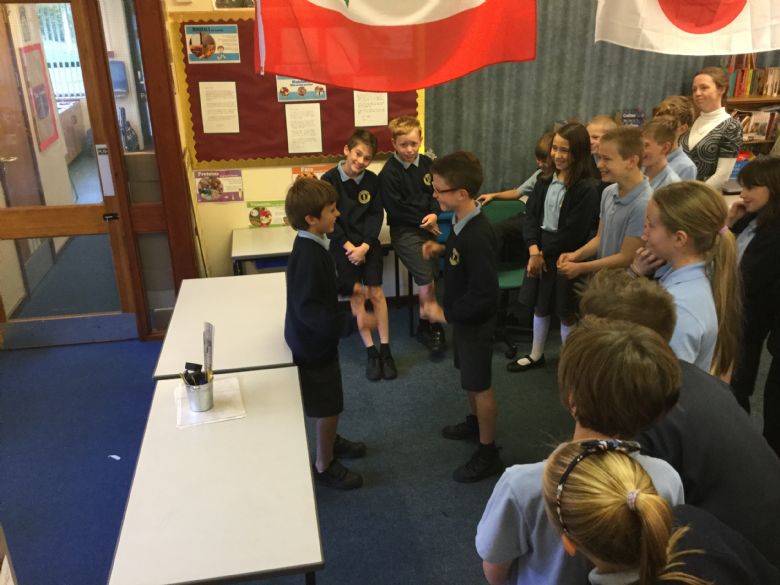 Our superstar is 'super' Philippa...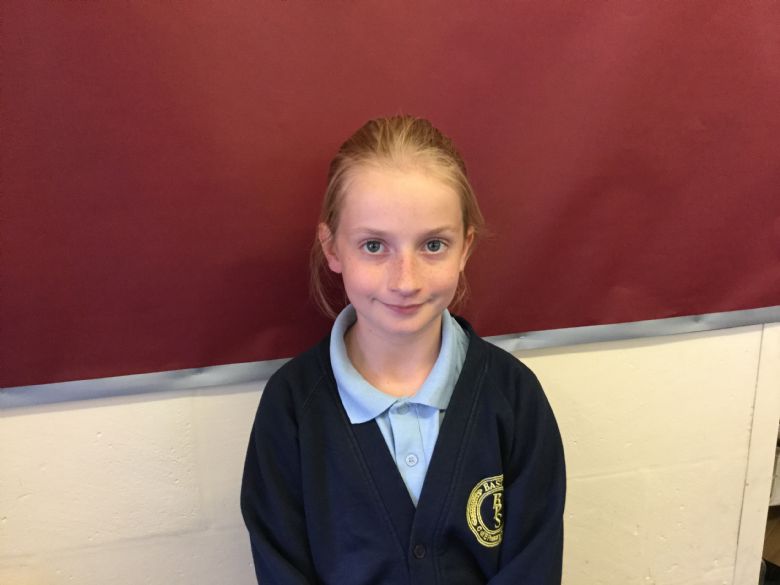 It hardly seems like we've only been back 4 days!!! We've been hard at it as usual! Problem solving in maths, learning about the trenches in WW1 in English, Big Art,re-creating Propaganda Posters, getting ready for Christmas in music, a football tournament, tag rugby in Games, fine tuning our dance after receiving excellent feedback from ROH and getting to grips with comprehension questions in Guided Reading. Two superstars this week...Danyelle for her commitment to reading and Alfie for a great attitude to problem solving in maths.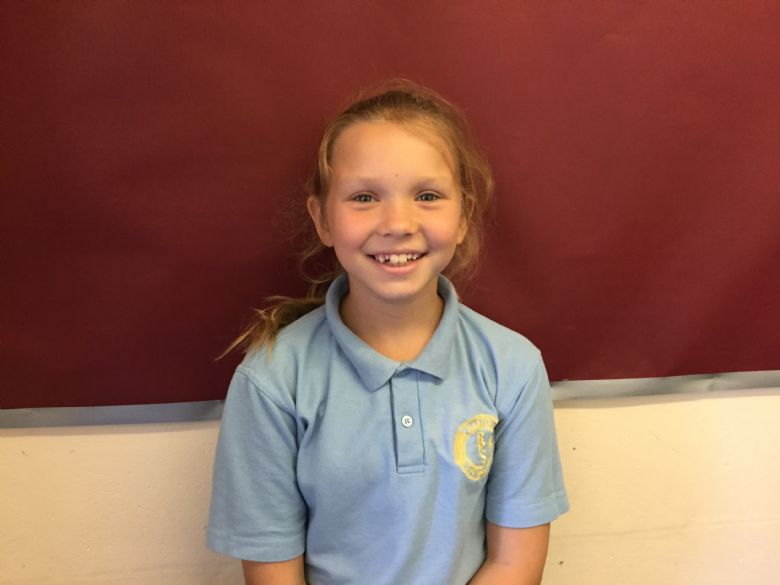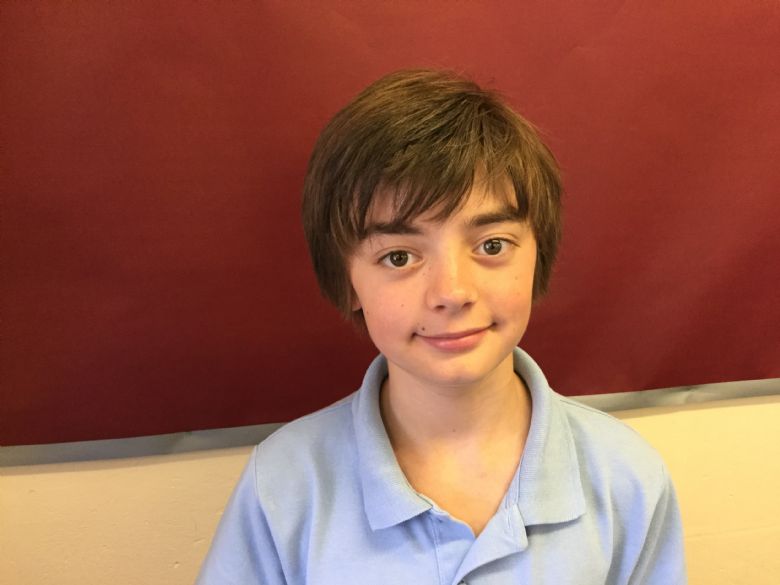 Some of us have also been serving lent lunches at church too!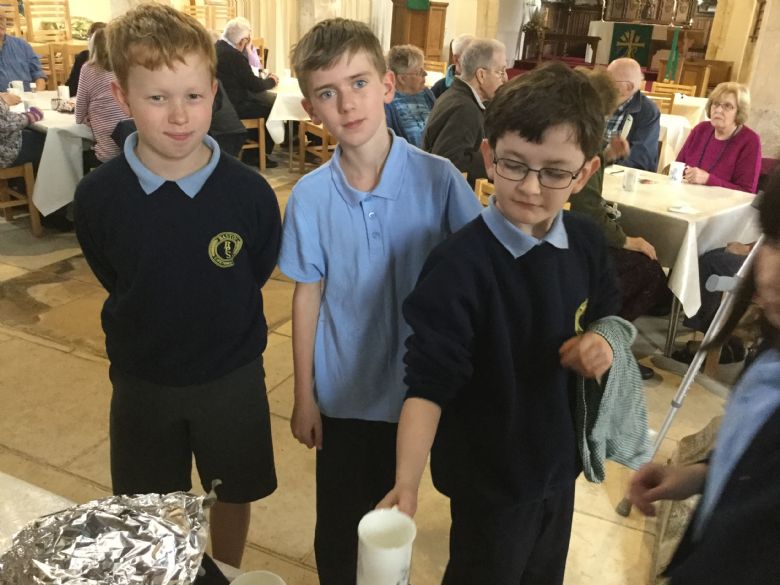 This week we have been working out percentages of numbers in maths, writing Remembrance poems and letters home from the frontline in English. We have been checking our pulse rates and looking at drugs in science. How Muslims show commitment in RE; classification in Forest School. We have received our winnings from the Raft Race, attended a Remembrance service in church, Tag rugby in Games and some of us went to the PTA disco. 15 of us have represented our school in the annual netball league of which we have won all of our matches so far! Tomorrow (Friday) we are going to a Construction Day at Stamford College. Never a dull moment...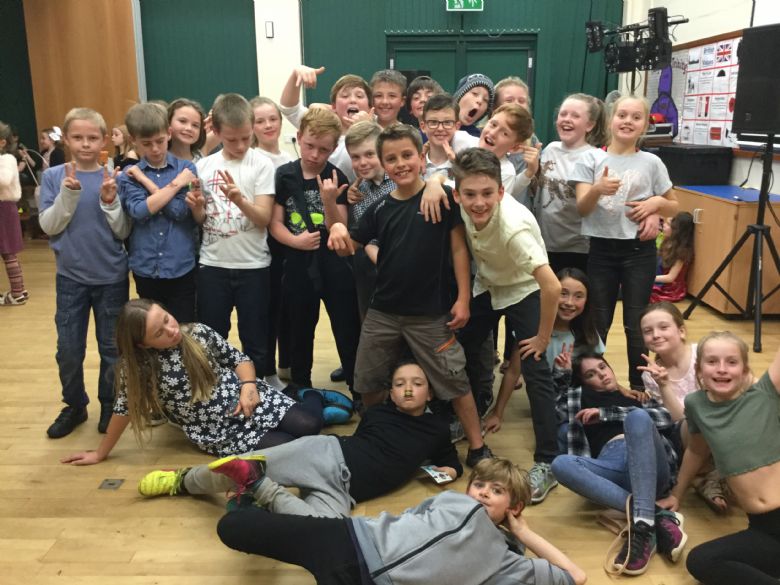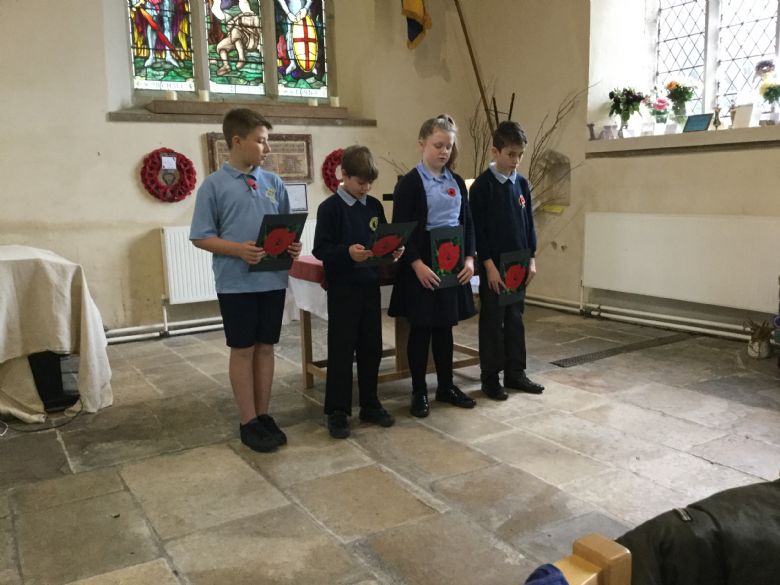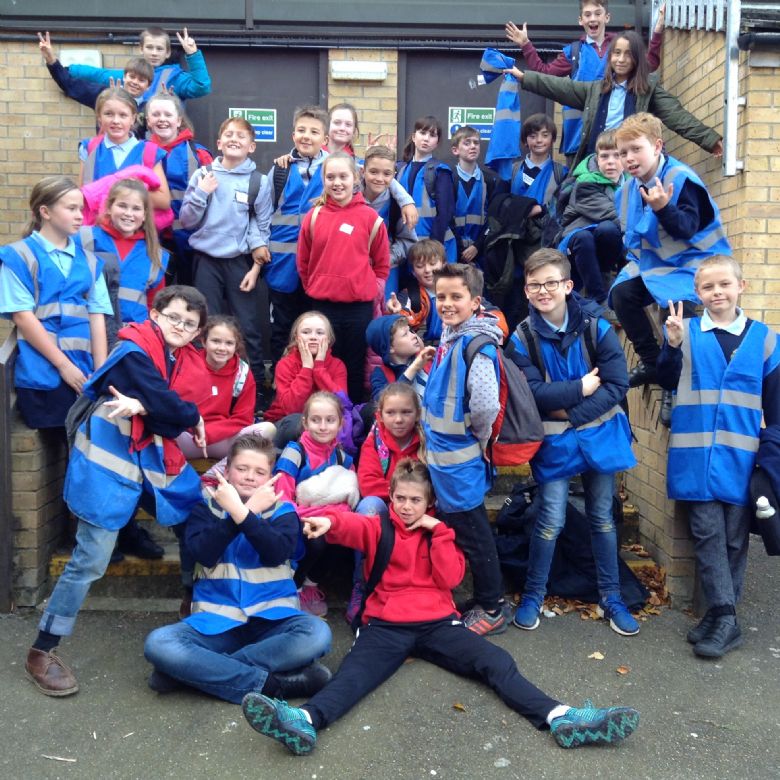 A great day had by all at Stamford Construction Day. For all photos look on the Construction Day 2017 tab to the left!
This week we have continued with oir work on percentages and equivalents in maths, classification in Forest School, a war narrative in English, our last dress rehearsal for our ROH dance, drugs and their effect on our bodies in science. Some of us have been ambassadors for our school showing new prospective parents around, our netball league has continued and the annual swimming gala takes place tomorrow (Thursday). We have had a visit from Ben Smith who talked about his plans for a challenging goal to run from San Francisco to New York in 38 days in the near furure.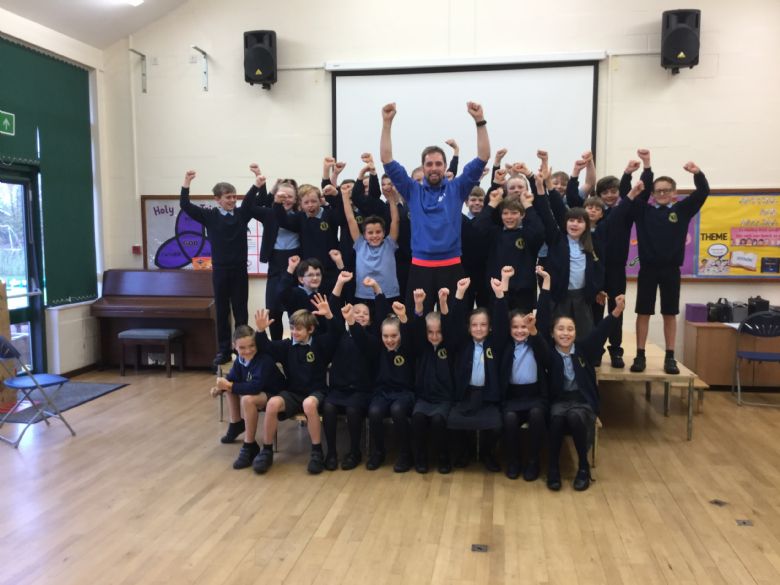 Our star this week is Charlie-a great attitude to his learning in all subjects, well done!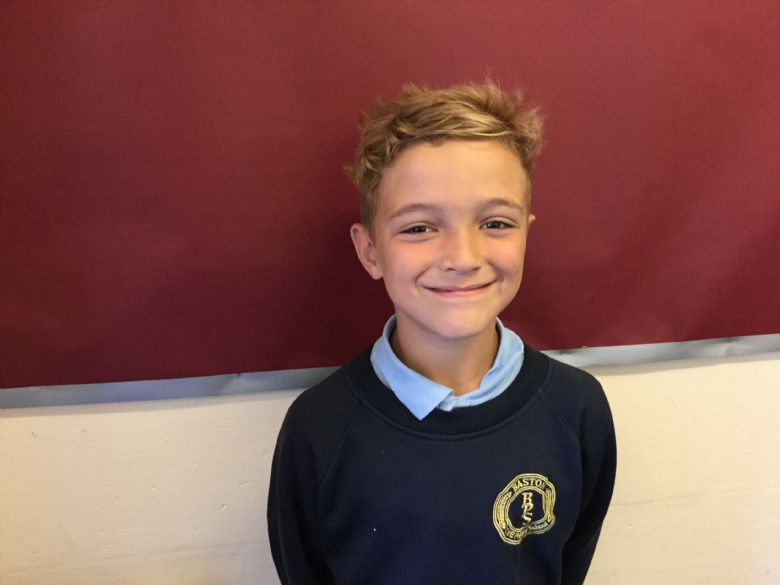 We have also spent the afternoon filming our dance at SES. We also enjoyed our lunch in their canteen!
L2L this week...and what you've been waiting for! Our great dance!
We have been looking at the 1914 Christmas Day truce in English, finished FDP work in maths and have moved on to area and perimeter. We have learnt about the last two pillars in Islam-Sawm and Hajj. Continued with classification in Forest School and how drugs affect our bodies in science in class.
Our stars this week are
Dan, for his cool, calm attitude to all apsects of school life.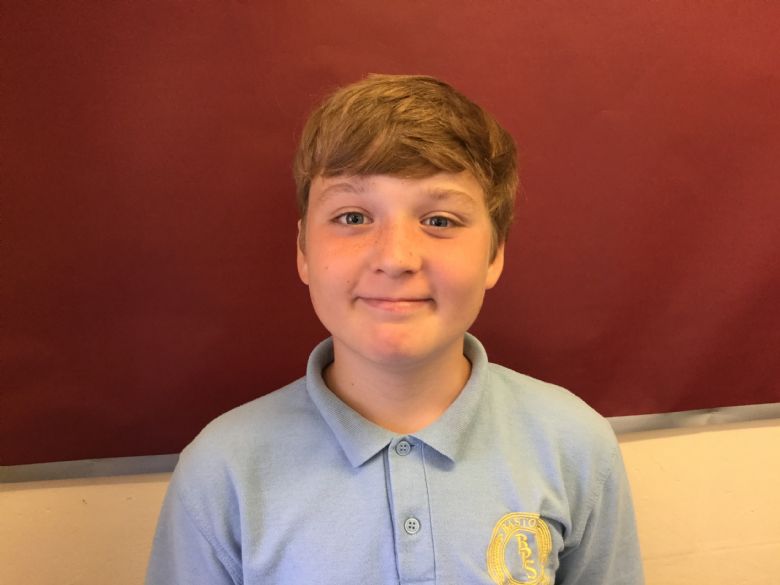 and Toby-for his great personality in class and his dedication to conquering equivalent fractions in maths this week.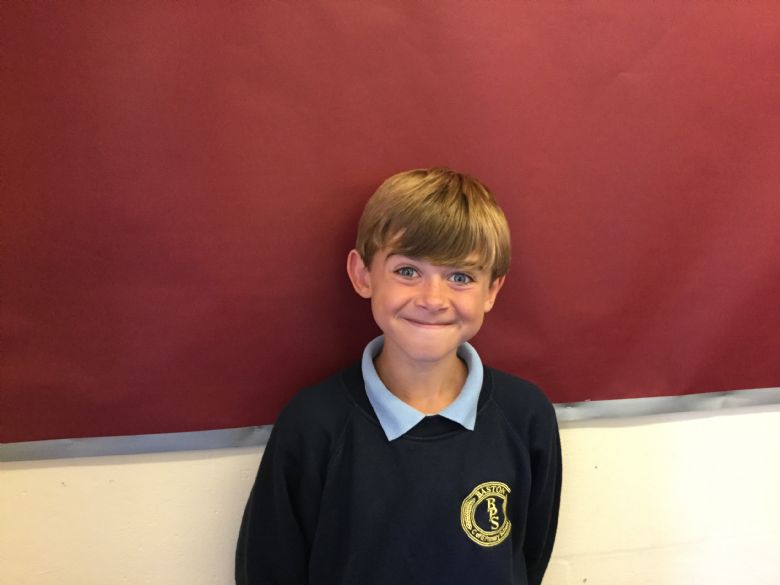 This week we have been finding the volume of 3D shapes in maths, looking at how the circulatory system works in science, learning about how zeppelins were used by the Germans in WW1. We have also taken part in a Girls Football tournament, a Y5/6 Tag Rugby Festival and our netball league has been completed.
Our star this week is Elena-a brilliant, positive attitude to all aspects of school life.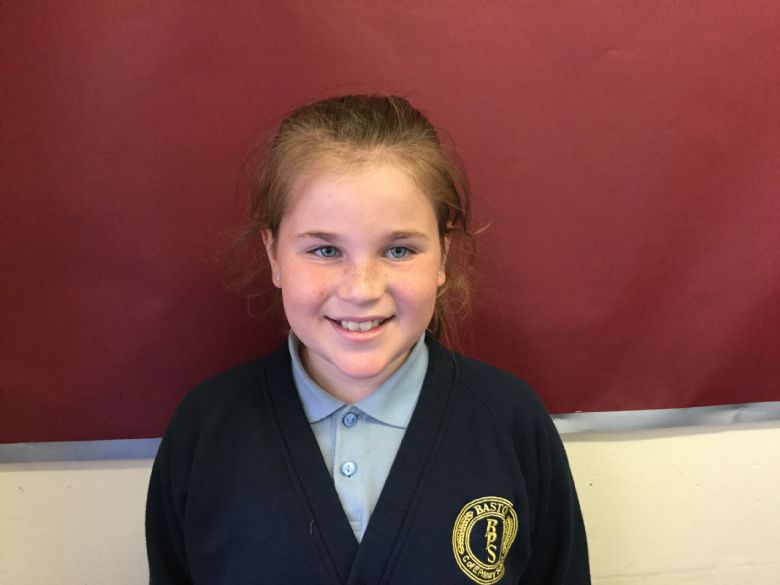 Christmas has arrived in Asia Class...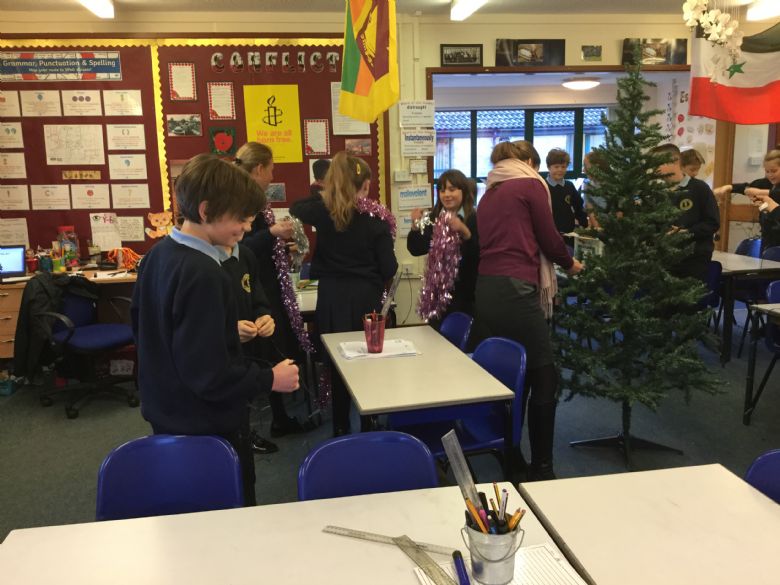 Great to see some 'old' faces at the Christmas Fayre..Y9's Elliesia, Evan and Alice, Year 8's, Lara, Jacob, Jamie, Thomas and Charlotte S, Year 7's Bayley, Olivia, Ferris, Denis, Jesse, Pacha, Violet and Ben C(Will H I know you were there!!)-glad to see you are all doing well. X
We have had a 'Challenge Week' where we have worked really hard to apply all that we have learnt in test conditions. However, we have also had fun making a zeppelin, making bread, an intra class football competition, cooking in Forest School.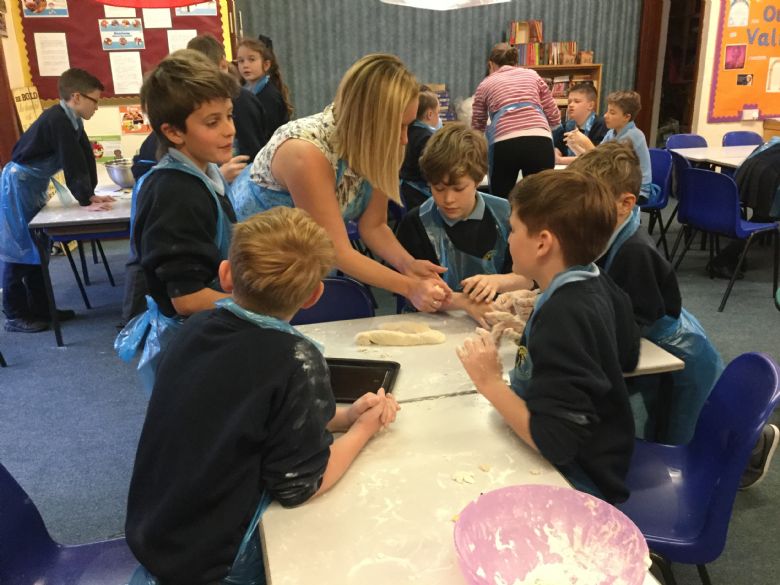 It's nearly Christmas! This week we have enjoyed our Christmas entertainment/visit from Santa organised by our fabulous PTA. We have performed at church in our Christingle service. We have also learnt about the Battle of the Somme, looked at co-ordinates in maths and completed Private Peaceful.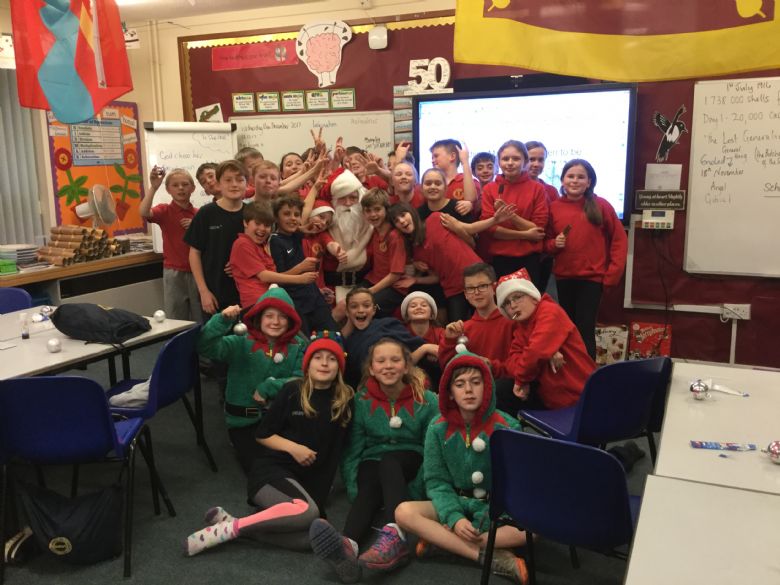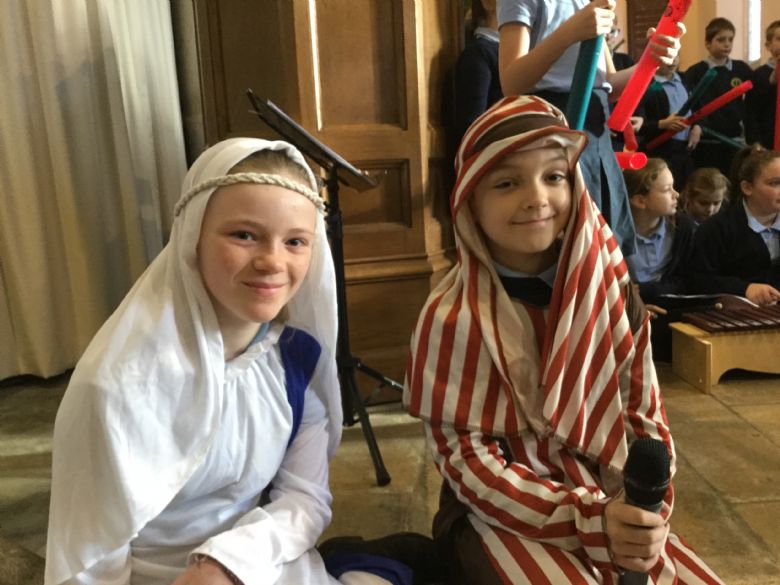 All photos from this week are on the Christmas 2017 tab on the left!
Last two days of term-a little Advent maths, RE, using playscripts to act out a variety of Christmas plays.
And...to end the term 3 stars!!!!!!!!!!! A sad farewell to Harry B; we wish him well at his news school in Kendle
.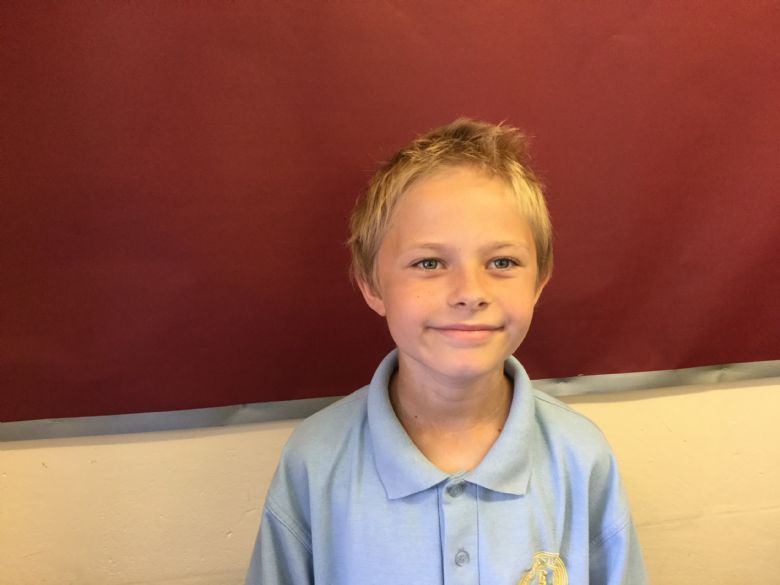 Happy New Year to everyone.
A great start back for Year 6. We have written NY resolutions using modal verbs, looked at colons/semi-colons, passive/active voice and started to write a narrative on the Dreamgiver in English. We have continued with co-ordinates and have looked at translation in maths. In science we have started our Electricity topic. We have used all of the apparatus during Indoor PE which we thoroughly enjoyed-well done to Luke for getting to te top of the ropes!
Our star this week is Harry S; he's always on task and completing his work to a fantastic standard.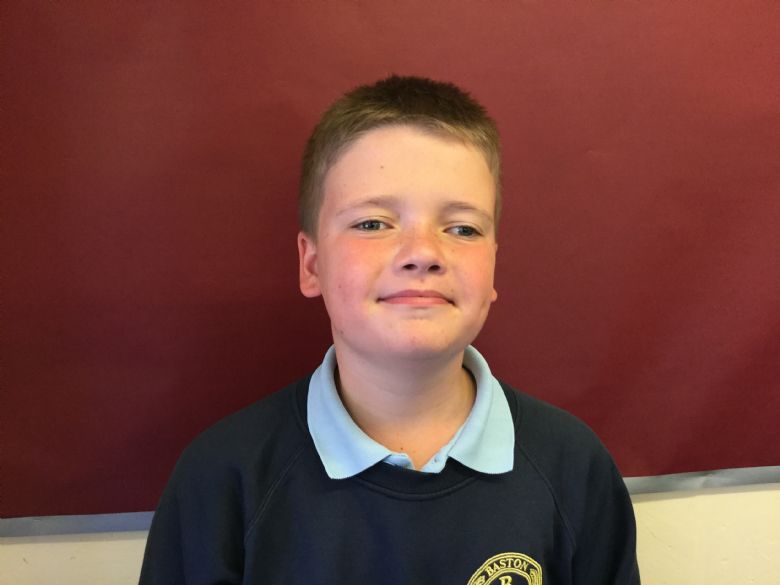 A warm welcome to Fraser who has joined us this week and has made a great impression on us all. This week we have continued with Carrie's War, completed our work on Dreamgiver and started to use the technique 'show not tell' in a narrative 'Blackface'. In maths we have learnt about scale factor, ratio and proportion including making lemonade by adjusting a recipe accordingly. Our light designs are coming on in science and we have started our new RE enquiry question-'Christianity v Science-complementary or conflict'.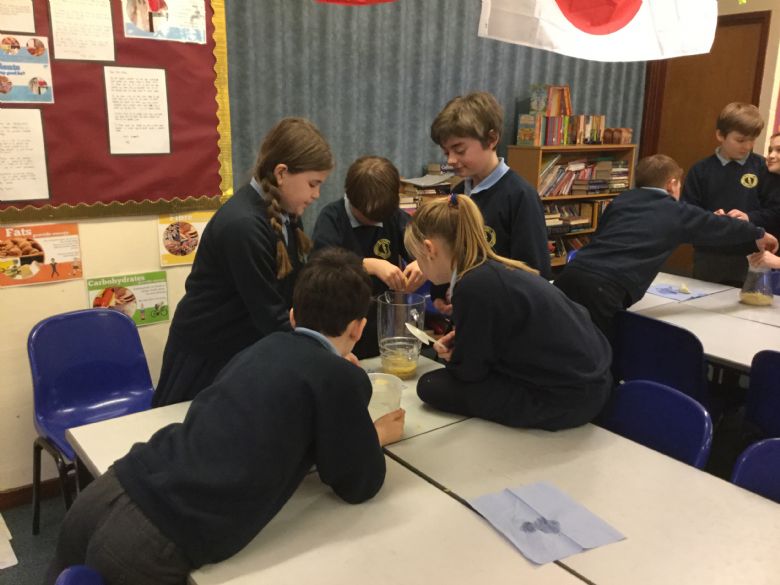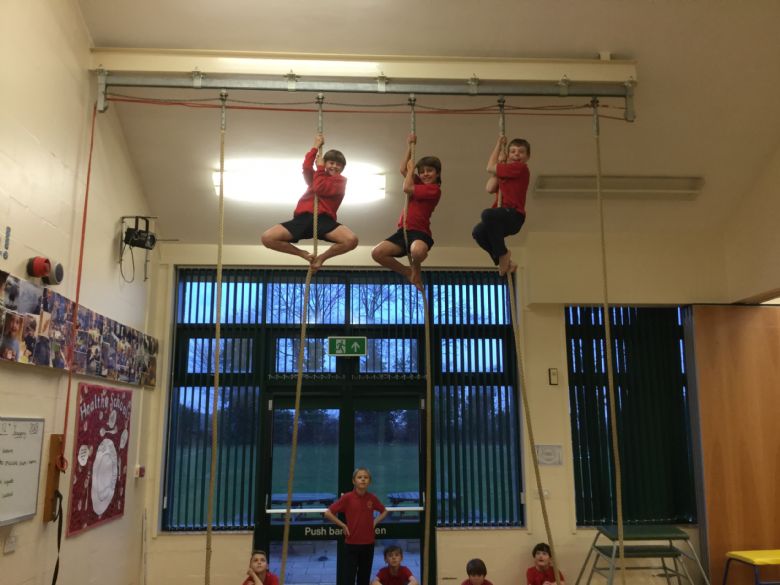 Our Star this week goes to someone who has been working really hard during lessons and has had a personal target set for the week. Has he made it?
Of course he did!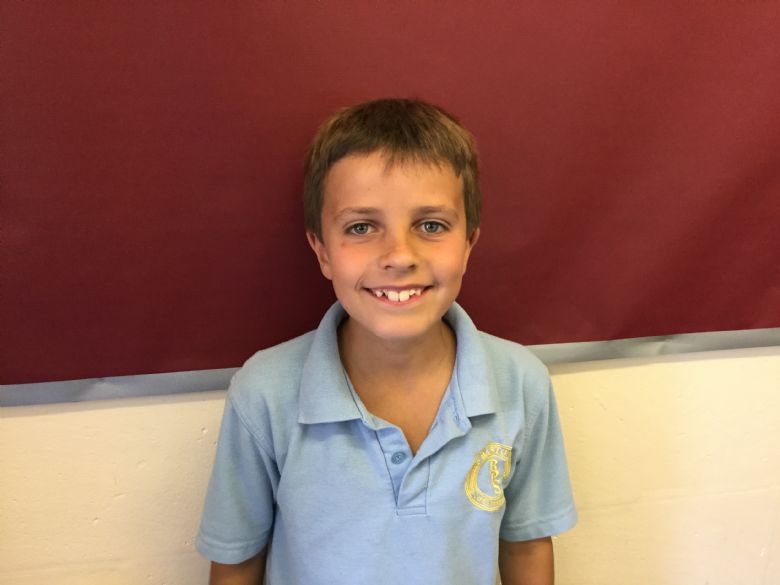 A quiet week this week as we had lots of children out for two days at Young Voices. We have started working on algebra, and continued with Carrie's War, completed a reasoning and arithmetic paper in maths and started our work on WW2 in English and Forest School. Some of the Year 6 children delivered Collective Worship on Wednesday and Thursday-thank you!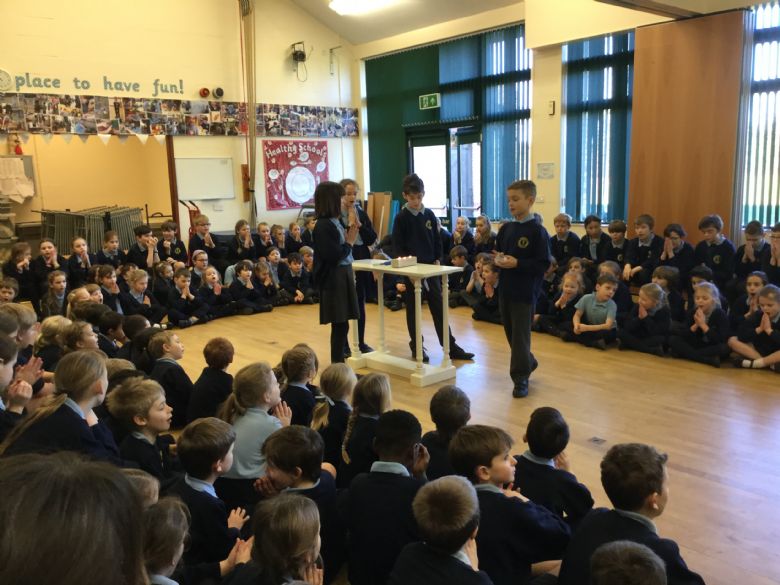 Alex has had a brilliant start to the New Year and is a well deserved Star of the Week.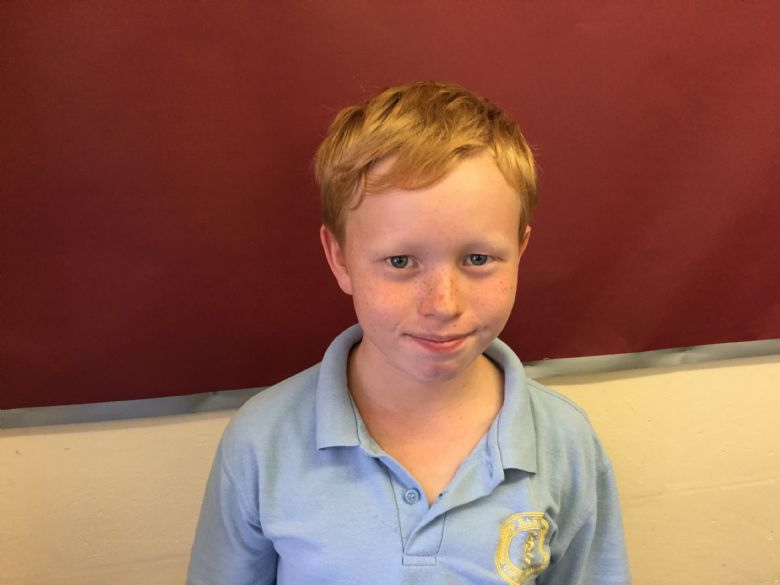 We have continued with our learning of algebra in maths, written 3 pieces of independent writing in English, started to create our light designs in science, Anderson Shelters in Forest School and we have learnt more about Baghdad in Topic with Mrs Fowler.
Our star this week is Olly, who has had a fabulous week. He was brilliant in Forest School with Mr Hawes and has really pushed himself in Guided Reading and Reading boosters with Mrs Mills. He has also nearly mastered algebra. He is a valuable member of our class; he represents us at School Council meetings and has also delivered a Collective Worship this week.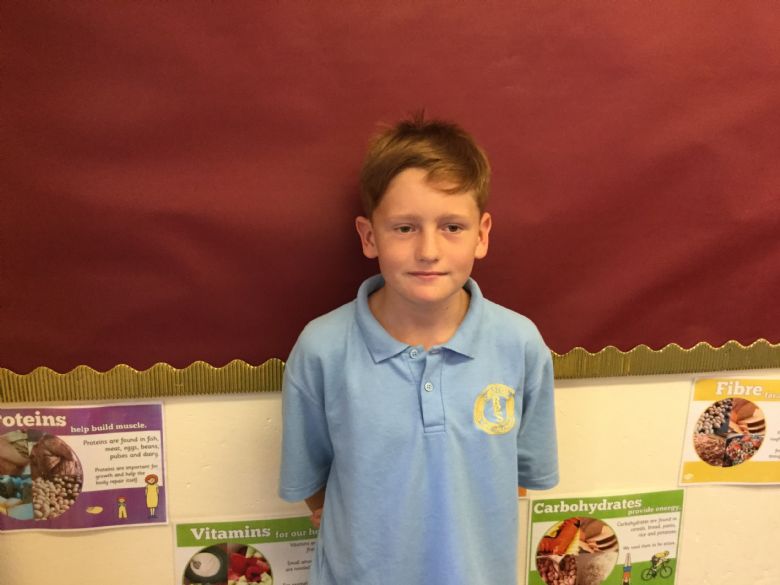 This week we have started looking at statistics in maths-finding the mean average of numbers, in English we have written a character description from Carrie's War and also written a letter as an evacuee, in RE we have held a Line of Enquiry on Science v Religion and written our own thoughts and opinions on this topic. Time is flying as SATs are approaching and we are working hard in preparation for them. Topic with Mrs Fowler, Spanish with Mrs Emery and Computing with Mrs Tyler.
Our Stars this week are two young ladies who are both dedicated to their learning and are a great help to me in the classroom.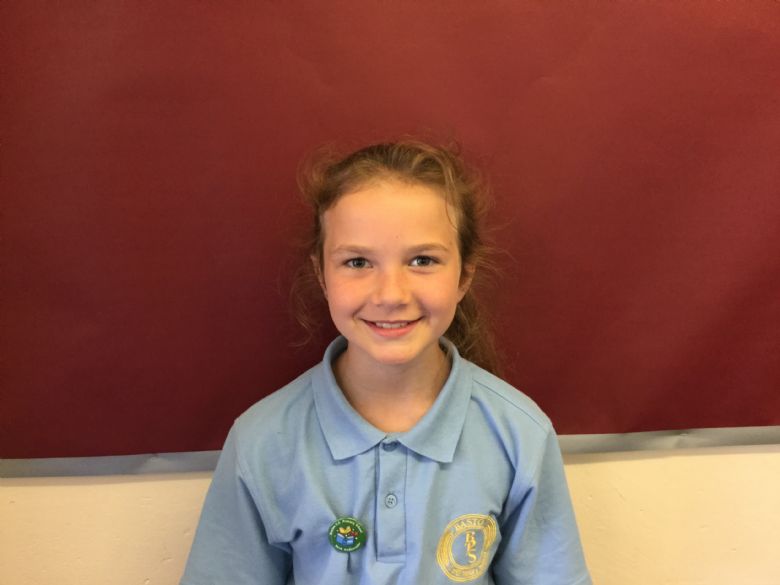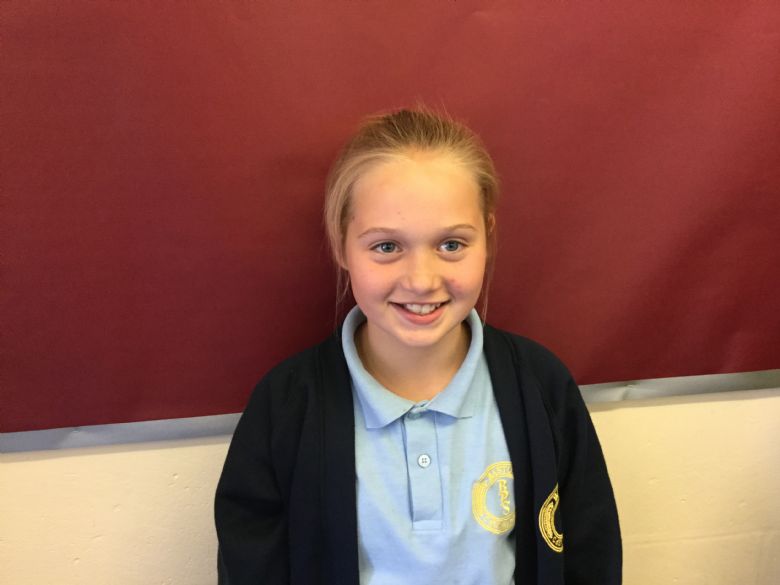 Last Friday our girls represented in a local football tournament-they did us proud and only let in one goal.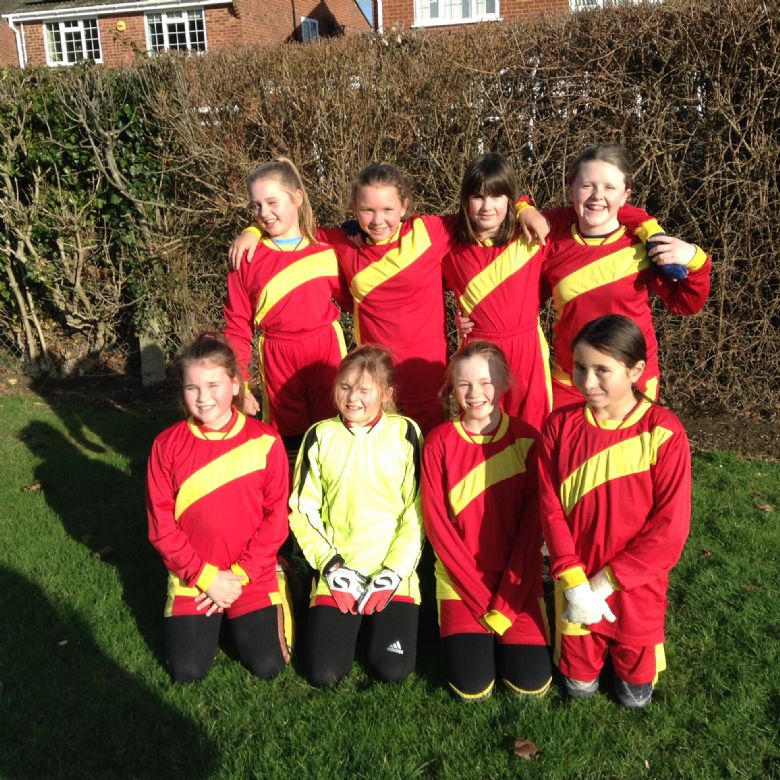 What an eventful week! A visit from OFSTED, a performance of our dance of the stage at the Holland District Centre, a mock magistrates court in the classroom and a lacrosse training session-not to mention a few 'challenges'!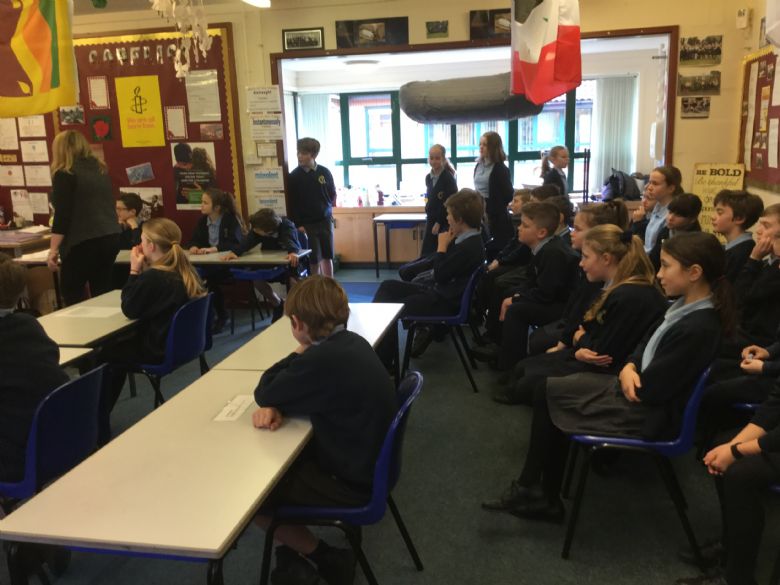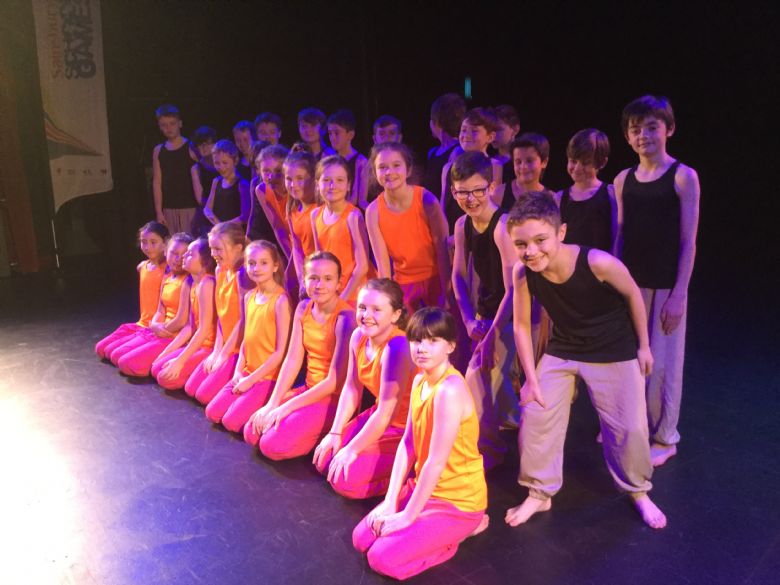 We have also led an assembly with Inspire Plus on healthy eating and have nearly finished our lights in science. Our superstar this week is...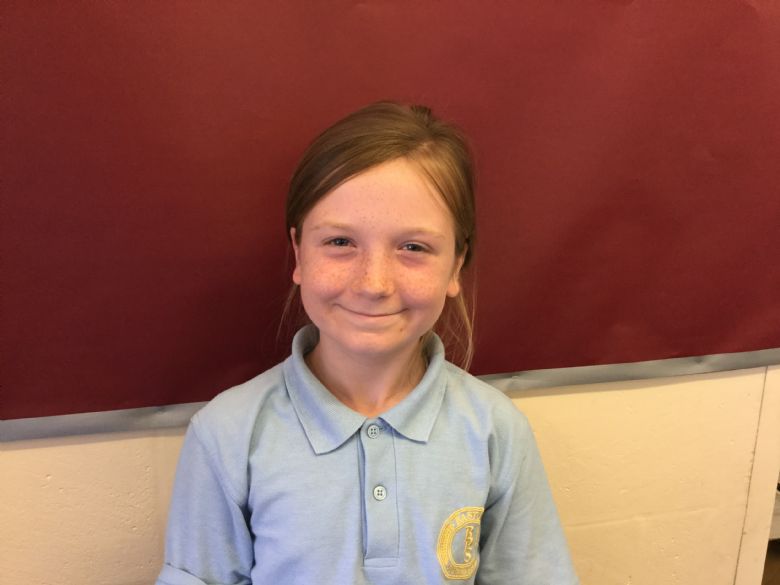 Super dupa Sophia! Great help around the class, brilliant attitude towards all learning and a really positive approach to all aspects of school.
Half way through the year now and SATs are approaching fast! We have started to look at a picture book in English-Rose Blanche, had a SPaG competition against Y5, looked at conversion and imperial measurements in maths, carried out research on the classififcation kingdoms in science. Our star this week is Ellie-Mae; she is ALWAYS on task, helpful, polite and a great asset to Y6.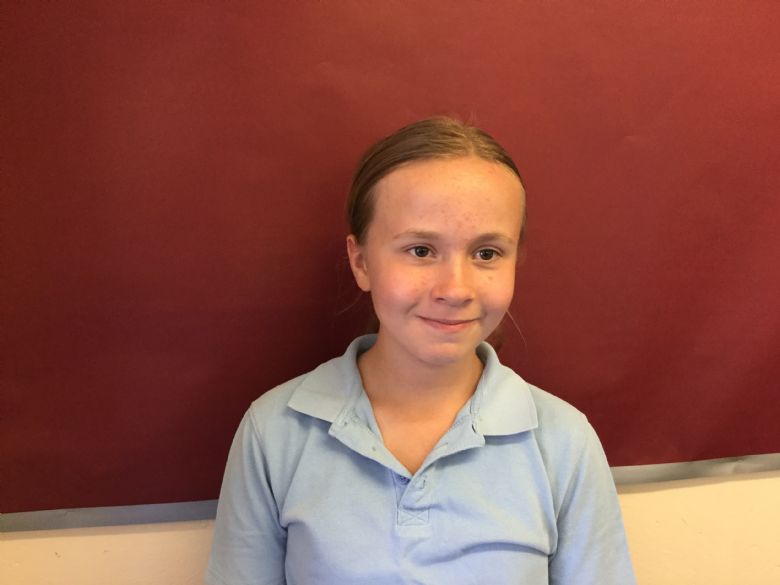 We've all enjoyed being back at school after our snowy days off! We have finished off our work on Rose Blanche, completed Carrie's War, started to look at angles in maths and thoroughly enjoyed World Book Day.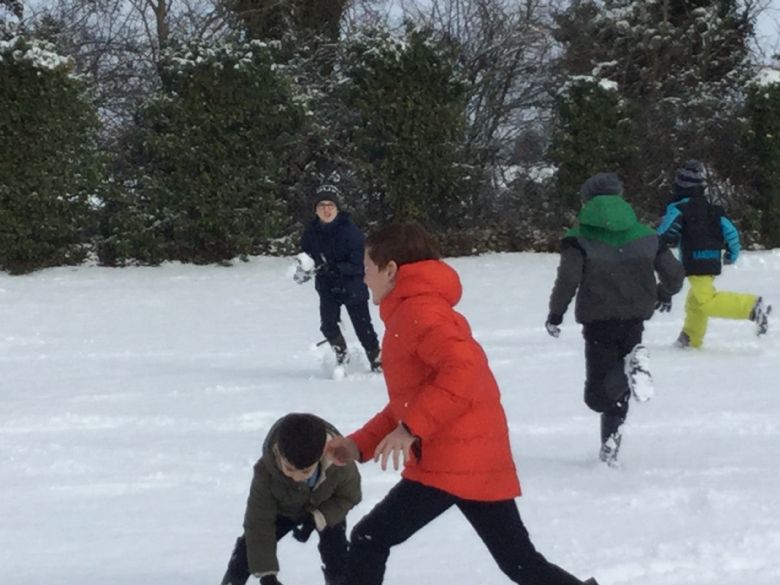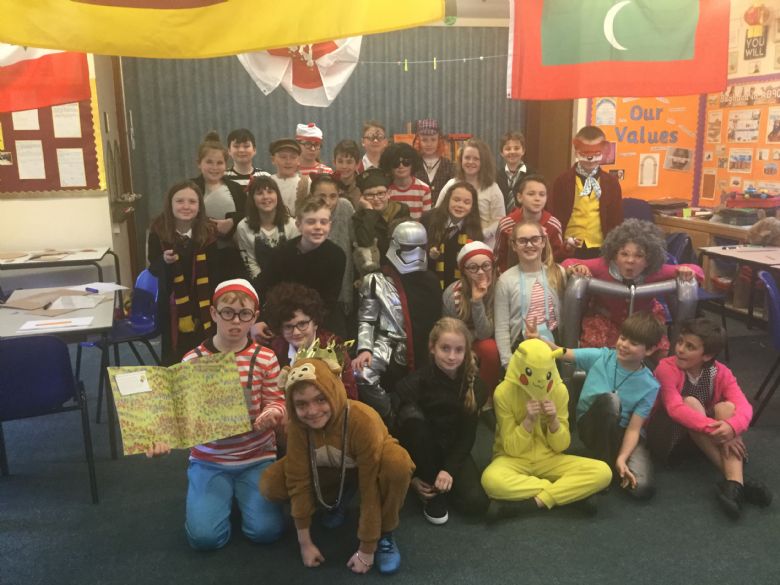 Our stars this week...Rhys for brilliant work in maths and Jodie for everything that she does, every day of every month since we started in September-she's always a superstar!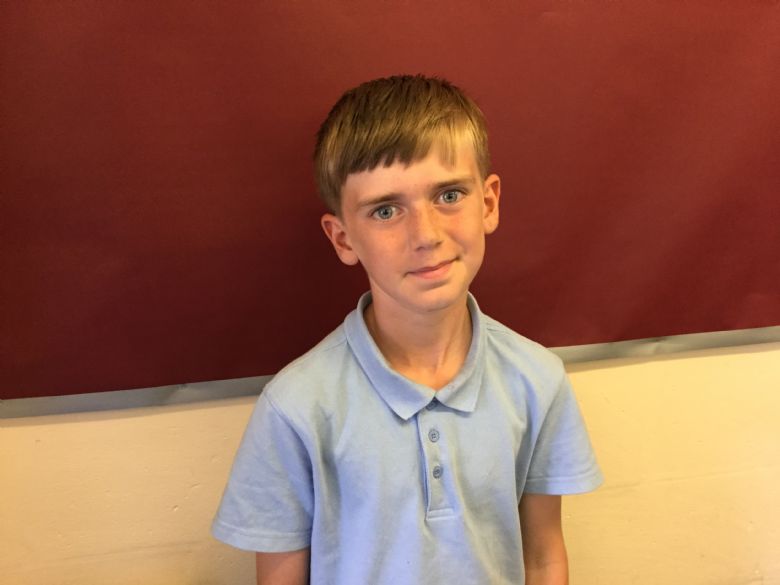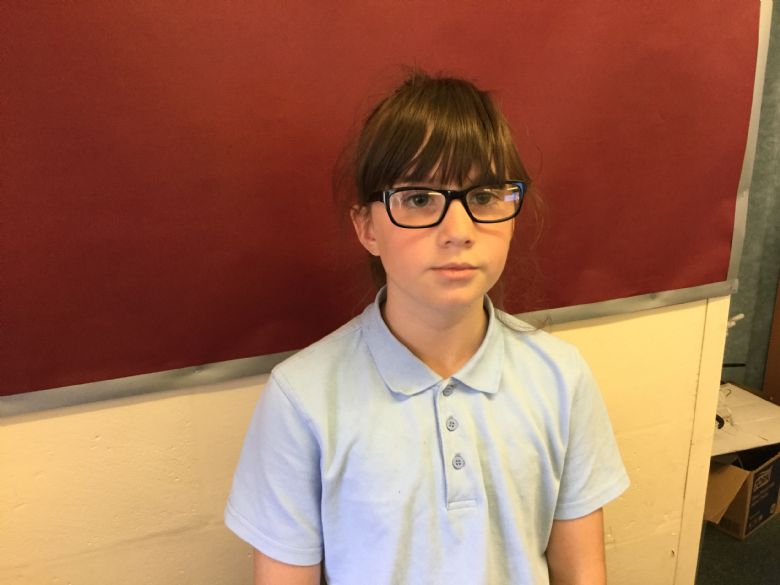 Alot going on again this week. A quick visit to see Year 7s at BGS.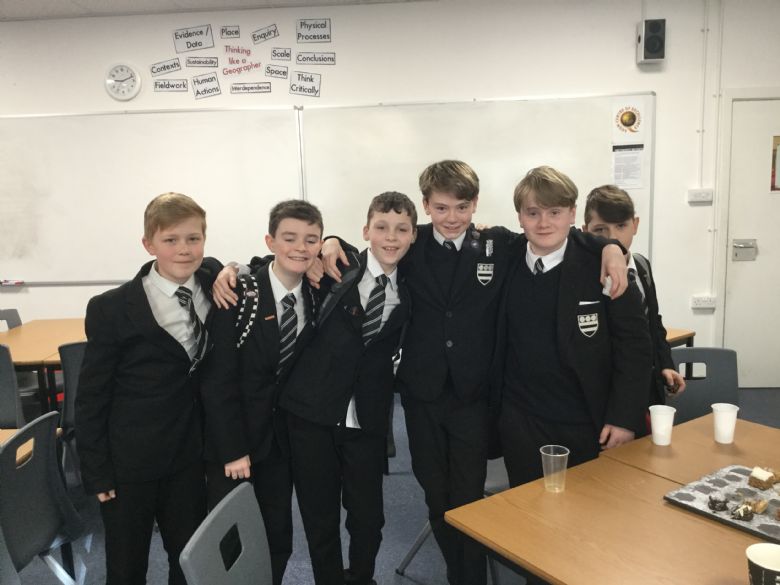 We have being looking at The Blitz in English, continued with our work on angles in maths, written a biography on a WW2 leader of our own choice and found out about Anne Frank in Guided Reading. Our superstar this week is someone who has had a fantastic week in class, has been a great help at Lent Lunches 2 weeks running and shows great humilty in his sporting achievements outside school. Good luck Emrys at Crystal Palace at the weekend!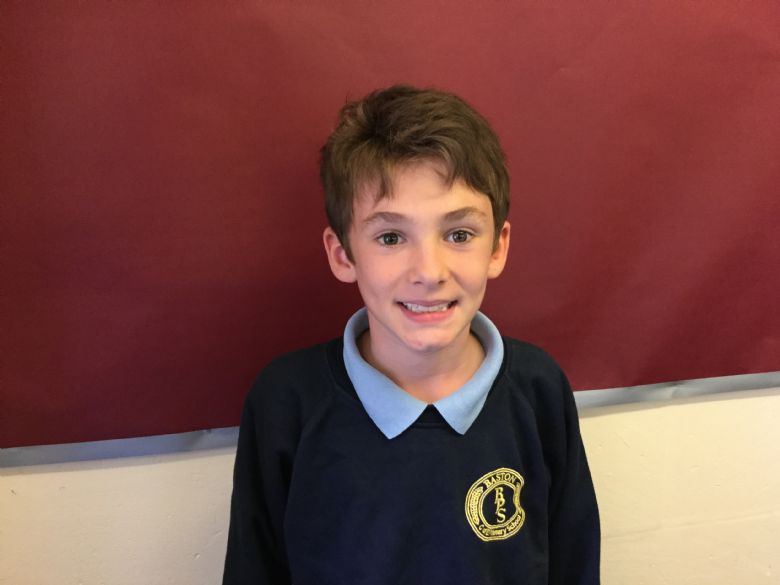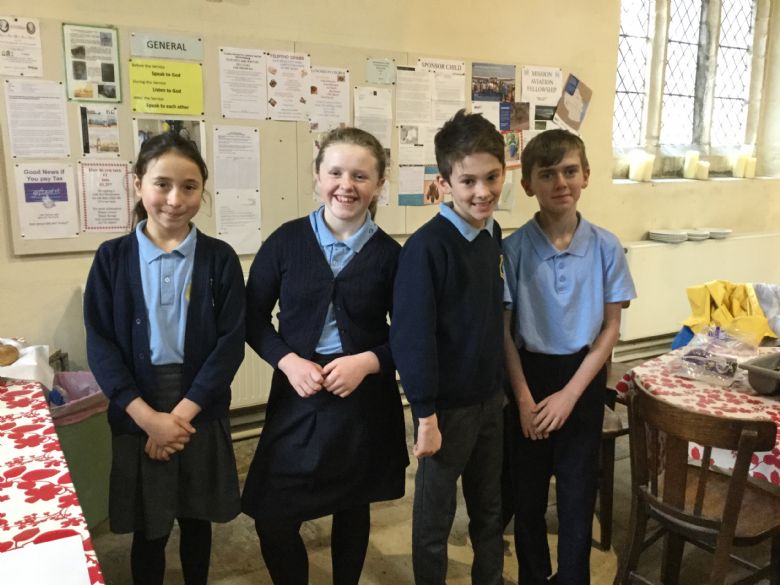 A few challenge papers this week, The Highwayman in English, a new dance to learn in PE, Lent Lunches and a full day out at Willow Tree Fen...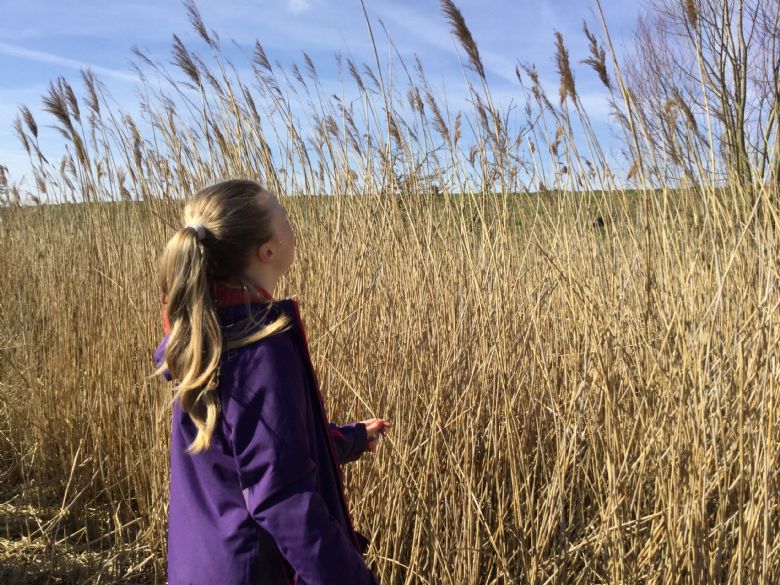 All photographs from the day are in the tab on the side.
Two stars this week:
Lily Grace for an amazing week and super shoting in netball practice & Harry H for his science knowledge at Willow Tree Fen.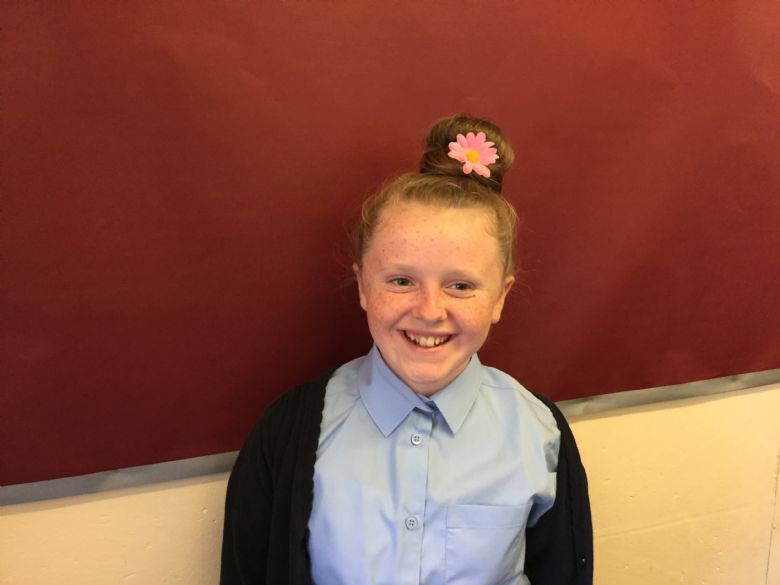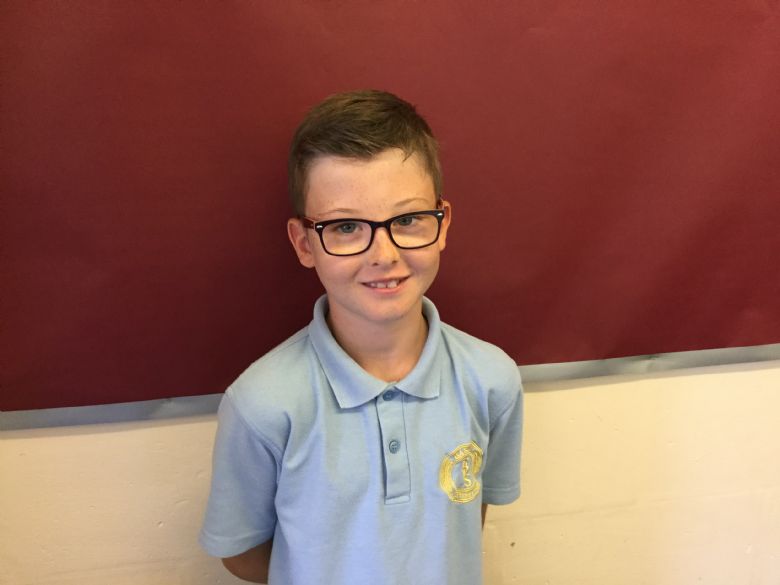 A short week-Number Day on Monday morning, inhouses. Music quiz, Easter service and rehearsals and a little reasoing practise in maths...Happy Easter to everyone-relax, revive and revise! see you all in two weeks!
Star of the Week was Fraser-amazing music knowledge; he answered all questions within 2-5 seconds of intro music!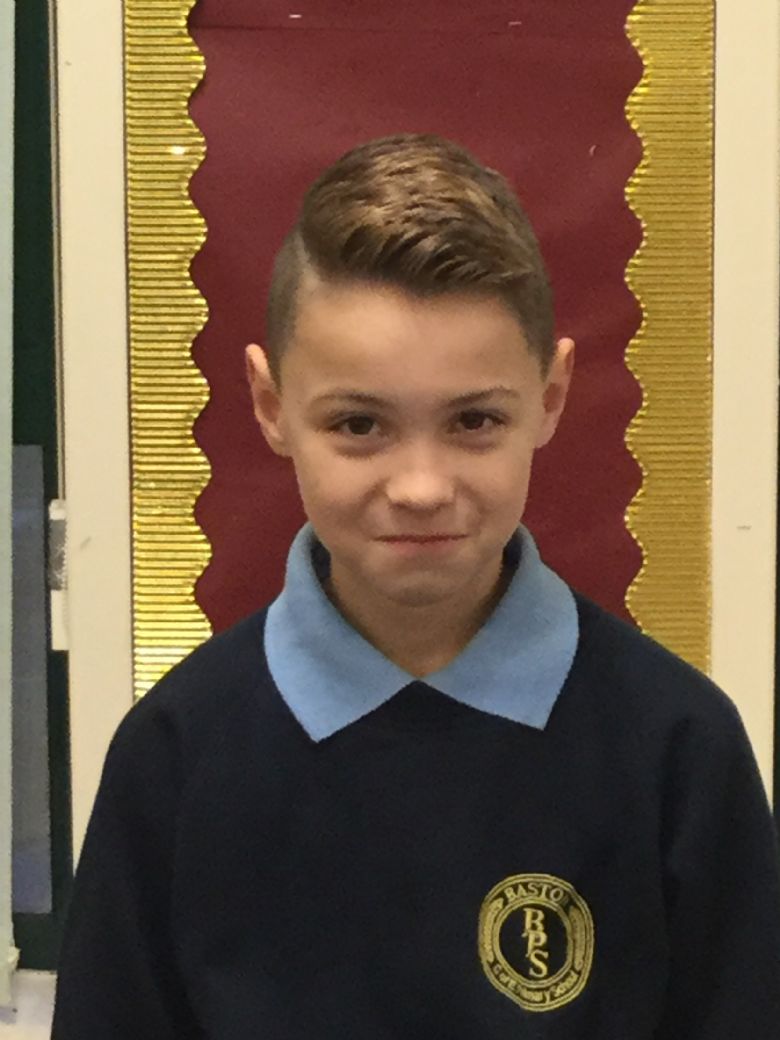 We have returned after our Easter break raring to go! It's now time to get our heads down and concentrate in order to be ready for SATs in 4 weeks. We have written a balanced argument on the Highwayman ballad after acgting out a courtroom scene to defend/prosecute the King's men. In maths we have been revising equivalent fractions,decimals and percentages and also have been practising reasoning worded problems. In science we have looked at all the different types of energy and how we create and use it every day.
Sophie Allen dropped in led a session on teamwork which was enjoyable as always!
It is now possible to go on the field and we have enjoyed a few picnic lunches following our fit in 15 sessions. Our star this week is Lauren who has returned back to school and is prepared for the next few weeks ahead. Well done Lauren, keep up the hard work :)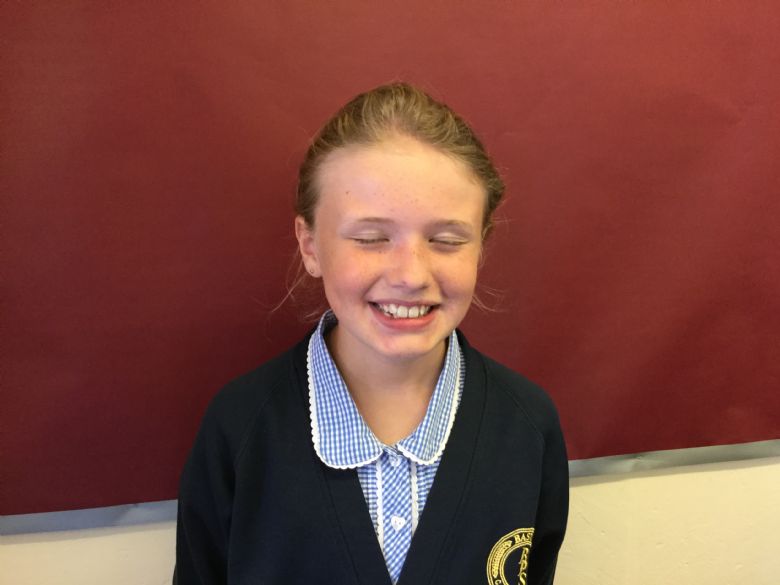 Time is flying by as we are preparing for SATs in a couple of weeks. Our footballers played against Linchfield on Wednesday and put on a good performance, but both A and B teams lost 2-0. We have written a flashback narrative to accompany the literacy clip, 'The Piano' this week and have revised a few topics in maths. We have looked at how electricity is made from a variety of different power station sources. On Thursday night most of us attended our last primary school disco!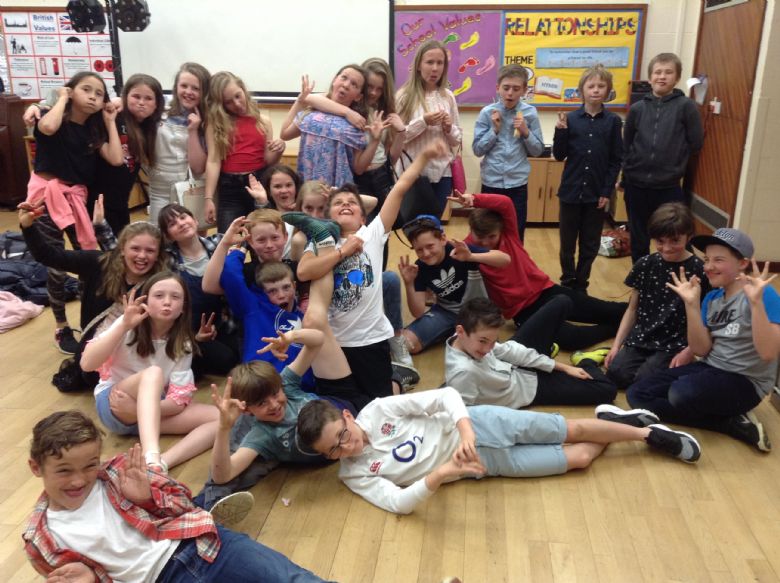 Our star this week is Louis for his determination and perseverance to be a successful goalkeeper. The rest of the football squad got a school value certficate for love and compassion for helping Louis to believe in himself.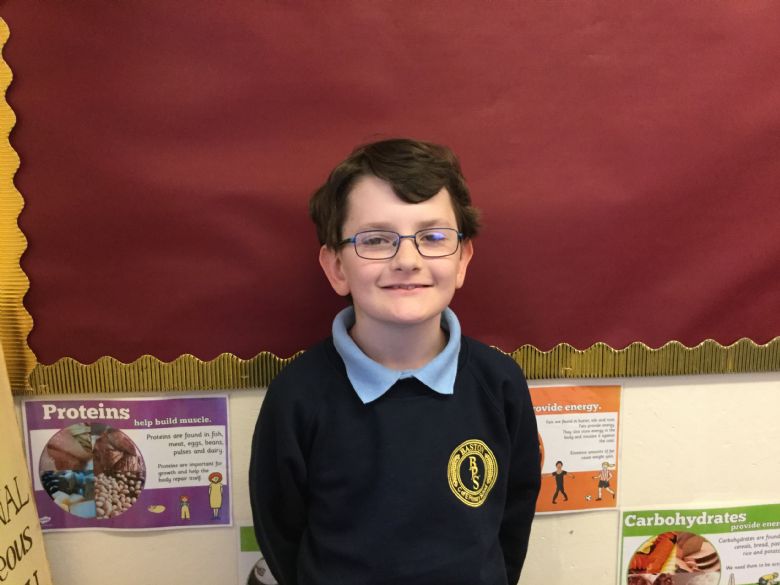 SATs are closing in on us so we have been doing plenty of revision for reading, SPaG and maths. We have also looked at the work of Christian charities in RE, continued with shelters in Forest School and tried to 'master' hurdles in games.
Our star this week is Alfie who has been working hard on his handwriting along with his continuing positive attitude towards all aspects of learnig across the curriculum.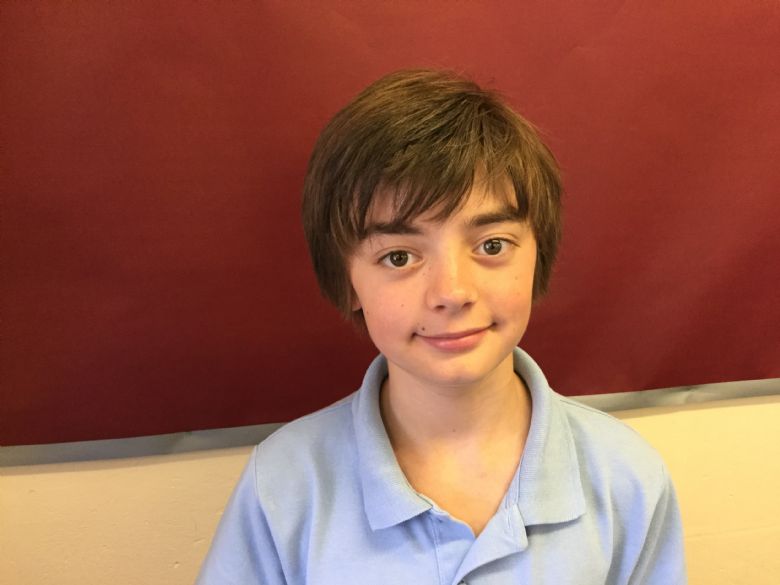 We have performed a showcase of musical talent in a concert for parents and KS2 this week.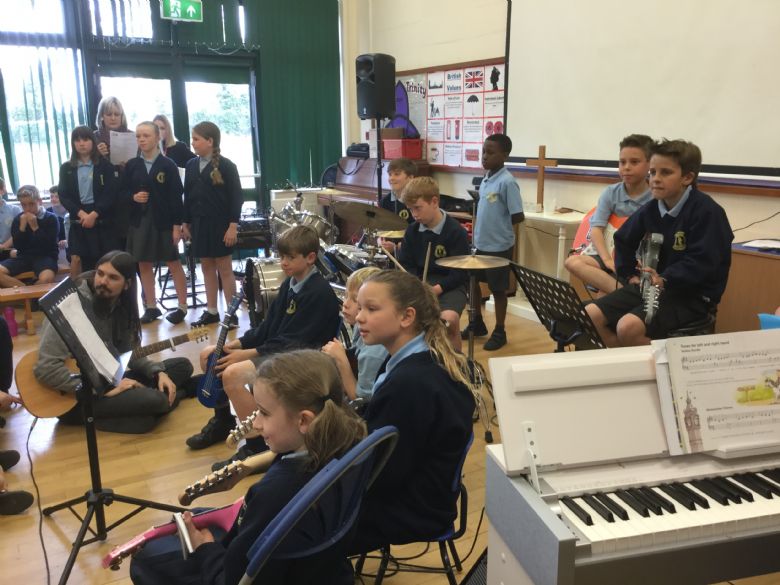 A short week with the bank holiday this week. We have been preparing for next week and also had a couple of sessions on the power of prayer this week. Firstly, with Mrs Sturgess and that at church today. Lily is our star this week for great maths and for being helpful and considerate this week.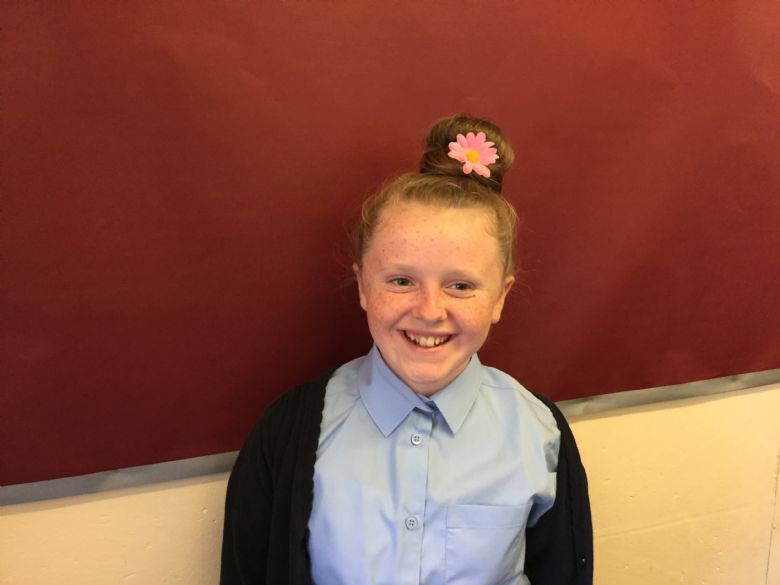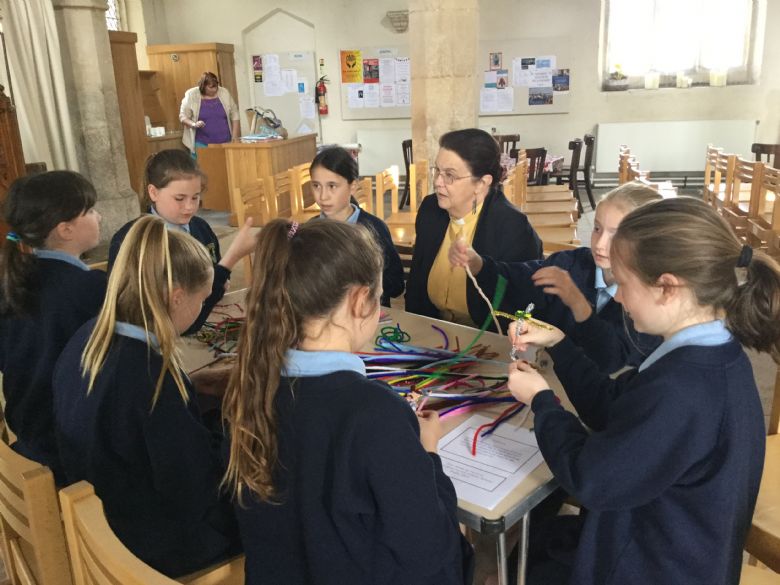 Well, SATs Week has arrived and we have survived! We have all attended breakfast club everyday from 8am to get prepared for the tests ahead. Some of us have had 3 course breakfasts! Most importantly, in the afternoons we have dabbled with Manga Art, dissected hearts with Mr Porteus from SES and had a water fight...to date! As it stands at present we have one more test to do-Reasoning Paper 3 which we will approach with the brilliant attitude we have had throughout the week.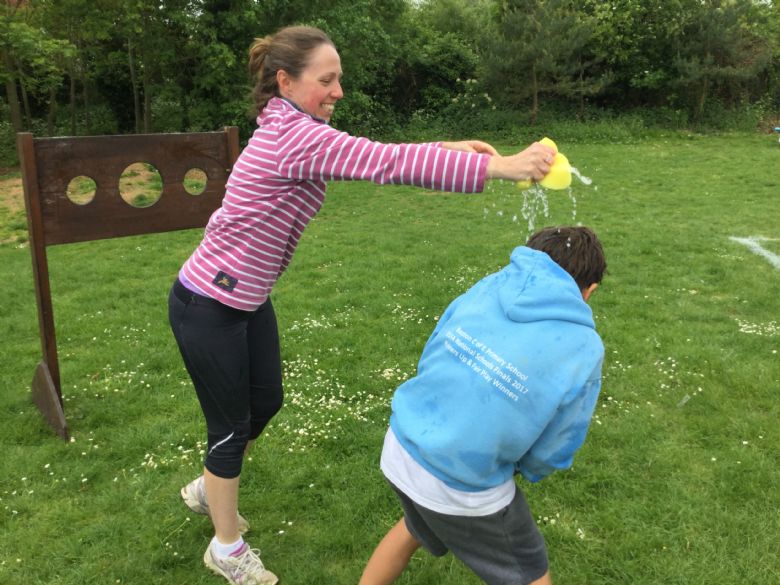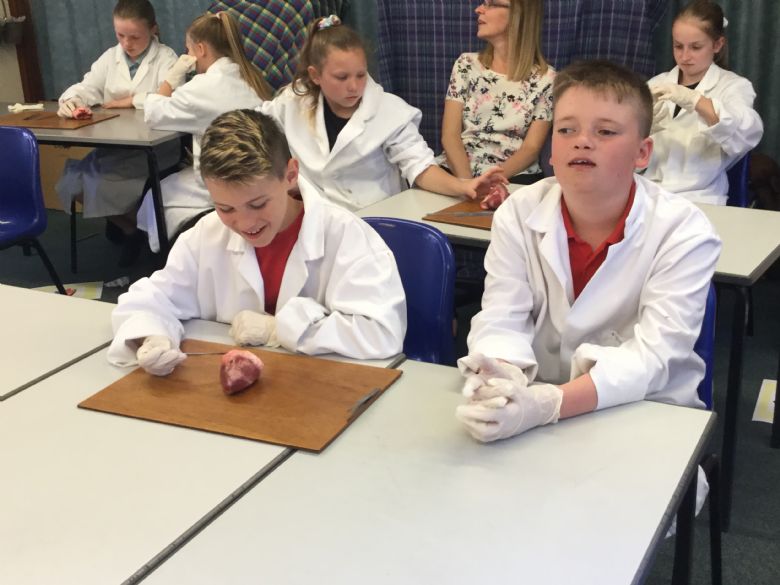 ...and breathe!!!! SATs are over-we've survived! An afternoon of rounders to chill and relax! A day at the park tomorrow to celebrate a brilliant week and an end to the testing process. Well done everyone and a big thank you to all of the adults who helped to serve breakfast, read questions, man breaks and generally anyone that helped to make the life of anyone in Year 6 that much easier this week. Mrs Dickson x
Superstar this week is Charlie-I don't normally have a star in SATs week, however Charlie has shown great maturity this week and is a well deserved star for Year 6.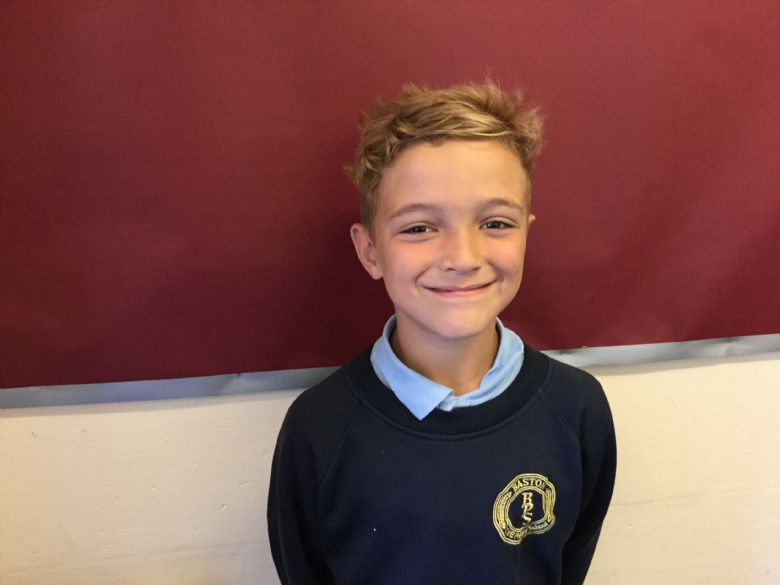 A fabulous day at the park today; playing on the equipment there; football matches; a rounders match; a visit from the ice-cream man and a class picnic. :)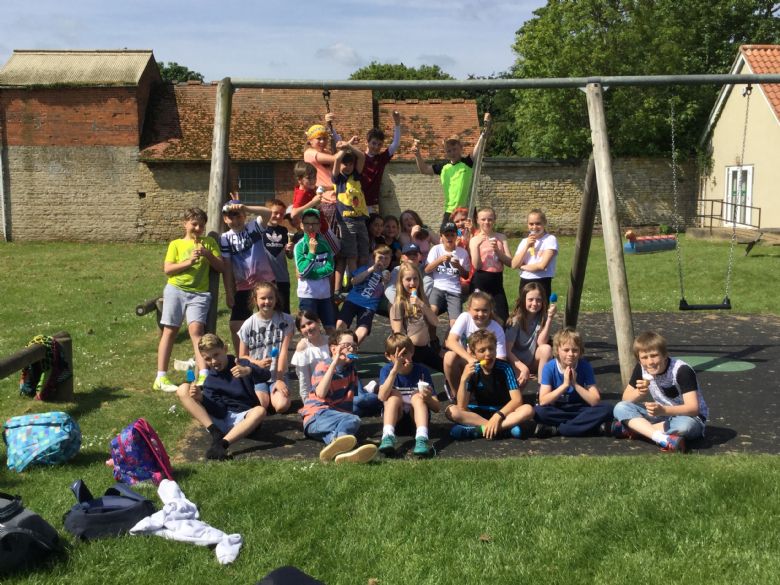 Sports Week has started with exciting sessions on zorbs, footdarts and ultimate frisbee. Toby has also been working hard winning a gold medal in the school ski competition!